Singh's Cabinet Reshuffle Is 'Old Wine in New Bottle'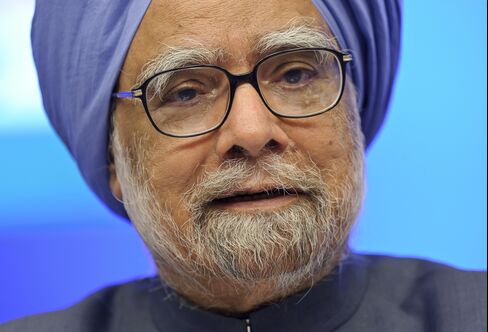 Indian Prime Minister Manmohan Singh's first cabinet reshuffle in almost two years targeted ministries blamed for rising food and fuel costs while passing up the chance to overhaul a government damaged by graft claims.
Singh yesterday left his ministers for finance, trade, defense, home and foreign affairs in office and vowed to carry out a broader reshuffle after February's federal budget. Agriculture Minister Sharad Pawar gave up his responsibility for food and consumer affairs, a department criticized for failing to stem food-price increases, while Murli Deora lost control of the Ministry of Petroleum and Natural Gas.
The premier's new team, sworn in by President Pratibha Devisingh Patil at a ceremony in the colonial-era president's palace in central New Delhi, includes just three new faces, with most positions filled by existing ministers, according to a statement from Singh's office.
"It looks like old wine in a new bottle," said Jagannadham Thunuguntla, strategist and head of research at SMC Global Securities Ltd. in New Delhi. "It is a reshuffle but literally just that. It's the same people in different positions. There is no new energy and ideas coming into the government."
Singh's ruling alliance is fending off calls from the main opposition Bharatiya Janata Party for a cross-party probe into a report by the Comptroller and Auditor General of India that said the award of mobile-phone licenses in 2008 at below-market prices may have cut state revenues by $31 billion. At the same time, India's $1.3 trillion economy is facing a "surge" in inflation, led by food prices, central bank Governor Duvvuri Subbarao said in Mumbai Jan. 17.
Support Falls
A poll published this month by the India Today news magazine and carried out by AC Nielsen estimated that Singh's ruling alliance would win 42 fewer seats than the 259 it garnered in April and May, 2009, if it were to face a new election. Congress, which has 206 members in the lower house of parliament, would be stripped of about 40 seats.
The survey found that 43 percent of people thought Congress president Sonia Gandhi's image had been affected by allegations of graft surrounding the government. The poll was conducted across 19 states from Dec. 4-19. No margin of error was given.
A group that included Indian businessmen, a former Reserve Bank of India governor and a Supreme Court judge wrote an open letter to the country's leaders Jan. 18 expressing concern that the recent corruption scandals may hinder economic growth.
Revamp a 'Failure'
After yesterday's changes S. Jaipal Reddy moves from urban development minister to the petroleum ministry, replacing Murli Deora. Overseas Indian Affairs Minister Vayalar Ravi gets additional control of civil aviation, a job previously held by Praful Patel. Beni Prasad Verma, a member of Singh's ruling Congress party, was appointed steel minister.
"For people in the markets and foreign investors it is questionable how much heart they can take from this reshuffle," Thunuguntla said.
"The reshuffle has failed to show the government's resolve to fight corruption," Shahnawaz Hussain, a spokesman for the BJP said. "Singh has failed the expectations of the people."
Among those cabinet members moved to new jobs was M.S. Gill, the former sports minister who had been criticized for his handling of October's Commonwealth Games in the capital. The running of the event, plagued by missed construction deadlines, the collapse of a stadium bridge and financial irregularities, is being probed by India's federal Central Bureau of Investigation. Its officers have searched the homes of senior members of the organizing committee.
Food Prices
In other changes, Deora becomes India's new corporate affairs minister, while Kamal Nath has been named as urban development minister, replacing Reddy. C.P. Joshi was shifted from the rural development ministry to road transport and highways, where he replaces Nath.
K.V. Thomas takes charge of food and consumer affairs at a time when India's inflation is accelerating because of higher food costs. The benchmark wholesale-price index rose 8.43 percent in December from a year earlier after a 7.48 percent gain in November. Singh said yesterday that he will bring down the inflation by March.
State-run refiners have increased gasoline prices six times since June 2010 when the government freed the fuel from state control. Prices in New Delhi have increased 14 percent during the period, according to Indian Oil Corp.'s website.
Heart Surgery
Singh returned from heart surgery in January 2009 to lead Congress to its biggest election victory in two decades. While investors expected sectors such as retail and insurance to be further opened to foreign investment, Gandhi emphasized "inclusive growth" to build support among the poor.
Five of India's states will hold elections to local assemblies in the next five months. Two of them -- West Bengal and Tamil Nadu -- are the strongholds of Singh's largest allies in the coalition government.
The Trinamool Congress, which with 19 seats in the lower house of parliament is the second largest party in the alliance, rallied supporters in Kolkata this week to protest the cost of living. The World Bank estimates that 828 million Indians survive on less than $2 a day.
Fighting inflation may temper growth. The World Bank said Jan. 12 that economic expansion in South Asia, including India, may slow as the region's governments tighten fiscal and monetary policies. India will grow 8.4 percent this year and 8.7 percent in 2012, down from 9.5 percent last year, it said.
-- With assistance from Abhijit Roy Chowdhury in New Delhi. Editors: Mark Williams, Sam Nagarajan
Before it's here, it's on the Bloomberg Terminal.
LEARN MORE