NFL Union Head Smith, Commissioner Goodell Meeting on Labor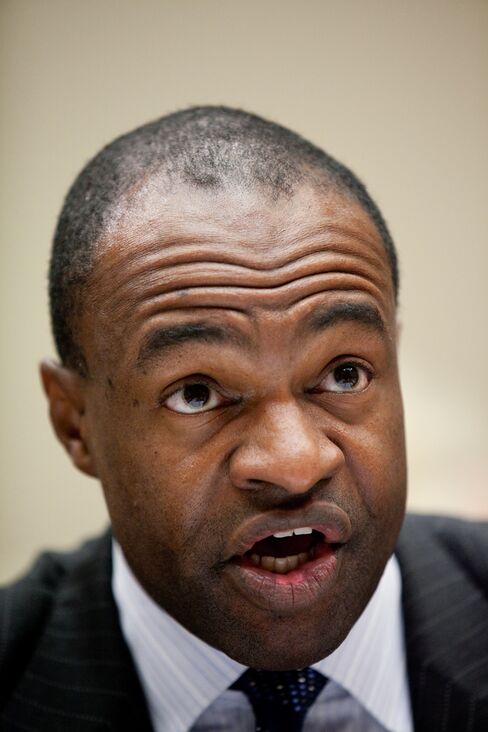 Jan. 19 (Bloomberg) -- National Football League players union chief DeMaurice Smith and NFL Commissioner Roger Goodell are meeting in New York today to discuss labor issues, union spokesman George Atallah said in an interview.
NFL spokesman Greg Aiello declined to comment in an e-mail.
Union members went to the U.S. Capitol today to lobby Congress for support and show them how much NFL games do for local economies. The union has said it's preparing for a lockout when the current contract runs out in March.
"This Congress is concerned about jobs, jobs and jobs," said Pete Kendall, a former offensive lineman and now a permanent representative on the union's negotiating committee. "A lockout will affect the local economy. Not just those who attend the games but those who provide services at the games."
Indianapolis Colts center Jeff Saturday said the lockout will affect more than millionaires and billionaires. He said he's seen firsthand the economic impact football games have on ordinary people.
"Parking attendants say, 'Thanks for the extra games' when you go to the playoffs," Saturday said.
While the league and union said the sides often communicate, union President Kevin Mawae, a former New York Jets' center, has said the most recent productive talks were in November.
NFL owners voted in 2008 to opt out of the labor agreement with players after this season, saying the deal doesn't recognize costs, such as those to build stadiums. The current agreement expires March 3.
Preparing for Lockout
The union has said it is urging players to prepare for owners to lock them out. The NFL's chief negotiator, Jeff Pash, said yesterday at a news conference that was "nonsensical," and that there is time to reach an agreement before the current deal expires.
The league had revenue of about $8 billion last year and just completed its most-watched season, with NFL games producing the 19 biggest television audiences during the period.
Among the issues dividing the sides is a plan by owners to extend the season to 18 games from 16. The union wants assurances the league will protect players' bodies from the additional wear and tear, Domonique Foxworth, a Baltimore Ravens cornerback who is on the union's executive committee, said last week.
The league provides health-care coverage for five years after a player retires, and it is difficult for them to buy coverage because of the damage their bodies sustain while playing the sport, Foxworth said.
To contact the reporters on this story: Curtis Eichelberger in Washington at ceichelberge@bloomberg.net; Aaron Kuriloff in New York at akuriloff@bloomberg.net.
To contact the editor responsible for this story: Michael Sillup at msillup@bloomberg.net.