Hu Formally Welcomed to U.S. for Summit, CEO Meeting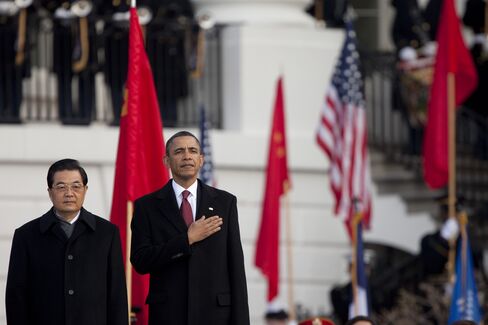 Chinese President Hu Jintao was formally welcomed to the White House for his first state visit to the U.S., which will include a rare press conference, a meeting with company executives, and a black-tie dinner.
President Barack Obama and first lady Michelle Obama greeted Hu on the South Lawn of the executive mansion. A color guard stood at attention as the two leaders met before Cabinet members, lawmakers and U.S. and foreign diplomats.
Obama, 49, said in his remarks that the normalization of the U.S.-China relationship in 1979 brought increasing cooperation between the two nations.
"With this visit, we can lay the foundation for the next 30 years," Obama said. "We have an enormous stake in each other's success."
Hu, 68, said the U.S. and China "share broad common interests."
"Our cooperation as partners should be based on mutual respect," he said. "China and the United States share broad common interests and important common responsibilities."
Boeing Planes
Minutes after the ceremony, the administration announced export deals to China worth $45 billion, highlighting the summit's focus on economic ties amid continued U.S. trade deficits with the Asian nation. The package includes a $19 billion purchase of 200 Boeing Co. aircraft, all previously announced orders.
The summit also will focus on differences over human rights, China's enforcement of intellectual property rights and what U.S. officials say is the artificially low value of the yuan.
Many tensions between the two countries have eased in the run-up to the summit, and the challenge will be to sustain those gains after Hu returns to China, said Kenneth Lieberthal, Asia Director at the White House National Security Council under President Bill Clinton.
The yuan reached a 17-year high today in Shanghai trading before the White House ceremony, rising to 6.5817 per dollar before closing little changed at 6.5824, according to the China Foreign Exchange Trade system. The U.S. and China have improved military ties and China has done more to press North Korea following two attacks last year which killed 50 South Koreans, Lieberthal said.
"The summit is an action-forcing event," Lieberthal, now director of the John L. Thornton China Center at the Brookings Institution in Washington, said in an interview. "Now the issue between the presidents is to make sure they understand between the two of them where they want this to head now."
Human Rights
Obama raised one of the contentious issues in his remarks, saying that "history shows that societies are more harmonious, nations are more successful, the world is more just when the rights and responsibilities of all nations and all people are upheld, including the universal rights of every human being." The ruling Communist Party uses the word "harmonious" in its campaigns to keep social order in China.
Hu said both nations should respect each other's "core interests." One such issue for China is Taiwan, and U.S. arms sales to the island last year soured ties following Obama's November 2009 summit with Hu in Beijing.
After this morning's ceremony, Hu and Obama met in the Oval Office before a larger meeting between officials from the two countries in the Cabinet Room. Hu will then attend a lunch at the Department of State. Obama will host a formal state dinner in Hu's honor at the White House this evening.
Meeting With CEOs
Later this afternoon, Chief Executive Officers Steve Ballmer of Microsoft Corp. and Lloyd Blankfein of Goldman Sachs Group Inc. will be joined by General Electric Co. CEO Jeffrey Immelt, Jim McNerney of Boeing and 10 other U.S. business leaders brought together by the Obama administration for a session with Hu aimed at expanding U.S. business interests in China, the world's second-largest economy.
Of the $45 billion in export deals announced today, $25 billion is the result of trade missions in the past few weeks, spread over 70 contracts and 12 states. Other companies that have reached agreements include Caterpillar Inc., Cummins Inc., Westinghouse Electric Corp., Honeywell International Inc., Alcoa Inc. and GE.
The deals announced today will help support an estimated 235,000 American jobs, the White House said.
Executives Invited
Also invited to the meeting were Westinghouse CEO Aris Candris; former Sybase Inc. chief executive John Chen; Coca-Cola Co. chief executive Muhtar Kent; DuPont Co. CEO Ellen J. Kullman; Greg Page, CEO of Cargill Inc.; John Thornton, chairman of HSBC Holdings Plc's North American division; David Rubenstein, co-founder and managing director of Carlyle Group; Paul Otellini, Intel Corp. CEO; and Dow Chemical Co. CEO Andrew Liveris.
White House press secretary Robert Gibbs said the session will highlight the "important economic relationship" between the two countries and the role U.S. exporters play in creating jobs.
Chinese executives attending the meeting are Lu Guanqiu, chairman of Hangzhou-based Wanxiang Group; Lenovo Group Ltd. chairman Liu Chuanzhi; Lou Jiwei, chairman of the China Investment Corp.; and Haier Group Corp. chief executive Zhang Ruimin. Wanxiang, China's biggest auto-parts maker, has a plant in Illinois and employs more than 5,000 people in the U.S.
"People in the U.S. welcome us," Lu said in an interview. "We're solving their employment problems."