Gas, Dust Blamed in 2010 Massey Mine Blast, U.S. Says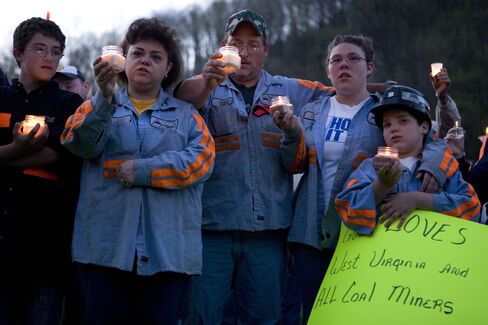 A small ignition of methane gas combined with a buildup of coal dust inside Massey Energy Co.'s Upper Big Branch mine triggered the April explosion that killed 29 miners, the Obama administration said today.
Massey was running the mine's main coal-cutting machine without all the water sprayers that help tamp down the combustible dust and douse small methane ignitions to prevent explosions, the Mine Safety and Health Administration said today on a conference call with reporters. The explosion in West Virginia was the worst U.S. mine accident in 40 years.
Kevin Stricklin, assistant administrator for coal at MSHA, said the agency investigation found no evidence backing up Massey's contention that a burst of gas from a crack in the mine floor overwhelmed safeguards. The final U.S. report on the April 5 disaster is due in two to three months.
Shane Harvey, Massey's general counsel, said in an e-mailed statement that the company's findings are different from the "working theory" of the safety agency.
"We likewise do not believe that coal dust played a meaningful role in the explosion," he said. Sprays may have been damaged in the explosion, and wouldn't have suppressed a spark or a fire, he said.
Regulatory Costs
The Massey disaster is exacting a price from mining companies, including International Coal Group Inc. and Patriot Coal Corp., as the administration steps up safety inspections and penalties. Increased U.S. scrutiny cost the coal industry about $665 million in lost productivity last year, based on data from Wood Mackenzie Consultants Ltd. based in Edinburgh.
Massey probably will report its third consecutive quarterly loss on Feb. 1, according to the average estimates of nine analysts, according to data compiled by Bloomberg. The company's directors ordered a review of strategic alternatives in November, a process that may lead to a sale.
Chief Executive Officer Don Blankenship retired Dec. 31, ending a 28 year career at the company, after engaging in a public debate with MSHA regarding blame for the explosion.
Before it's here, it's on the Bloomberg Terminal.
LEARN MORE