Container Ship Rates Rally as Fuel Prices Rise: Freight Markets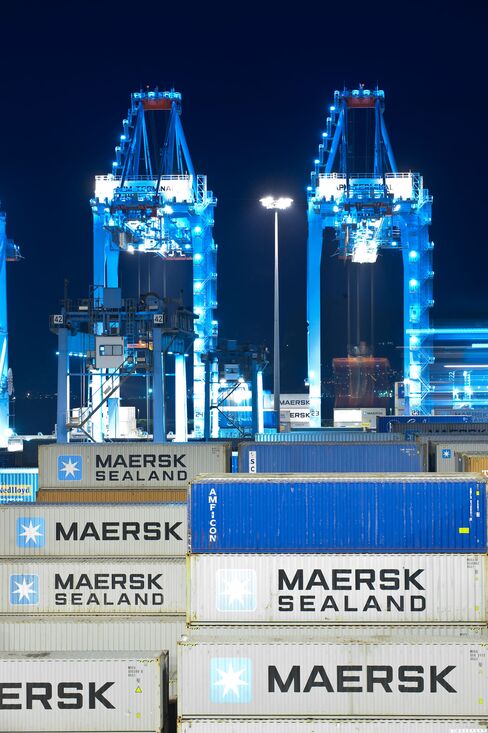 Container vessels are sailing at the slowest speeds in at least two years to save on fuel costs, driving up freight rates and the shares of shipbuilders.
The global fleet of about 4,660 carriers moved at an average of 11.44 knots last month, 7.4 percent less than a year earlier and the lowest since Bloomberg began compiling the data from AISLive in May 2008. Sailing more slowly saves fuel, the price of which has more than doubled in two years, and curbs the availability of ships, shoring up income for owners.
While rates for dry bulk carriers hauling coal are at their lowest since 2009 and those for oil tankers fell 90 percent in a year, container costs more than doubled in 12 months, an index from the Hamburg Shipbrokers' Association shows. With trade growth forecast by the International Monetary Fund to weaken in 2011 and oil prices 16 percent higher than a year earlier, owners have little incentive to speed up.
"Slow steaming is going to bring the biggest change to the shipping industry since World War II," said Lee Sokje, an analyst at Mirae Asset Securities Co. in Seoul, whose recommendations on Hyundai Heavy Industries Co. and Samsung Heavy Industries Co., the world's biggest yards, earned investors at least 63 percent in a year, data compiled by Bloomberg show. "It was only last year there was concern of oversupply but now we may have to worry about undersupply."
Forward freight agreements traded by brokers and used to speculate on or hedge future shipping costs anticipate container prices will keep rising. Rates will average about $2,135 a box this year on the benchmark Shanghai-to-U.S. West Coast route, or 8 percent more than now, according to the derivative contracts from London-based Freight Investor Services Ltd.
Three-Year Drop
A shortage of capacity may reverse a three-year drop in orders for new ships, which stand at 464 from a peak of 1,245 in January 2008, according to Lloyds Register-Fairplay data. Fifty percent of those contracts are at yards in South Korea, with China holding another 37 percent. Samsung Heavy, Hyundai Heavy and Daewoo Shipbuilding & Marine Engineering Co. have a combined total of 157, the data show.
Shares of Daewoo Shipbuilding jumped 17 percent in Seoul trading this year, and Ulsan, South Korea-based Hyundai Heavy gained 13 percent. Samsung Heavy climbed 10 percent. Based on Sokje's 12-month share estimates, made in April and still valid, Samsung Heavy will advance another 16 percent, Daewoo Shipbuilding 25 percent and Hyundai Heavy 8 percent.
A.P. Moeller-Maersk A/S, operator of the world's biggest fleet of container vessels, rose 5.9 percent in Copenhagen trading. Twenty out of 23 analysts covering the company, based in the Danish capital, rate it a "buy."
Slow Steaming
By November, slow steaming had effectively reduced the capacity of the container fleet by 4.4 percent, Alphaliner, owned by Barry Rogliano Salles, said in a report that month.
That's helping buoy freight rates as growth in world trade slows. An index for six types of container vessels gained 1.3 percent in December, ending two consecutive monthly declines, according to the Hamburg Shipbrokers' Association. The gauge is 135 percent higher than a year ago.
The Baltic Dry Index of costs for carrying commodities such as coal and iron ore by sea fell 19 percent to 1,432 points this year, for a 12-month decline of 57 percent, data from the Baltic Exchange in London show. Rates for supertankers carrying oil on the benchmark Saudi Arabia-to-Japan route dropped 66 percent to $8,985 a day this year.
World Trade
World trade will probably expand by 7 percent this year, compared with more than 11 percent in 2010 and the average 5.7 percent rate during the last three decades, according to IMF data compiled by Bloomberg.
The world's liner ships move about 60 percent of the value of global seaborne trade, or more than $4 trillion of goods a year, according to the World Shipping Council, a group representing owners with offices in Washington and Brussels. Some 90 percent of global trade moves by sea, according to the Round Table of International Shipping Associations.
The largest container carriers are longer than the Eiffel Tower, stretching about 367 meters (1,200 feet) and hauling as many as 14,000 steel boxes, according to data from Lloyd's Register-Fairplay.
Marine fuel, known as bunkers, cost $543.50 a metric ton on Jan. 14 in Singapore, a key refueling point, according to data compiled by Bloomberg. That's 30 percent more than in May and the highest since October 2008.
Higher Oil
Futures traders are anticipating higher oil costs through at least the next eight years, according to contracts traded on the New York Mercantile Exchange. Crude for next month traded at $91.34 a barrel late yesterday and changed hands at $96.50 for delivery a year after that, bourse data show.
The largest ships burn 320 tons of fuel a day when traveling at full speed, according to Soren Andersen, vice president for vessel management at Maersk Line, the container unit of A.P. Moeller-Maersk. That can drop to 40 tons when they sail as slowly as possible, saving owners about $27 million a year, the executive said.
A new vessel with a carrying capacity of 13,000 containers costs about $130 million, according to estimates from Braemar Shipping Services Plc, the world's second-largest publicly traded shipbroker.
Owners will weigh fuel savings against the cost of a new vessel when choosing their response to any shortage.
"If you have a choice between building a new ship or speeding up, you will build the ship," said Copenhagen-based Andersen. "I don't realistically see it being possible to go back to normal speeds."
Before it's here, it's on the Bloomberg Terminal.
LEARN MORE