Builders Probably Began Work on Fewer U.S. Houses in December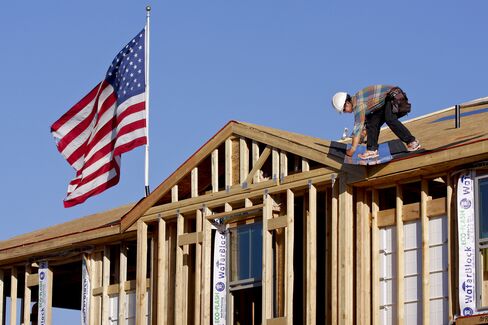 Builders probably began work on fewer homes in December, a sign the industry that triggered the recession continues to struggle more than a year into the U.S. economic recovery, economists said before a report today.
Housing starts dropped 0.9 percent to a 550,000 annual rate, according to the median estimate of 69 economists surveyed by Bloomberg News. Building permits, a proxy for future construction, likely rose from a 19-month low.
Companies like KB Homes and Lennar Corp. project demand will be slow to rebound as elevated unemployment and mounting foreclosures discourage buyers. While low borrowing costs and falling prices are helping revive sales from last year's post tax-credit slump, Federal Reserve policy makers are concerned housing may undermine the economic expansion.
"Housing is one part of the economy that hasn't recovered much at all," said Paul Dales, U.S. economist for Capital Economics Ltd. in Toronto. "Building activity is likely to be fairly depressed through the year. Foreclosures are adding to the legacy of oversupply."
The Commerce Department's report is due at 8:30 a.m. in Washington. Survey estimates ranged from 510,000 to 588,000. Starts rose in November for the first time in three months, reaching a 555,000 pace.
Permits increased to a 554,000 annual pace from a 544,000 rate that was the weakest since April 2009, according to the survey median.
Credit's Influence
Builders had little incentive to take on work when house purchases slumped in mid-2010 following the expiration of a tax incentive of as much as $8,000, which required contracts to be signed by April 30 of 2010 and closed by the end of September.
That helps explain why homebuilders have underperformed the broader stock market. The Standard & Poor's Supercomposite Homebuilder Index climbed 2.3 percent last year, compared with a 13 percent gain for the S&P 500 Index.
Fed policy makers plan to go ahead with a second round of quantitative easing that will pump another $600 billion into financial markets by June in a bid to keep borrowing costs low and spur growth.
Boston Fed President Eric Rosengren is among central bankers concerned growth won't exceed 4 percent this year because the housing recovery is likely to be weaker than usual, given the tightening of lending standards and high vacancy rates.
Fed Concern
"If housing-related growth is not going to boost the recovery this time around, we may need policy -- particularly monetary policy -- to continue playing a stimulative role," Rosengren said in a Jan. 14 speech.
Foreclosures may further discourage construction and hurt prices. The number of homes receiving a foreclosure filing will climb about 20 percent in 2011, reaching a peak for the housing crisis, as unemployment is projected to hold above 9 percent and banks resume seizures, RealtyTrac Inc. said this month.
KB Home, a Los Angeles-based builder that targets first-time homebuyers, on Jan. 7 said cost cuts helped it achieve a fourth-quarter profit, and it is "cautious" about this year.
"Entering 2011, housing market conditions remain difficult," Jeffrey Mezger, chief executive officer, said in a statement. While "the overall economy has started to recover, the lack of improvement in employment and consumer confidence is likely to continue to hinder a sustained housing recovery."
Developers' confidence stagnated in January, reflecting a lack of credit that threatens to hold back construction. The National Association of Home Builders/Wells Fargo sentiment index held at 16, the same as the past two months, figures showed yesterday. Readings less than 50 mean more respondents said conditions were poor.
                      Bloomberg Survey

================================================================
                           Housing  Housing Building Building
                            Starts   Starts  Permits  Permits
                            ,000's     MOM%   ,000's     MOM%
================================================================

Date of Release              01/19    01/19    01/19    01/19
Observation Period            Dec.     Dec.     Dec.     Dec.
----------------------------------------------------------------
Median                         550    -0.9%      554     1.8%
Average                        552    -0.5%      554     1.8%
High Forecast                  588     5.9%      575     5.7%
Low Forecast                   510    -8.1%      520    -4.4%
Number of Participants          69       69       50       50
Previous                       555     3.9%      544    -1.4%
----------------------------------------------------------------
4CAST Ltd.                     560     0.9%      565     3.9%
ABN Amro Inc.                  550    -0.9%     ---
Action Economics               550    -0.9%      550     1.1%
Aletti Gestielle               570     2.7%      560     2.9%
Ameriprise Financial           550    -0.9%      565     3.9%
Banesto                        550    -0.9%      555     2.0%
Bank of Tokyo- Mitsubishi      554    -0.2%      564     3.7%
Bantleon Bank AG               540    -2.7%      560     2.9%
Barclays Capital               580     4.5%     ---
BMO Capital Markets            527    -5.1%      555     2.0%
BNP Paribas                    550    -0.9%     ---
BofA Merrill Lynch Research    545    -1.8%      550     1.1%
Briefing.com                   565     1.8%      540    -0.7%
Capital Economics              545    -1.8%     ---
CIBC World Markets             540    -2.7%      545     0.2%
Citi                           575     3.6%      575     5.7%
ClearView Economics            570     2.7%      550     1.1%
Commerzbank AG                 520    -6.3%      540    -0.7%
Credit Agricole CIB            550    -0.9%      550     1.1%
Credit Suisse                  545    -1.8%      550     1.1%
DekaBank                       520    -6.3%      520    -4.4%
Desjardins Group               545    -1.8%      560     2.9%
Deutsche Bank Securities       560     0.9%      550     1.1%
Deutsche Postbank AG           545    -1.8%     ---
DZ Bank                        545    -1.8%      565     3.9%
Exane                          570     2.7%     ---
Fact & Opinion Economics       560     0.9%     ---      ---
First Trust Advisors           536    -3.4%     ---
Goldman, Sachs & Co.           555     0.0%     ---
Helaba                         540    -2.7%      560     2.9%
HSBC Markets                   575     3.6%      575     5.7%
Hugh Johnson Advisors          588     5.9%     ---
IDEAglobal                     550    -0.9%      560     2.9%
IHS Global Insight             540    -2.7%      562     3.3%
Informa Global Markets         548    -1.3%      535    -1.7%
ING Financial Markets          550    -0.9%      550     1.1%
Insight Economics              550    -0.9%     ---
Intesa-SanPaulo                550    -0.9%      550     1.1%
Janney Montgomery Scott        543    -2.2%      555     2.0%
Jefferies & Co.                550    -0.9%      555     2.0%
Landesbank Berlin              550    -0.9%      575     5.7%
Landesbank BW                  545    -1.8%      550     1.1%
Manulife Asset Management      555     0.0%      545     0.2%
Maria Fiorini Ramirez          560     0.9%     ---
MF Global                      560     0.9%      550     1.1%
Moody's Analytics              546    -1.6%      558     2.6%
Morgan Keegan & Co.            554    -0.2%      531    -2.4%
Morgan Stanley & Co.           550    -0.9%      558     2.6%
National Bank Financial        545    -1.8%     ---
Natixis                        538    -3.1%     ---
Nomura Securities Intl.        570     2.7%     ---
OSK Group/DMG                  547    -1.4%     ---
Pierpont Securities LLC        510    -8.1%     ---
PNC Bank                       565     1.8%     ---
Raymond James                  565     1.8%      555     2.0%
Scotia Capital                 550    -0.9%      550     1.1%
Societe Generale               585     5.4%      568     4.4%
Standard Chartered             560     0.9%      560     2.9%
State Street Global Markets    555     0.0%      550     1.1%
Stone & McCarthy Research      550    -0.9%      555     2.0%
TD Securities                  560     0.9%      540    -0.7%
Thomson Reuters/IFR            570     2.7%      560     2.9%
UBS                            540    -2.7%      550     1.1%
Union Investment               560     0.9%      553     1.7%
University of Maryland         555     0.0%      545     0.2%
Wells Fargo & Co.              546    -1.6%     ---
WestLB AG                      550    -0.9%      549     0.9%
Westpac Banking Co.            544    -2.0%      552     1.5%
Wrightson ICAP                 555     0.0%      560     2.9%
================================================================