British Airways Strike Risk Overshadows Iberia Merger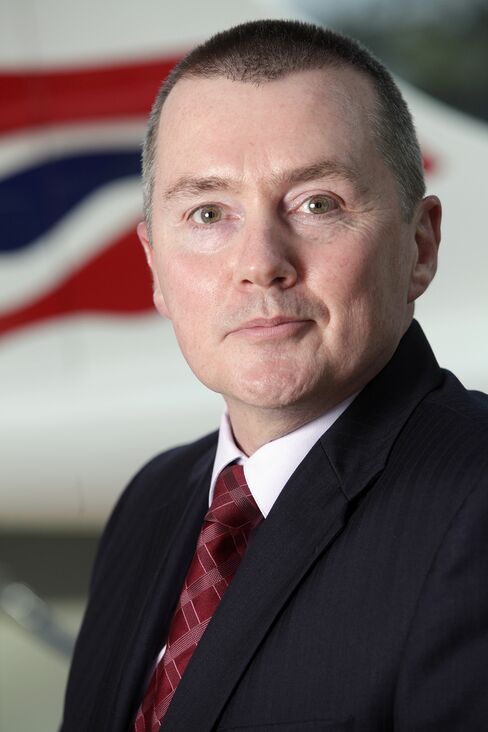 British Airways Plc Chief Executive Officer Willie Walsh may face a sixth round of walkouts by 11,000 cabin crew that threatens to cast a shadow over a merger with Spain's Iberia Lineas Aereas de Espana SA.
The Unite union plans to announce the result of a month-long strike poll of flight attendants Jan. 21, the same day British Airways ends almost 25 years as a mainstay of the U.K. stock market before combining with Iberia next week.
"It seems clear to us that there will be a positive return and a call for industrial action," Brendan Gold, Unite's national secretary for civil aviation, said yesterday in an interview from the union's London offices. "We had a branch meeting a week ago and it was very well attended."
British Airways rented planes and trained staff from other parts of the company to act as emergency crew when flight attendants walked out for a total of 22 days in five strikes last year in a dispute over pay and staffing levels. Still, the action cost about 150 million pounds ($240 million), and a repeat would pose a "serious headache," said Douglas McNeill, an analyst at Charles Stanley.
"BA by now has a fairly well-rehearsed contingency plan, which seems to be relatively effective, and it should be a short-term problem, but remains a distraction," said London-based McNeill, who has a "reduce" rating on British Airways stock.
Pay, Perks
Iberia lost 8 cents, or 2.2 percent, to 3.55 euros at 2:42 p.m. in Madrid, making it the biggest loser in the eight-company Bloomberg EMEA Airlines Index. Before today, the stock had gained 11 percent this year. British Airways fell as much as 2.4 percent and traded 1.6 percent lower at 295.2 pence in London.
The merger, which values the combined carriers at $10 billion at market value, will help British Airways narrow the gap to Air France-KLM Group and Deutsche Lufthansa AG, Europe's biggest airlines, while consolidating its No. 1 status in trans-Atlantic markets. Walsh, who becomes CEO of the new company, also won antitrust immunity last year for a closer pact with AMR Corp.'s American Airlines after years of applications.
Unite's Gold said that the timing and scope of a walkout will probably be announced at a later date.
No Talks
The two sides last met under the auspices of the state-sponsored Advisory, Conciliation and Arbitration Service in the second week of December, after which Unite General Secretary Tony Woodley backed away from a deal with Walsh following pressure from branch officials to hold out for better terms.
The dispute originally concerned pay and staffing levels but now centers on the suspension of strikers and the full restoration of travel perks.
No new negotiations are planned, ACAS spokesman Matt Barker said yesterday by telephone. Neither has the Trades Union Congress, an umbrella organization for U.K. labor groups, been involved in any talks, spokeswoman Liz Chinchen said.
A statement on Unite's website urges members to vote, describing the poll as their "last chance" to take action.
"Your future career prospects are poor and will remain so unless you play your part by voting," the appeal says. "There will not be another opportunity, and there will not even be a strong union if you don't."
Tony Cane, a British Airways spokesman, said the company's proposals are "very fair" and that it was encouraging workers to say "no to strike action," and end the dispute.
One-for-One
All of the carrier's flights will operate from London Gatwick and City airports in the event of a new walkout, he said, plus 100 percent of long-haul services from its Heathrow hub and a "substantial proportion" of European routes there.
Iberia Chairman Antonio Vazquez, who will take on the same role at International Consolidated Airlines Group SA, as the merged business will be known, said the U.K. labor dispute is a matter for British Airways, which will continue as a distinct unit and brand under the holding company.
"It doesn't make any sense for us to get involved," Vazquez said Jan. 17 on the sidelines of a Spanish Chamber of Commerce event in London. "The companies are totally separate. Each one will operate and manage its relations with the trade unions."
Following their delisting at the end of this week, British Airways shares will be replaced on a one-for-one basis with stock of IAG. The enlarged carrier will begin trading Jan. 24, with its primary listing in the U.K.
"London is a major financial centre, whereas Madrid, in financial terms, is a regional centre," British Airways Treasurer George Stinnes said in a telephone interview. "'The FTSE 100 is a more appropriate index for a company of the size and stature of IAG."
British Airways has been listed on the London Stock Exchange since 1987, when it was sold to private investors by Prime Minister Margaret Thatcher. The U.K. carrier and Iberia are targeting annual savings of 400 million euros ($535 million) in the fifth year after completion of their merger.
Before it's here, it's on the Bloomberg Terminal.
LEARN MORE