ASML Net Beats Estimates; Shares Fall on 2011 Concern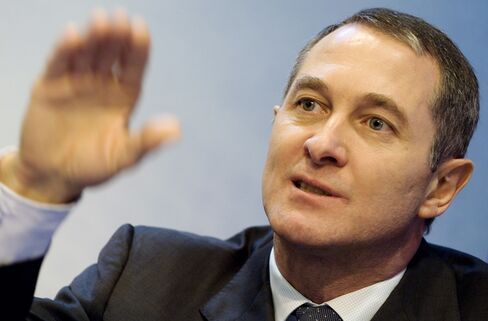 ASML Holding NV, Europe's biggest semiconductor equipment maker, posted fourth-quarter profit that beat analyst estimates, with 2010 sales rising to a record. Shares tumbled on concern this year may not be as strong.
Net income advanced to 407 million euros ($549 million) from 50.5 million euros a year earlier, the Dutch company said in a statement today. That beat the 325.8 million-euro average of 11 analysts' estimates compiled by Bloomberg. Sales rose to 1.52 billion euros, higher than the 1.34 billion-euro estimate.
"We believe important momentum indicators like bookings, book-to-bill ratio and backlog are set to trend down in coming quarters," Peter Olofsen, an analyst at Kepler Capital Markets in Amsterdam, said in a note. "With the stock having almost tripled in two years, we believe it is time to take profits."
ASML, the maker of machines that produce chips for Apple Inc.'s iPods and Nokia Oyj's mobile phones, is benefitting from increased chip-equipment demand. On Jan. 13, Intel Corp., the world's biggest chipmaker, raised its spending budget for this year as it plans to invest between $8.7 billion and $9.3 billion on plants and equipment compared with $5.2 billion in 2010.
The shares slid 6.8 percent to 27.90 euros at the 5:30 p.m. close in Amsterdam, the biggest drop since Dec. 2008. The shares still have more than doubled since early 2009, giving ASML a market value of 12.1 billion euros.
Global semiconductor capital equipment spending is projected to decline 1 percent to $38 billion this year after doubling in 2010, researcher Gartner Inc. said last month.
2011 Outlook
ASML sees net sales in the current quarter of about 1.4 billion euros and may report 2011 sales of more than 5 billion euros, the Veldhoven, Netherlands-based company said. Revenue in 2010 rose to 4.51 billion euros from 1.6 billion euros in 2009.
"The fourth quarter was a strong close to a remarkable year in the history of ASML during which we achieved record sales, profit and bookings," Chief Executive Officer Eric Meurice said in the statement.
The company said it will propose a dividend of 40 cents a share for 2010, twice last year's payout of 20 cents a share. It said it will buy back 1 billion euros of shares in two years.
"It was not a one-off increase; We expect to keep performing, so our position in terms of the dividend is sustainable," the CEO said in an interview today. "There'll be growth in the payout in due time when we reach the next size."
Technology Mix
ASML reached a "record year-end backlog of 3.9 billion euros of systems shippable in 2011," the CEO said. It received 2.32 billion euros in net orders for 117 systems in the fourth quarter, with an average selling price of 19.8 million euros.
Bookings in the first quarter will exceed 500 million euros, Meurice said. "The next booking round will come when customers have figured out what they want to do in 2012," he said. "The current cycle won't be over in 2011, we're not considering at all a reduction in 2012."
In the fourth quarter, ASML changed the way orders are accounted for, now reporting "full order values," including contract-committed items associated with a system sale.
"The overall macro-economic drivers are still mixed since the end of the summer, but the semiconductor market is sustained by a very rich leading edge technology mix, which in turn justifies the large backlog for our products," the CEO said.
ASML is the world's largest maker of machines to project lines on the silicon slices from which chips are made. Its main rival is Japan's Nikon Corp. Applied Materials Inc., based in Santa Clara, California, is the world's largest maker of semiconductor equipment.
"We're a single product company but our eyes and ears are on the ground to see what we could do beside the current products," Meurice said. "Nothing has come up so far but we'll keep looking and consider both internal developments and M&A."
Before it's here, it's on the Bloomberg Terminal.
LEARN MORE