Apple Price Target Raised to $550 at Ticonderoga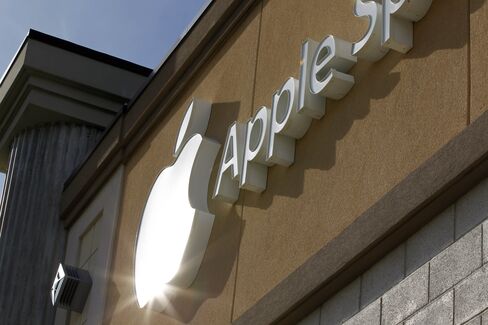 Apple Inc. had its price target raised to $550 at Ticonderoga Securities LLC after reporting profit and sales that exceeded analysts' estimates, even as Chief Executive Officer Steve Jobs takes a leave of absence.
The price target by Ticonderoga's Brian White is the highest among analysts surveyed by Bloomberg and 62 percent more than today's closing price. The target is 14 percent more than the next highest projection, $483 from Piper Jaffray Cos.
"Despite Monday's news regarding Steve Jobs's medical leave of absence, we believe it will be difficult to keep Apple's stock from reaching new highs given the much stronger-than-expected quarter and outlook reported by the company last night," White, an analyst in New York, said in a note today.
A $550 share price would value Apple at $506.6 billion, making it the largest company in the world by market capitalization. Exxon Mobil Corp. currently has the biggest market value, $394.5 billion as of today's closing price.
Apple, based in Cupertino, California, reported first quarter net income of $6 billion, or $6.43 a share, from $3.38 billion, or $3.67 a year earlier. Sales increased 71 percent from a year earlier to a record $26.7 billion.
Jobs announced Jan. 17 he was stepping away from day-to-day responsibilities at Apple to tend to his health, after a liver transplant in 2009. It's his third leave of absence since 2004.
Apple will likely sell 68.5 million iPhones and 27.4 million iPads this fiscal year, according to Ticonderoga projections. Demand from Chinese consumers will help boost Apple's future sales, White wrote.
Apple fell $1.81 to $338.84 at 4 p.m. New York time in Nasdaq Stock Market trading. The stock rose 53 percent last year.