China's Wen Pledges to Counter 'Abnormal' Loan Growth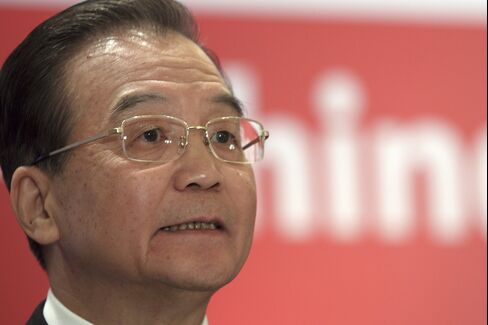 Chinese Premier Wen Jiabao pledged to counter "abnormal" credit growth after speculation that lending may have surged by as much as 1 trillion yuan ($150 billion) in the first two weeks of this year.
The government will also "ensure overall price levels are basically stable" in the first quarter, Wen said in a statement after the State Council met today to discuss a government work report and the next five-year plan.
China, the fastest-growing major economy, is seeking to contain the threat from inflation after banks flooded the financial system with money to drive a recovery. The nation faces net inflows of foreign exchange through 2015 as its trade surplus persists, the currency regulator said separately today.
"If liquidity remains excessive, the inflation situation may worsen as rapid price gains spread from food to other items and asset prices shoot up," said Sun Chi, a Hong Kong-based economist with Nomura Holdings Inc.
Authorities will use multiple monetary policy tools, "resolutely" implement controls on the real-estate market and aim to prevent abnormal lending at the beginning of the year, Wen said.
Goldman Sachs Group Inc. said Jan. 14 that lending may have reached 1 trillion yuan in the first two weeks of 2011, citing checks with commercial banks. That would compare with 481 billion yuan in December.
Reserve Requirements
Chinese banks' lending is typically biggest at the start of each year.
The central bank has this year highlighted the role that bank-specific reserve requirements may play in guiding credit growth. The most recent 50 basis point increase in reserve requirements for all banks will take effect Jan. 20. A basis point is 0.01 percentage point.
In 2010, the government failed to hold lending within a targeted maximum of 7.5 trillion yuan. Authorities are seeking to cool inflation that climbed to a 5.1 percent annual pace, the fastest in 28 months, in November.
China will maintain a "certain size" of trade surplus from now through 2015, Yi Gang, the head of State Administration of Foreign Exchange wrote in an article on the agency's website today. A small amount of "hot money" may also flow in as developed economies keep monetary policy loose and investors are lured by the nation's growth, interest rates and prospects for gains by the yuan, Yi said.
The nation also faces increasing challenges in allocating its foreign exchange reserves, Yi said. Those holdings have swelled to a world-record $2.85 trillion.
China will gradually move toward making the yuan convertible on the capital account over 2011 to 2015, so long as the risks are controllable, he added.
Wen also said that the government aims to ensure the stability of capital markets while managing banking sector risks and maintain a reasonable pace and scale of "social financing," a term he didn't define.
Before it's here, it's on the Bloomberg Terminal.
LEARN MORE