U.S. in Debt Crisis Without Spending Cuts, Pimco's Kashkari Says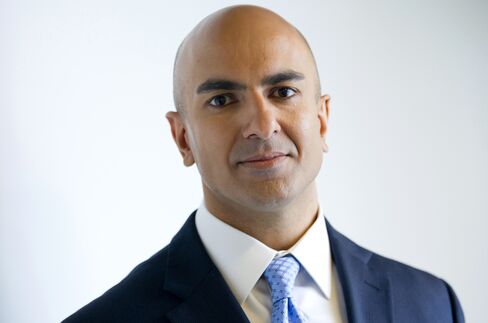 Jan. 18 (Bloomberg) -- The U.S. may face a debt crisis without action to limit federal spending, according to Neel Kashkari, a former Treasury official who headed the taxpayer-funded $700 billion Troubled Asset Relief Program.
"Our debt is now starting to get away from us," Kashkari, a managing director at Pacific Investment Management Co., said in an interview on Bloomberg Television's "InBusiness" with Margaret Brennan. "Indicators in the Treasury market are flashing caution."
The difference in yields between 2- and 30-year Treasuries widened to a record and the yield on 10-year notes rose by as much as eight basis points to 3.41 percent.
Kashkari said confidence in Treasuries may plunge as the central bank continues to print money to buy bonds and as the U.S. government fails to tackle a more than $1.2 trillion budget deficit.
"To the extent that we continue to issue record levels of Treasuries year after year, after year, it's inevitable that foreign buyers will begin to look elsewhere," said Kashkari, 37, who is based in Newport Beach, California.
Total U.S. public debt was more than $14 trillion at the end of 2010, a 72 percent increase during five years. Foreign holdings of U.S. Treasuries have dropped from 55.4 percent of outstanding debt in May 2008 to 49.7 percent in November, according to Bloomberg data.
Fed View
Federal Reserve policy makers, who see unemployment falling too slowly for their liking, are giving no indication of stopping monetary-stimulus plans almost four weeks after Commerce Department figures showed gross domestic product grew at a 2.6 percent rate in the third quarter.
"To the extent that our major trading partners are improving their fiscal position more quickly than we are -- and by the way, that appears to be happening -- confidence could fall much more quickly than we expect," Kashkari said as Chinese President Hu Jintao, leader of the U.S.'s second-largest trading partner, arrives in Washington for his first state visit to the U.S.
China owned $895.6 billion of American debt as of November, down 4.7 percent from a high of $939.9 billion in July 2009, according to Bloomberg data.
To contact the reporters on this story: Charles Mead in New York at Cmead8@bloomberg.net; Margaret Brennan in New York at mbrennan@bloomberg.net
To contact the editor responsible for this story: Dave Liedtka at dliedtka@bloomberg.net