Michelin Guide Awards Second Star to Helene Darroze in London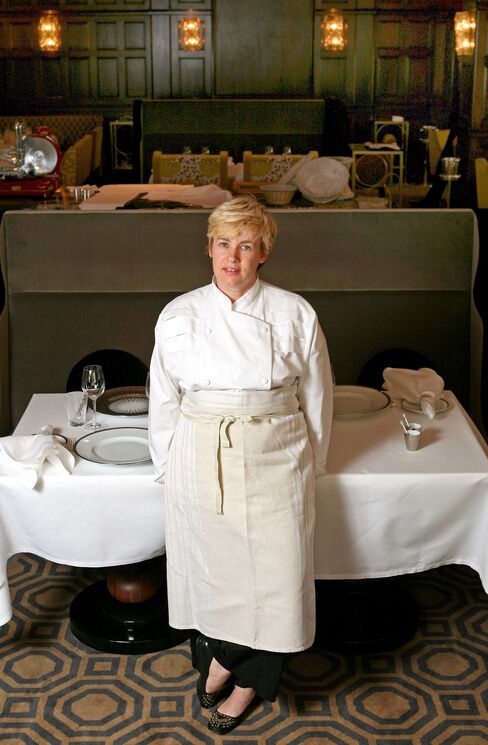 Helene Darroze, the French chef who lost her second star in Paris after opening a restaurant in London, gains two stars today in the Michelin guide to the U.K. Seven establishments in the city get their first stars.
The winners are Galvin La Chapelle, Gauthier Soho, Kitchen W8, Petersham Nurseries Cafe, Petrus, Seven Park Place and Viajante. Nahm at the Halkin Hotel loses its star, as does Roussillon after its chef Alexis Gauthier opened Gauthier Soho. Nathan Outlaw, in Rock, in the west of England, wins a second star. There are no additional three-star restaurants.
There are new Bib Gourmands in London for 28-50, Canton Arms, Charlotte's Bistro, Galvin Cafe a Vin, Goldfish City, Iberica, Morito, Polpo, Simply Thai, Trullo and Zucca. The award recognizes venues serving good food at modest prices. Gordon Ramsay's Foxtrot Oscar loses its Bib Gourmand, as do the Havelock Tavern, Modern Pantry. Sushi-Hiro has closed.
"There is no doubt that 2010 was a difficult year but those hotels and restaurants that represented value for money, at whatever price, were the ones best placed to weather the storm," the guide's new editor, Rebecca Burr, said today in an e-mailed news release.
Among the restaurants passed over for advancement this year are L'Anima and Koffmann's for a first; and Marcus Wareing at the Berkeley, the Ledbury and Le Gavroche for a possible third.
In a Bloomberg survey of almost 50 chefs earlier this month, a dozen said they believed Pierre Koffmann would win a star and there were eight votes for L'Anima chef Francesco Mazzei, who has been widely tipped for three years in a row. Eight said that Marcus Wareing should get his third.
Consistent Currency
"It's a big day in the calendar that people rightly look forward to after working extremely hard all year," chef Chris Galvin said in an interview yesterday before the results were announced. "For chefs, it is the guide and a currency of consistency."
There are only four three-star establishments in the U.K: Gordon Ramsay, Alain Ducasse, the Fat Duck and the Waterside Inn. There are now eight two-star restaurants in London: L'Atelier de Joel Robuchon, Le Gavroche, Helene Darroze, Hibiscus, the Ledbury, Marcus Wareing, Pied a Terre and the Square.
Darroze, 43, lost her second star at Helene Darroze in Paris last March, less than two years after opening her restaurant at the Connaught, serving dishes such as Cep Ravioli with Basque Ham and Roasted Hazelnut Praline Mousse. Her weekend brunch, featuring a foie-gras burger, costs 38 pounds ($60).
Galvin, Ramsay
A second woman chef to gain a star this year is Skye Gyngell, who grew up in Sydney, for her Petersham Nurseries Cafe. Other chefs recognized include Nuno Mendes, for his experimental restaurant Viajante in Bethnal Green; and brothers Chris and Jeff Galvin, for Galvin La Chapelle, in Spitalfields. There's also a star for Gordon Ramsay's Petrus.
Outside London, the new one-star restaurants are: Adam Simmonds at Danesfield House, Marlow; Black Rat, Winchester; Curlew, Bodiam; Paris House, Woburn; Pony & Trap, Chew Magna.
Five criteria are used for stars: food quality, preparation and flavors; the chef's personality as revealed through the cuisine; value for money; and consistency over time and across the menu. The criteria are adapted to each type of cuisine.
Three stars mean exceptional cuisine, worth a special journey; two stars are for excellent cooking, worth a detour; one star denotes a very good restaurant in its category.
Michelin & Cie. is the world's second-biggest tiremaker, after Bridgestone Corp. It produced its first guide in August 1900, distributed free of charge (until 1920) and intended for chauffeurs. The guide contained practical information, including street maps and tips on using and repairing tires.
Global Expansion
The guides expanded internationally under the director Jean-Luc Naret, who stepped down at the end of 2010, and now cover 23 countries. The editor of the U.K. guide, Derek Bulmer, retired after finishing work on the 2011 volume.
For Michelin, this is the centenary of the U.K. guide. The first edition, published in 1911, was dark blue in color and largely instructional in nature. It ran for five editions, with a break for World War I, resumed in 1922 and continued until 1930. The current Great Britain and Ireland Guide was started in 1974 and has been published every year since.
"The Michelin Guide Great Britain & Ireland 2011" will be available in bookshops from today, priced at 15.99 pounds, and on Feb. 1 in France. The guide's headquarters are in Paris and Michelin is based in Clermont-Ferrand, France.
(Richard Vines is the chief food critic for Muse, the arts and leisure section of Bloomberg News. Opinions expressed are his own.)
Before it's here, it's on the Bloomberg Terminal.
LEARN MORE