Topix Rises for First Time in Three Days on Brokerage Targets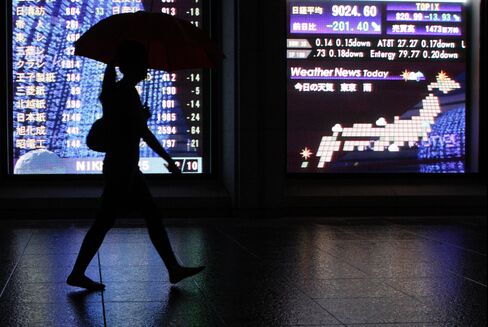 Jan. 18 (Bloomberg) -- Japanese stocks rose, driving up the Topix index for the first time in three days, as fiber makers and property developers advanced after brokerages boosted share-price targets and oil companies gained on the outlook for demand.
Toray Industries Inc. and Teijin Ltd., which make fiber, gained at least 2.9 percent following price upgrades at Goldman Sachs Group Inc. Mitsubishi Estate Co. and Mitsui Fudosan Co., Japan's biggest real-estate companies, climbed at least 1.4 percent after Nomura Holdings Inc. raised its target prices on the shares. Inpex Corp., Japan's largest oil and gas explorer, jumped 4.2 percent.
The Nikkei 225 Stock Average rose 0.2 percent to 10,518.98 at the close in Tokyo. The broader Topix climbed 0.3 percent to 931.58, with almost twice as many shares advancing as falling. The Topix has gained 3.6 percent this year, driving the average price of its shares to 16 times estimated earnings, near the highest level since August.
"Japanese stocks have been rising overall so far, but now investors are picking up individual undervalued stocks," said Yoshinori Nagano, a senior strategist in Tokyo at Daiwa Asset Management Co., which oversees about $104 billion. "There are no big worries about the global economy."
The Topix sank 1 percent in 2010 as the yen at its strongest annual average level against the dollar since 1971 dimmed the outlook for export earnings, and as Europe's debt crisis, China's steps to curb inflation and concern about U.S. growth damped confidence in a global recovery.
Oil Companies Climb
Oil companies gained the most among the Topix's 33 industry groups, followed by textile makers and property developers. Inpex jumped 4.2 percent to 506,000 yen, its biggest gain since August and the steepest advance in the Nikkei 225. Japan Petroleum Exploration Co., the nation's second-largest oil explorer, rose 2 percent to 3,365 yen.
The Organization of Petroleum Exporting Countries raised estimates for the amount of crude oil it will need to produce this year because of surging Asian demand, the group's Vienna-based secretariat said in a monthly report yesterday.
"The raised outlook reflects the current situation, in which demand is expanding and prices are rising," Daiwa Asset's Nagano said. The OPEC forecast is "good for companies that drill for oil."
Mitsubishi Estate, Japan's biggest developer by market value, jumped 3.4 percent to 1,627 yen. Mitsui Fudosan, the biggest by sales, advanced 1.5 percent to 1,754 yen. Nomura, Japan's largest brokerage, increased its price target for Mitsubishi Estate to 1,740 yen from 1,510 yen and for Mitsui Fudosan to 1,900 yen from 1,680 yen.
Fiber, Steel
Toray gained 2.9 percent to 531 yen after Goldman Sachs boosted its price estimate to 480 yen from 440 yen. Teijin jumped 4 percent to 395 yen following a target increase to 380 yen from 350 yen.
Steelmakers had the steepest percentage decline among the 33 industry groups in the Topix. Nippon Steel Corp. and JFE Holdings Inc., Japan's top-two steelmakers, both declined 1.4 percent. They may miss their earnings forecasts for the year ending March 31 because of increasing material costs, the Nikkei newspaper said.
To contact the reporter on this story: Norie Kuboyama in Tokyo at nkuboyama@bloomberg.net.
To contact the editor responsible for this story: Nick Gentle at ngentle2@bloomberg.net.