Guantanamo Inmate Seeking Release Rejected by U.S. High Court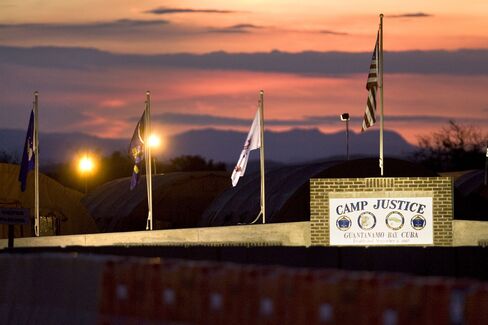 Jan. 18 (Bloomberg) -- The U.S. Supreme Court refused to hear an appeal from an accused al-Qaeda supporter who sought reinstatement of an order that he be released from the U.S. military prison at Guantanamo Bay, Cuba.
The justices today left intact a federal appeals court ruling that said the government had enough evidence of al-Qaeda ties to continue holding Mohammed al-Adahi. A federal trial judge had ordered al-Adahi set free.
Al-Adahi, a Yemeni man arrested in Pakistan in 2001, says he was there after taking his sister to Afghanistan to meet her new husband. He testified that he doesn't believe in killing innocent people and never planned to fight Americans.
The government contends al-Adahi, who is in his late 40s, stayed at an al-Qaeda guest house, spent a week at a terrorist training camp and met with Osama bin Laden. The U.S. also says bin Laden, the al-Qaeda leader, hosted a wedding celebration for al-Adahi's sister and brother-in-law.
U.S. District Judge Gladys Kessler ordered al-Adahi released in 2009. A three-judge panel of the U.S. Court of Appeals for the District of Columbia unanimously reversed that ruling last year.
In his appeal, al-Adahi said the appeals court was too quick to substitute its judgment for Kessler's. The Obama administration urged the Supreme Court not to hear the case.
Al-Adahi was one of 173 detainees at Guantanamo as of Jan. 12. When he took office in January 2009, President Barack Obama vowed to close the facility within a year.
The case is al-Adahi v. Obama, 10-487.
To contact the reporter on this story: Greg Stohr in Washington at gstohr@bloomberg.net.
To contact the editor responsible for this story: Mark Silva at msilva34@bloomberg.net.