GE to Announce China Projects Yielding $2.1 Billion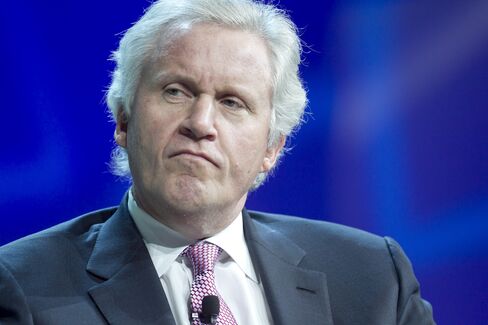 General Electric Co. plans to announce Chinese rail, aviation and energy projects yielding at least $2.1 billion in sales during President Hu Jintao's visit to the U.S. this week.
The joint ventures and orders include high-speed rail, locomotives, power turbines, clean coal technology and avionics. They may support about 5,000 jobs including from U.S. suppliers, the Fairfield, Connecticut-based company said.
GE's China sales are rising at about 20 percent annually and should grow in the "high double-digits" in 2011 as the company builds partnerships and seeks orders, Chief Executive Officer Jeffrey Immelt said last month. The company got about $33 billion of its $157 billion in 2009 revenue from emerging markets, with more than $5.3 billion in China.
Immelt, who has said GE intends to be one of the top five U.S. exporters "at all times," will attend a meeting with Hu, President Barack Obama and U.S. and Chinese executives during Hu's state visit. Some of the projects were disclosed when Immelt traveled to Beijing in November.
GE's rail division, based in Erie, Pennsylvania, will sign letters of intent tomorrow for ventures that may bring in $1.4 billion and add or preserve 2,000 U.S. jobs, including an order for 500 exported locomotive kits and related services valued at $350 million, GE Transportation CEO Lorenzo Simonelli said in an interview.
'Great Progress'
GE and CSR Corp., China's largest maker of rail vehicles, signed a venture announced in December that includes a plan to invest $50 million for high-speed lines in California and Florida. The Obama administration is championing high-speed passenger rail projects.
"This is great progress," Simonelli said. "We feel good about the emerging markets, and it's good for the U.S. as well because it increases our exports. We continue to be one of the biggest exporters from Pennsylvania."
GE, which doesn't currently make high-speed trains, will compete with Siemens AG, Bombardier Inc. and others through the venture, which may create about 250 U.S. jobs. GE is the world's biggest maker of jet engines, locomotives and power-generation equipment.
GE Energy, based in Atlanta, expects to sign a five-year agreement today with China's Huadian Corp. that should result in the sale of 50 aero-derivative turbine generator sets.
Targeting Waste Heat
The generator sets, which produce electricity from a variety of fuels, re-use waste gas, heat and steam that would ordinarily escape, thus conserving raw materials. GE is targeting waste-heat as an alternative for cleaner burning fuel in China, the world's biggest user of coal.
Earlier this month, GE signed an agreement with Jiangsu Tianue Energy & Chemical Group Co. for three combined aero-derivative units, the first of its kind in the country.
Today's agreement may produce $500 million in revenue, including $350 million in U.S. exports of the technology over the next decade, said Darryl Wilson, who oversees the aero-derivative business. Production may support 2,100 jobs from dozens of U.S.-based GE suppliers in states including Ohio, Colorado, Texas and Oregon, GE said, citing estimates from the U.S. Department of Commerce.
"Clean energy, we think, represents America's best opportunity to maintain global technology and innovation leadership," Wilson said. "We hope to sustain jobs and exports for our technology."
Creating Jobs
GE also announced a venture with Shenhua Group Corp. to develop so-called clean-coal technology, which turns coal into cleaner-burning gas, for commercial-sized facilities. The business, which may generate $150 million in revenue in five years, will develop technology in both countries, creating jobs in China as well as Texas, South Carolina and New York state.
China may spend about 5 trillion yuan ($750 billion) in the next decade developing cleaner sources of energy, the government said in July, and GE has agreed to form other ventures that will tap that growth, including one with Harbin Power Equipment Co. for wind turbines and State Grid for smart-grid technologies.
GE Aviation, based in Evendale, Ohio, said it plans to sign an agreement on Jan. 21 for its 50-50 avionics joint venture with China's Aviation Industry Corp., known as AVIC, announced in 2009. John Watkins was named to lead the venture, starting in March.
In July the Shanghai-based venture won a contract to supply avionics to China's Commercial Aircraft Corp.'s narrowbody aircraft, the C919, marking both companies' first foray into the market as a systems integrator.
Aviation Venture
Immelt bought the business from Smiths Plc in 2007 in part to compete with top-tier players in the industry for on-board electronics such as Honeywell International Inc., United Technologies Corp. and Rockwell Collins Inc. GE estimates the civil avionics systems market as a whole at about $5 billion a year, with the venture's products targeting about a $2 billion slice of that market.
The aviation venture will develop its own civil technology. GE and AVIC will keep their respective military technology and personnel separate, the company said. About 300 jobs may be added in each country and another 100 in the U.K.
GE Aviation's CFM International venture with Safran SA of France won placement on the C919 as the only engine choice in 2009. The company had about $778 million in revenue from China last year, with about $1 billion this year, GE said. About 2,500 GE engines are on planes flown by Chinese carriers, with another 1,000 on order, GE said.
Before it's here, it's on the Bloomberg Terminal.
LEARN MORE