Forest's Lexapro Antidepressant Eases Hot Flashes in U.S. Study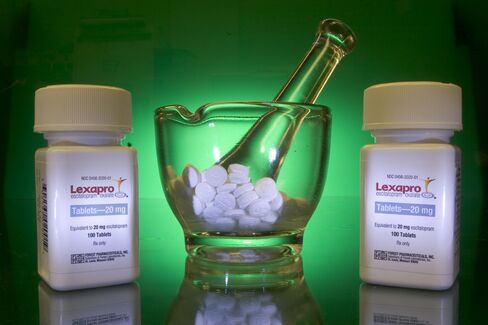 Forest Laboratories Inc.'s top-selling product, the antidepressant Lexapro, eased hot flashes in menopausal women in a study, proving itself a potential alternative to hormone treatments.
The number of daily hot flashes dropped 47 percent for women taking Lexapro for 2 months compared with 33 percent for those given a placebo, according to U.S.-funded research published today in the Journal of the American Medical Association. Lexapro also reduced the severity of the symptoms and resulted in no "serious adverse events," scientists said.
Prempro and Premarin, from New York-based Pfizer Inc., are among the hormone therapies that are the only approved U.S. treatments for menopausal signs such as hot flashes and night sweats. Research has linked hormone therapies to higher risks of breast cancer and cardiovascular disease.
"The medication that we studied provides an option for menopausal hot flashes," said Ellen Freeman, the study's lead author and a research professor in the Department of Obstetrics & Gynecology at the University of Pennsylvania in Philadelphia, in a telephone interview on Jan. 14. "It's important to be clear that it is off-label, and probably further studies would be important to determine both that these results are consistent and also to compare this directly with hormone therapy."
Lexapro, or escitalopram oxalate, is approved to treat depression and anxiety. Sales of Lexapro for the six months ended Sept. 30 were $1.13 billion. The drug loses patent protection next year.
New York-based Forest won't seek U.S. clearance of the drug as a treatment for hot flashes, the company said in a message relayed on Jan. 14 by Cohn & Wolfe, a public relations agency owned by Dublin-based WPP Plc. Asked for the reason, the agency had no immediate response.
Class of Drugs
The medicine is part of a group of drugs called selective serotonin reuptake inhibitors, including Forest's Celexa, Prozac from Indianapolis-based Eli Lilly & Co., Zoloft from Pfizer and London-based GlaxoSmithKline Plc's Paxil.
It's unclear how the medicines, which increase the chemical serotonin in the brain, reduce hot flashes, Freeman said.
In the 8-week study, 104 women received Lexapro and 101 women were given a placebo. At the start, all the women had an average of 9.8 hot flashes a day. After 8 weeks, the number decreased to 5.3 a day for women on Lexapro, while those on placebo experienced 6.4 hot flashes daily, the study found.
Fifty-five percent of those taking Lexapro and 36 percent of those given the placebo had a decrease of more than 50 percent in hot flash frequency at week 8, the researchers said. The study found the reduction in severity and frequency of hot flashes was the same regardless of race, Freeman said.
'Most Conclusive'
"There's been previous evidence of benefit from a wide range of medications including the same class of antidepressants tested in this study," said Randall Stafford, an associate professor of medicine at Stanford University near Palo Alto, California. "This in my mind is the most conclusive study of non-estrogens and their benefits."
Stafford, who wasn't an author of the Lexapro paper, was an investigator on the Women's Health Initiative, which in 2002 linked estrogen and progesterone therapy to higher risks of heart attack, stroke and breast cancer, and has been involved in follow-up studies. He hopes doctors will use the Lexapro study to prescribe women antidepressants before giving hormone treatments, particularly for those with mild menopausal symptoms, he said.
In some women, the benefits of Lexapro were seen after one week of treatment in the study, Freeman said. Within two to three weeks of stopping the drug, the number and severity of hot flashes rose, she said.
Controlling Symptoms
"The drug does not cure hot flashes, it controls them," Freeman said. "So when you stop taking the drug, if you still have hot flashes, they're going to come back."
Menopause occurs mostly about age 50 and marks the end of a woman's fertility. More than 6 million women took Prempro and related menopause drugs to replace hormones the body stops making before the Women's Health Initiative highlighted the risks. Wyeth's hormone drugs -- including Prempro, a combination of estrogen and progestin -- had annual sales of more than $2 billion before the health initiative report. Pfizer, which bought Wyeth in 2009, is fighting lawsuits over the drug's risks.
The Lexapro study was sponsored by the National Institutes of Health, based in Bethesda, Maryland, as part of a $22 million program to research potential treatments for menopause.
Sherry Sherman, program director of clinical aging and reproductive hormone research at the National Institute of Aging, also in Bethesda, said the Lexapro findings offer promise.
"If women are really having problems, there's not much out there that's efficacious," Sherman said in a telephone interview on Jan. 14.
Sherman said scientists also will study the benefits of exercise or yoga plus omega-3s on menopausal symptoms. That research should be available next year.
Before it's here, it's on the Bloomberg Terminal.
LEARN MORE