Delta Drops Most in 15 Months After Quarterly Profit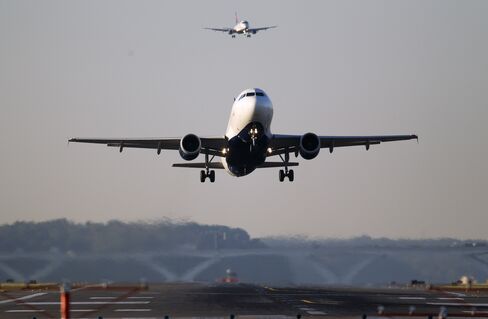 Delta Air Lines Inc. tumbled the most since October 2009, pacing declines among the largest U.S. carriers, after posting a fourth-quarter profit that trailed analysts' estimates because of fuel costs.
Earnings excluding merger expenses and other one-time items were $158 million, or 19 cents a share, the Atlanta-based company said today in a statement. That missed the average projection of 24 cents among 13 analysts surveyed by Bloomberg.
Delta's fuel bill climbed 13 percent to $1.93 billion, and payments to regional partners increased 25 percent, partly because of costlier fuel. The world's second-biggest carrier also recorded expenses related to its 2008 purchase of Northwest Airlines and for trimming operations at its Cincinnati hub.
"As we move into 2011, the biggest issue we face is the recent steep run-up in fuel prices," Chief Financial Officer Hank Halter said in a memo to employees. "At today's prices, this could add an extra $1 billion to our costs over last year."
Delta fell $1.05, or 8.2 percent, to $11.70 at 4:15 p.m. in New York Stock Exchange composite trading, for the shares' biggest decline in 15 months. The slide was the steepest among the 12 carriers in the Bloomberg U.S. Airlines Index.
Delta is the first major U.S. airline to report fourth-quarter results. Analysts estimated that all five of the biggest carriers except AMR Corp.'s American will post profits.
Net Income, Costs
Net income was $19 million, or 2 cents a share, compared with a loss of $25 million, or 3 cents, a year earlier, Delta said.
The carrier reported $139 million in one-time items, including expenses of $88 million related to the Northwest merger, as well as costs to consolidate operations at the Cincinnati-area airport and pay debt.
Delta projected an operating profit margin of 1 percent to 3 percent for this quarter and didn't give a per-share forecast. The average of five analysts' estimates compiled by Bloomberg was a 6-cent loss, excluding one-time items.
The carrier's projection implies passenger revenue for each seat flown a mile will increase about 8.5 percent, "which is better than the 7 percent we're presently forecasting," Kevin Crissey, an analyst at UBS Securities in New York, wrote in a note to clients.
Jet Order
Chief Executive Officer Richard Anderson said Delta will decide on a new jet order by the end of the year.
Last week, the company said in an employee memo that it had sent requests for proposals to "several" manufacturers for as many as 200 narrow-body jets and options for 200 more, which could be a record purchase in the industry.
Anderson said the geared turbofan engine made by United Technologies Corp.'s Pratt & Whitney, which will be available on Airbus SAS's new A320neo and Bombardier Inc.'s CSeries, is "viable" and promises to trim fuel use as much as 20 percent.
The engines on the Airbus and Bombardier planes are "both really exciting opportunities," Anderson said. The Leap-X engine from CFM International, the venture of General Electric Co. and Safran SA, is also available on the A320neo.
"This industry needs more efficient airplanes and a 20 percent efficiency at $95-a-barrel fuel is a very important development," he told analysts and investors on a conference call. "So we're excited about the work Bombardier and Airbus are doing."
Boeing Co. said last week that it will decide by midyear whether to offer a new engine for its top-selling 737 or wait to develop a replacement plane. Boeing has had "a very difficult time making a compelling business case for why we should re-engine," Jim Albaugh, president of the company's commercial aircraft unit, said in a Jan. 12 interview in Washington.
Boeing will "be in the running, but their numbers are going to have to match up against the efficiencies" of new planes from others, Anderson said.
Before it's here, it's on the Bloomberg Terminal.
LEARN MORE