Cargill to Split Off 64% Stake in Mosaic to Holders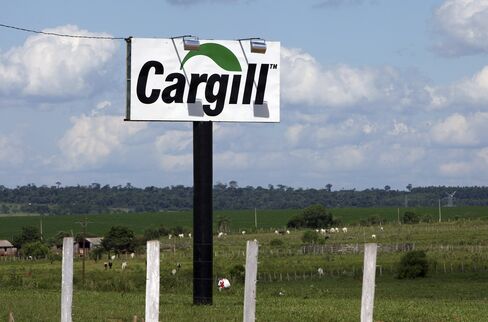 Cargill Inc. plans to split off its majority stake in Mosaic Co., North America's second-largest fertilizer producer, in a $24.3 billion deal that will make Mosaic a takeover target.
Cargill will exchange 179 million Mosaic shares for Cargill stock held by Cargill investors, the companies said today in a statement. Minnetonka, Minnesota-based Cargill will exchange its remaining 107 million Mosaic shares for Cargill debt held by third parties. The Mosaic shares will be sold on in a series of secondary offerings.
Mosaic may attract suitors as fertilizer prices gain on higher grain demand. BHP Billiton Ltd. made a $40 billion bid in August for Potash Corp. of Saskatchewan Inc., Mosaic's largest competitor, which was blocked by the Canadian government three months later. Russian producer OAO Uralkali said in December it will acquire domestic rival OAO Silvinit for $7.8 billion.
Cargill's transfer of its 64 percent Mosaic stake makes Mosaic "more of an acquisition target," Don Roose, president of U.S. Commodities Inc., a West Des Moines, Iowa-based hedging and trading firm, said by telephone. "You don't have the big brother at your side."
Mosaic, which is based in Plymouth, Minnesota, dropped $1.44, or 1.7 percent, to $83.63 as of 7:59 p.m. after the close of regular trading on the New York Stock Exchange.
The deal will be tax-free to both companies and their respective shareholders. The transaction is subject to approval by Mosaic's minority shareholders who will get $200 million if Cargill terminates the transaction.
'Strategic Goals'
"This transaction will give us more of a free hand to create long-term value for shareholders and increase our flexibility to pursue our strategic and financial goals," Jim Prokopanko, Mosaic's chief executive officer, said on a conference call with investors and analysts.
The first secondary offering of the Mosaic shares will take place when the split-off closes, which is expected in the second quarter, Cargill said. The rest of the shares will be sold in subsequent offerings over more than two years following the closing. It's possible Mosaic could be acquired during that period, Prokopanko said.
There were 67 acquisitions of agricultural-chemical companies announced or completed in the past year valued at at least $20.7 billion, according to data compiled by Bloomberg.
Phosphate Rally
"Cargill is a very good acquirer," Malcolm Polley, president of Stewart Capital Advisors LLC, said in a telephone interview from Indiana, Pennsylvania. "Cargill is smart money. If they are getting out of Mosaic, maybe it's a good time to hedge your bets probably in the whole sector."
Mosaic was created when Cargill combined its fertilizer business with IMC Global in 2004. Mosaic got 69 percent of its revenue from phosphates used in fertilizer in the fiscal year ended May 30, and 31 percent from potash, another crop nutrient. U.S. phosphate prices advanced 31 percent to $590 a metric ton while potash in Vancouver, a transit point for the commodity, was unchanged at $320 a ton, according ICIS-LOR data.
Cargill said the distribution of the 64 percent stake will allow it to meet the needs of charitable trusts formed to plan for the estate of shareholder Margaret A. Cargill, who died in 2006. The deal will also help the company maintain its credit rating and align earnings with the businesses it operates, Cargill said.
Cargill, which trades and distributes grain and other foods, said last week its second-quarter net income more than tripled to $1.49 billion after its trading unit gained from a drought in Russia. Sales advanced 16 percent to $31.1 billion.
Deal Advisers
The value of Cargill's Mosaic stake was calculated based on today's closing Mosaic share price of $85.07 in New York and the 286 million Mosaic shares that Cargill has according to Bloomberg data.
Credit Suisse Group AG and Fried Frank Harris Shriver & Jacobson LLP are advising Cargill on the transaction, and JPMorgan Chase & Co. and Simpson Thacher & Bartlett LLP are counseling a special committee of independent Mosaic directors. UBS AG and Loeb & Loeb are working with the trusts.