Apple Profit Rises 78% on Demand for IPads, IPhones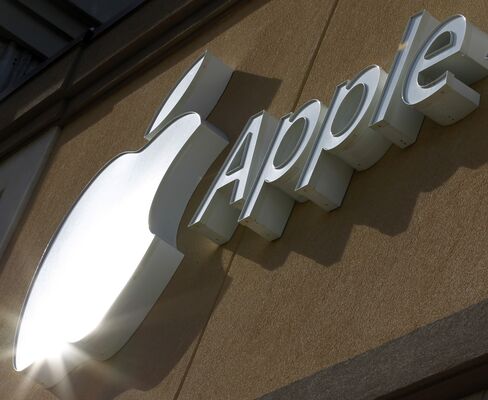 Apple Inc., whose Chief Executive Officer Steve Jobs said yesterday he is taking a medical leave of absence, posted a 78 percent jump in quarterly profit, helped by holiday buying of iPads, iPhones and Macintosh computers.
Net income in the fiscal first quarter rose to $6 billion, or $6.43 a share, from $3.38 billion, or $3.67, a year earlier, Apple said today in a statement. Analysts projected profit of $5.41 a share, the average of estimates compiled by Bloomberg. Apple rose as much as 4.8 percent in extended trading.
Sales increased 71 percent to a record $26.7 billion, exceeding the $24.4 billion predicted by analysts in a Bloomberg survey. The company sold 7.33 million iPad tablet computers in the first holiday season for the device, topping the 6 million projected by Mike Abramsky at RBC Capital Markets LLC. The results suggest Apple will fare well in the coming months as Jobs hands day-to-day operations to Chief Operating Officer Tim Cook, said Ashok Kumar, an analyst at Rodman & Renshaw LLC.
"It was a blowout quarter," said Kumar, who's based in Palo Alto, California. "The momentum should sustain for the next 12 months with the iPad and iPhone refresh. The uncertainty investors have to prepare for is beyond that time frame in terms of the company's ability to execute in this flawless manner and develop new markets." He rates Apple a "buy" and doesn't own it.
Apple, based in Cupertino, California, climbed to as high as $357 in extended trading, after earlier falling $7.83 to $340.65 at 4 p.m. New York time on the Nasdaq Stock Market. The shares rose 53 percent last year. The company is the world's second-most valuable company behind Exxon Mobil Corp.
'Well-Oiled Machine'
Jobs, 55, who has been fighting a rare form of cancer since 2004, said in an e-mail disclosed yesterday, "I love Apple so much and hope to be back as soon as I can."
The company is likely to fare well under Cook, said Barry Jaruzelski, a partner at Booz & Co.
"It's a well-oiled machine," said Jaruzelski. Jobs's "ethos and things he focuses on from marketing and innovation are deeply embedded in the process and people, making it an institutional capability," he said.
Apple sold 16.2 million iPhones, 4.13 million Mac computers and 19.5 million iPod media players, according to the statement. Abramsky at RBC Capital Markets predicted sales of 16 million iPhones, 6 million iPads, 18.7 million iPods and 4.2 million Macs.
More Products Coming
Apple, whose potential U.S. customer base for the iPhone will almost double by adding Verizon Wireless as a carrier next month, said profit this quarter will be $4.90 a share on sales of $22 billion.
"We are firing on all cylinders and we've got some exciting things in the pipeline for this year including iPhone 4 on Verizon, which customers can't wait to get their hands on," Jobs said in the statement.
Analysts estimate Apple will have second-quarter profit of $4.47 a share on sales of $20.9 billion, according to data compiled by Bloomberg.
The period will be the first to include sales from Verizon Wireless, the largest U.S. carrier, which will begin selling the iPhone on Feb. 10. The arrangement ends AT&T Inc.'s exclusive U.S. rights to the iPhone and adds 93.2 million potential customers for Apple.
The iPhone is Apple's top-selling product, accounting for 39 percent of revenue last fiscal year. The iPad also is becoming a bestselling product for Apple, accounting for 17 percent of revenue last quarter. The company has now sold 14.8 million since it was introduced in April.
Macbooks, Beatles
Gross margin, the percentage of sales left after deducting production costs, was 38.5 percent in the first quarter, compared with 36.9 percent in the fourth quarter.
Apple introduced a lineup of the Macbook Air notebook computers and iPod media players to entice shoppers last quarter, while also adding songs from the Beatles to iTunes for the first time.
Jobs took a leave of absence as his health deteriorates from a bout with a rare form of cancer and the effects of a liver transplant he had almost two years ago, according to a person with knowledge of the situation.
The CEO has been unable to keep on weight as he undergoes treatment for his conditions, said the person, who requested anonymity because the matter is private. He took two previous leaves -- for cancer surgery in 2004 and the transplant in 2009.
Jobs will continue as the CEO, according to a company statement citing an e-mail he sent to employees. Jobs co-founded Apple in 1976 and after being ousted in 1985, he returned in 1997 and transformed it from a computer-industry also-ran into the world's largest technology company by market value.
"I hope he comes back," said Jane Snorek, who helps oversee about $75 billion at Nuveen Asset Management and said Apple is Nuveen's biggest holding. "I don't care who they get, there's no way you can replace Steve Jobs."
Before it's here, it's on the Bloomberg Terminal.
LEARN MORE