Alok Profit To Climb 50% as Fuel Costs Fall, CFO Says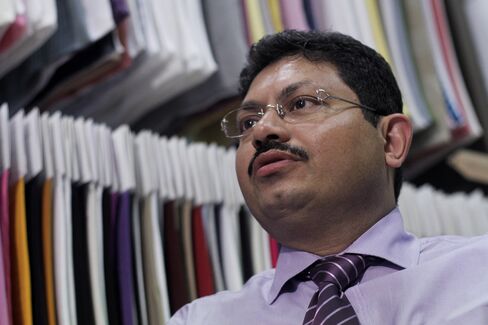 Alok Industries Ltd., an Indian supplier of sportswear to Wal-Mart Stores Inc. and Target Corp., forecasts profit will climb 50 percent in the year from April as it passes higher prices to customers and pays less for fuel.
"Demand from the international and domestic market continues to be buoyant," Sunil Khandelwal, chief financial officer, said in an interview in Mumbai yesterday. "New capacities will come on board for us, which should contribute to growth for the year starting April."
India's economy has grown an average 8.5 percent annually during the past five years, doubling per-capita incomes. Retail sales in the U.S. returned to pre-recession levels in December, climbing for a sixth straight month as Americans indulged in holiday shopping. Consumer spending accounts for about 70 percent of the world's largest economy.
Alok shares rose for the first time in four days, advancing 1.2 percent to 25.2 rupees as of 12:49 a.m. in Mumbai trading. The stock gained 22 percent in 2010, compared with a 17 percent rise for the Bombay Stock Exchange's benchmark 30-stock Sensitive Index, or Sensex.
Cheaper Fuel
Exports contribute about 40 percent of sales, Khandelwal said. The company, India's second-largest apparel and textile manufacturer by market value, may save 600 million rupees ($13 million) in costs in the year starting April 1, as it pays less for fuel to run its plants, he said.
"We will be shifting to gas-based power from furnace oil, which would help us save on costs," Khandelwal said. Power charges make up about 5 percent of total expenditure, he said. "Interest and depreciation costs are also flattening out."
The company will raise about 17 billion rupees by selling real estate, Khandelwal said. "This should certainly happen during the course of the year" ending March 2012, he added.
Alok's net income for the year ended March 2010 rose 31 percent to 2.47 billion rupees, according to data compiled by Bloomberg. Earnings may grow as much as 35 percent in the year through March, Khandelwal said in a July interview with Bloomberg UTV.
Sales may increase by 35 to 40 percent in the 12 months from April 1, compared with an estimated 35 percent gain this year, Khandelwal said.
Higher cotton costs haven't dented profit margins as Alok has raised prices of its products, Khandelwal said. Cotton futures jumped 93 percent in the past 12 months as global supplies fell short of textile mills' demand.
Before it's here, it's on the Bloomberg Terminal.
LEARN MORE