Airbus to Charge $29 Million More for A380 Superjumbo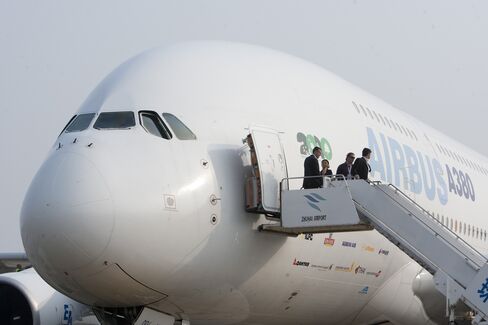 Jan. 18 (Bloomberg) -- Airbus SAS increased the list price of its A380 superjumbo by 8.4 percent, or $29 million, saying the 525-seat plane's performance in saving airlines money since it entered service in 2007 has exceeded initial forecasts.
The European manufacturer increased the average price for the rest of the model lineup by 4.4 percent, backdated to the start of this year, it said today. Re-engined versions of its short-haul planes will cost a further $6.2 million.
Airbus won 644 orders in 2010, more than twice the number anticipated at the start of the year, helping the Toulouse, France-based company maintain a lead over Boeing Co. The A380, which had 240 orders from 18 customers as of Jan. 6, will now cost $375.3 million, though airlines get discounts based on the size of a purchase and their relationship with the manufacturer.
"As we continue to ramp up production rates to meet the unprecedented global demand for Airbus aircraft, the required industrial investments we are making, coupled with a weak dollar, necessitates raising prices across the board," Chief Operating Officer John Leahy said in a statement.
The superjumbo's higher price increase reflects its "outstanding revenue-generating performance," according to Airbus, a unit of European Aeronautic, Defence & Space Co.
'Positive Signal'
The company's single-aisle planes -- with their original engines -- will now cost from $65.2 million for the A318 to $99.7 million for the A321. Its newest model, the A350 widebody, will be priced at between $236.6 million and $299.7 million, depending on the size variant.
"This is a general formula that will take time to reach the top line, but it's certainly a good, positive signal," said Virginie Vacca, an analyst at Standard & Poor's in London. "With rising commodity prices and the A380 offering about 20 percent fuel and carbon dioxide benefits per seat for airlines, no doubt the market can absorb it."
Airbus's net order intake came to 574 planes in 2010, after 70 cancellations, Chief Executive Officer Tom Enders said yesterday. Boeing won 530 net orders after 95 cancellations.
The airframer won an order for six A380s from Asiana Airlines Inc. of South Korea on Jan. 6 following one for as many as 15 from Japan's Skymark Airlines Inc. in November. The deals restored sales momentum after a spell of more than three years during which the superjumbo attracted only one new operator.
Boeing Co.'s 747-8 Intercontinental passenger plane, its challenger to the A380, has won 33 orders.
EADS rose 3.1 percent to 21.45 euros in Paris, valuing the company at 17.5 billion euros ($23.5 billion).
To contact the reporter on this story: Howard Mustoe in London at hmustoe@bloomberg.net
To contact the editors responsible for this story: Colin Keatinge at ckeatinge@bloomberg.net; Benedikt Kammel at bkammel@bloomberg.net