Orphanides Says Fund Could Buy Bonds Instead of ECB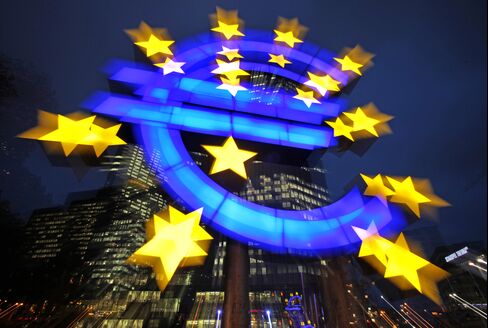 European Central Bank council member Athanasios Orphanides said the bank may be able to stop buying government bonds if Europe's rescue fund is empowered to purchase debt.
The ECB initiated its bond program "to address market dysfunction that hampered the monetary transmission mechanism," Orphanides said in a Jan. 14 interview in Frankfurt, a day after ECB policy makers met. If the European Financial Stability Facility "were to buy government bonds, and that improved the functioning of the monetary policy transmission mechanism, that might render some of the ECB's non-standard measures no longer necessary," he said.
The ECB is pressing governments to take more responsibility for Europe's sovereign debt crisis so that it can withdraw non-standard measures and return to its traditional role of inflation fighting. Euro-area finance ministers meeting in Brussels today have signaled they're considering expanding their response to the crisis, which may include mandating the 440 billion-euro ($585 billion) EFSF to purchase debt.
"I believe that that would be one way to have additional flexibility that at times might be found useful," said Orphanides, who heads the central bank of Cyprus. "To the extent euro-area governments improve the effectiveness of the stabilization facility and this relieves some market tensions, this would facilitate the ECB's task."
ECB 'Frustration'
German two-year government notes advanced for the first time in five days, pushing the yield down five basis points to 1.11 percent at 10:52 a.m. in London. The euro initially dropped before recovering to be little changed at $1.3287.
Orphanides' comments "show that frustration at the ECB over government handling of the crisis and constantly having to act as the first line of defense is coming close to boiling point," said Carsten Brzeski, an economist at ING Group NV in Brussels.
Ceasing bond purchases may help to appease the inflation hawks on the ECB's Governing Council, some of whom objected to the program in the first place and are concerned the ECB's emergency measures could fuel price gains if left in place too long. ECB President Jean-Claude Trichet last week signaled growing concern about price stability after inflation breached the bank's 2 percent limit in December, accelerating to 2.2 percent.
Not 'Overly Hawkish'
Orphanides, a former adviser to the U.S. Federal Reserve, was more sanguine about the inflation outlook, noting that "measures of the underlying inflation rate remain rather low."
Asked about market reaction to the ECB's change in tone, which drove the euro three cents higher and prompted some economists to bring forward forecasts for rate increases, Orphanides said there is sometimes an "overreaction to the underlying message." The ECB's statement was not "overly hawkish," he said, and suggested he sees no need for rate increases any time soon.
"In my view, the important message to be taken out of our decision and statement was to acknowledge that, largely due to an increase in energy prices, overall inflation is somewhat higher than we would like it to be, but at the same time we expect that overall inflation will actually be coming down," Orphanides said. "We do not see any need to change the view that the current degree of accommodation in our monetary policy is consistent with price stability in the euro area in the medium term."
'Unusually Forthright'
The comments are "unusually forthright," said Julian Callow, chief European economist at Barclays Capital in London. "He has weighed into the debate more directly than he would have in the past and seems keen to downplay how hawkish the press conference really was."
The ECB left its benchmark lending rate at a record low of 1 percent on Jan. 13. Trichet said inflation risks "could move to the upside" and the bank has "never pre-committed not to move interest rates." Citigroup Inc. revised its forecast for the ECB's first rate increase to the second half of this year from the first quarter of 2012.
Asked when the ECB might raise borrowing costs, Orphanides said he doesn't find it helpful "to try and forecast interest-rate changes well into the future."
The ECB has been forced to shoulder much of the burden of containing the debt crisis as governments procrastinate. It has repeatedly delayed the withdrawal of unlimited liquidity provision for banks, and taken the unprecedented step of buying government bonds.
'Temporary' Measure
The bank has so far spent 76.5 billion euros in an attempt to soothe debt markets in nations such as Greece, Ireland, Portugal and Spain, where yields have surged to euro-era highs. The ECB last week stepped up bond purchases, settling transactions worth 2.3 billion euros, the most in five weeks, a market notice from the central bank showed today.
Bundesbank President Axel Weber opposed the bond purchases when they began in May last year, and policy makers including Trichet and ECB Executive Board member Juergen Stark have stressed the "temporary" nature of the measure.
French Finance Minister Christine Lagarde suggested last week that governments may discuss allowing the EFSF to buy government debt when they meet in Brussels today.
"We should acknowledge that the tensions we have seen in the euro area over the past year reflect, to some extent, weaknesses in the governance of the euro area and concerns about the stability mechanism that is in place," Orphanides said. "It is extremely important at this juncture to make maximum effort to improve the underlying stability mechanism."