Dangdang CEO Li Says Morgan Stanley Undervalued IPO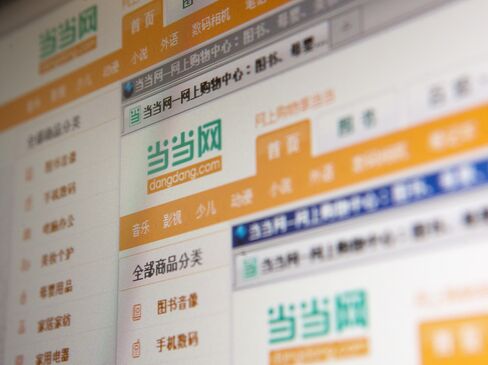 Morgan Stanley undervalued E-Commerce China Dangdang Inc.'s $272 million initial public offering last month, said Li Guoqing, chief executive officer of the Chinese e-commerce operator.
"I am openly here criticizing investment banks, criticizing Morgan Stanley," Li said yesterday in a posting on Sina Corp.'s microblogging service, a Chinese version of Twitter. "So what? Can't Morgan Stanley be criticized?"
The comments, confirmed by the company, were meant to "serve as a warning" to others seeking a stock listing in the U.S. and reflect the CEO's personal opinions, Beijing-based Dangdang said in an e-mailed statement today. Li won't accept interview requests from the media, said Xu Lin, a spokeswoman at the company.
Morgan Stanley and Credit Suisse Group AG managed Dangdang's IPO, selling 17 million American depositary receipts at $16 apiece and valuing the company at about $1.25 billion. The ADRs were originally offered at $11 to $13 each.
The original midpoint valued the company at 48 times annual earnings, based on third-quarter results, data compiled by Marina del Rey, California-based IPOdesktop.com showed at the time. That was 64 percent higher than the median of 29.2 times estimated profit for 11 U.S.-traded Internet retailers, Bloomberg data showed.
Morgan Stanley Probe
Li's postings led to thousands of responses on the microblogging site, some saying the CEO didn't understand the IPO process. Some bloggers wrote posts saying they had identified employees of Morgan Stanley as being among those replying to Li.
Morgan Stanley has completed a preliminary investigation and believes that its employees weren't behind the postings responding to Li, according to the bank.
The comments were "offensive, highly unprofessional and do not reflect industry practices," Morgan Stanley said in an e-mailed statement. "We condemn such behavior that can risk damaging a company's brand and reputation."
Sheel Kohli, a spokesman at Credit Suisse in Hong Kong, declined to comment.
"It's one thing for an investment bank to have a different view from a client, it's another to engage in a shouting match," said Wang Ran, CEO of China eCapital Corp., an investment bank focused on helping Chinese companies raise funds in the U.S. "As long as we are in a service business, we'd better make sure we choose the right clients and live with our choices."
Top Underwriter
Dangdang's stock, which fell 1.5 percent to $33.86 in New York trading Jan. 14, has more than doubled from the IPO price.
Chinese companies raised $107 billion in IPOs last year, 38 percent of the global total, according to data compiled by Bloomberg. New York-based Morgan Stanley was the top-ranked underwriter of overseas first-time share sales by Chinese companies and Credit Suisse ranked 10th, the data show.
Morgan Stanley received government approval this month for setting up an underwriting venture in China together with China Fortune Securities Co., after agreeing to sell its stake in China International Capital Corp. Credit Suisse, based in Zurich, received approval in 2008 for a local venture with Founder Securities Co.
Tying up with a local partner is a requirement for foreign securities firms to manage stock and bond sales in China, according to Bloomberg data.
Before it's here, it's on the Bloomberg Terminal.
LEARN MORE