Glaxo Sees $3.5 Billion Charge on Avandia, U.S. Probe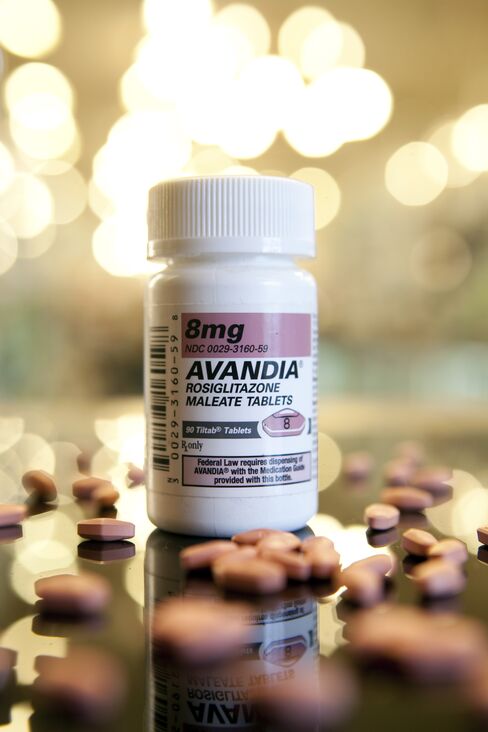 GlaxoSmithKline Plc, the U.K.'s biggest drugmaker, said it will have fourth-quarter legal costs of 2.2 billion pounds ($3.5 billion) because of a U.S. investigation into sales practices for certain products and product-liability cases related to the Avandia diabetes drug.
The company is setting aside additional provisions for the investigation by the U.S. attorney in Colorado into the company's sales and promotional practices of certain products, London-based Glaxo said in an e-mailed statement today. The money also will cover for the "substantial" number of new claims filed in the U.S. regarding Avandia, Glaxo said.
Today's charge brings to 4 billion pounds the amount Glaxo set aside for possible legal costs in 2010. While all companies have costs for litigation, the size of Glaxo's charges is unusual, said Navid Malik, an analyst with Matrix Corporate Capital LLP in London.
"I am a bit surprised to see such a high charge come in," Malik said in a telephone interview today. "I thought there was going to be an additional charge, but I didn't think it was going to be this high."
GlaxoSmithKline shares fell 20 pence, or 1.6 percent, to 1,205 pence at the close of trading in London, erasing earlier gains of as much as 1.4 percent.
Avandia Withdrawn
The company said Sept. 23 it would stop promoting Avandia worldwide after regulators said the treatment would be withdrawn from the market in Europe and sales would be limited in the U.S. because of an increased risk of heart attacks. Avandia was once the world's best-selling diabetes drug.
Glaxo reported 210 million pounds in legal costs in the first quarter of 2010, according to an April 28 statement.
In the second quarter, Glaxo recorded 1.57 billion pounds in legal charges for cases related to Avandia, to cover settlements over a U.S. government investigation into the company's former manufacturing site at Cidra, Puerto Rico, and product-liability and antitrust cases relating to the Paxil antidepressant.
Legal expenses in the third quarter were 48 million pounds, Glaxo said Oct. 21. The company's aggregate provision for legal and other disputes for the first three quarters of 2010 was 2.5 billion pounds, Glaxo said in the statement. The company will give an updated aggregate legal provisioning for the full year at the next earnings presentation, Glaxo said today.
Analyst Estimates
The expense announced today will be 1.8 billion pounds after taxes, Glaxo said. Analysts estimated the company would earn 1.44 billion pounds excluding some items in the fourth quarter, meaning Glaxo is now likely to report a quarterly loss.
"We recognize that this is a significant charge, but we believe the approach we are taking to resolve long-standing legal matter is in the company's best interest," PD Villarreal, Glaxo's senior vice president of litigation, said in today's statement. "We have closed out a number of major cases over the last year and we remain determined to do all we can to reduce our litigation risk."
The U.K. drugmaker has "now completed its assessment of these additional" Avandia cases and made "an estimate of likely future claims," the company said today.
Glaxo didn't say how many Avandia cases remain to be settled and "that is a concern," said Matrix Corporate Capital's Malik, who has a "buy" recommendation on Glaxo shares.
Colorado Investigation
Glaxo took a 278 million-pound charge in the fourth quarter of 2008 for costs relating to the Colorado investigation.
The U.S. attorney in Colorado issued a subpoena in 2004 over Glaxo's "sales and promotional practices relating to nine of its largest selling products," the company said in its 2009 annual report. Federal prosecutors in Colorado are investigating whether Glaxo promoted the drugs for unapproved uses, the company said.
The investigation, which is nationwide in scope, also looks into ways that Glaxo potentially influenced doctors, including company-sponsored medical education programs, speaker events, advisory boards, speaker training programs, clinical studies and "related grants, fees, travel and entertainment."
Glaxo hasn't disclosed which products are the subject of the investigation. Alex Harrison, a spokeswoman for Glaxo, declined to comment in an e-mail.
Before it's here, it's on the Bloomberg Terminal.
LEARN MORE