'Social Network' Wins Four Golden Globes in Warm-Up to Oscars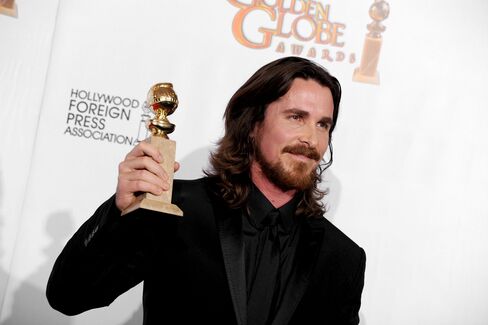 Jan. 17 (Bloomberg) -- "The Social Network," the story of the rise of Facebook Inc., won four Golden Globes including best drama, in a prelude to next month's Academy Awards.
The movie, distributed by Sony Corp., was also honored for best director and best screenplay at the 68th Annual Golden Globe Awards, broadcast yesterday by NBC. Comedian Ricky Gervais repeated as host of the ceremony in Beverly Hills, California.
"Social Network," from Sony's Columbia Pictures, is the story of Mark Zuckerberg's sometimes turbulent creation of the Facebook Internet site. Director David Fincher and screenwriter Aaron Sorkin turned the legal battles that erupted over the technology company's founding into a drama embraced by fans.
"For younger people, Mark Zuckerberg is a rock star," said Scott Rudin, the movie's producer. "He just fights and fights for what he believes. And that has worked all over the world."
The Globes, chosen by the Hollywood Foreign Press Association, are an imperfect gauge of prospects for the Academy Awards, the film industry's highest honor. The Globes, which name a best picture in two categories -- drama and comedy/musical -- have predicted the best-picture Oscar once in the past five years. Awards can also boost sales.
"The Golden Globes can give a film a great lift in the international markets, which has become an increasingly large part of a film's revenue stream," said USC professor Jason Squire, editor of "The Movie Business Book."
Japanese Audience
"Social Network" portrays Zuckerberg as he builds the top social-networking website, leaving a trail of lawsuits and broken friendships. The movie was made for about $40 million and has generated $94.3 million at the U.S. and Canadian box office, according to researcher Box Office Mojo. Globally, the film has generated $200 million in box-office sales.
"The people at Facebook love us," Rudin said. "It has allowed them to go into areas of the world that didn't know about Facebook. More people saw this movie in Japan than are on Facebook."
In the musical or comedy category, "The Kids Are All Right" captured the award for best picture and Annette Bening won best actress. The movie, from Universal's Focus Features, follows a lesbian couple and their teenage children as they get to know the kids' biological father.
Walt Disney Co.'s "Toy Story 3" won the award for best animated feature.
Oscar nominations are scheduled for Jan. 25. The award ceremony, sponsored by the Academy of Motion Picture Arts & Sciences, will be broadcast on Disney's ABC on Feb. 27.
Predictive Power
Last year, "The Hurt Locker" won the best-picture Oscar, after "Avatar" was honored with a Globe for best drama. Best-actor Globe winners Sandra Bullock and Jeff Bridges both went on to win the Academy Award as well.
Last night, Colin Firth won best actor in a drama for his role as King George VI in "The King's Speech." The movie, distributed in the U.S. by Weinstein Co., led nominations with seven and took home one.
For a musical or comedy film, Paul Giamatti won best actor for his role in "Barney's Version." Christian Bale received the award for best supporting actor in "The Fighter."
Natalie Portman won the best actress award for her portrayal of a ballerina in the drama "Black Swan." Melissa Leo won for best supporting actress for her role in "The Fighter."
Including all of its divisions, Tokyo-based Sony received the most awards of any studio with seven.
Gervais Zinger
Controversy shadowed this year's awards. Michael Russell, a former publicist for the association, alleged in a lawsuit that the organization accepts payments in exchange for nominations and awards, the Associated Press reported on Jan. 14.
The association has denied the allegations, the AP said.
Gervais made light of the controversy, joking that it wasn't true that association members only nominated "The Tourist" so they could hang out with stars Johnny Depp and Angelina Jolie. "They also accepted bribes," Gervais quipped.
Foreign Press Association President Philip Berk jested back from onstage: "Ricky, the next time you want someone to qualify your movie, go to another guy."
HBO led Golden Globe winners in television categories with four, led by best drama "Boardwalk Empire." The Time Warner Inc.-owned cable channel hadn't won in the category since "Six Feet Under" in 2002. AMC's "Mad Men," a nominee this time, had won the previous three years.
"Boardwalk Empire" star Steve Buscemi, also won for best actor in a TV drama. HBO's "Temple Grandin" won for best miniseries or TV movie, and Al Pacino won best actor in a mini-series or TV movie for "You Don't Know Jack."
Fox and cable sibling FX also won four TV awards, led by "Glee," which won for best comedy or musical TV series.
Robert DeNiro was honored with the Cecil B. DeMille Award, presented by Matt Damon, for his contributions to the film industry.
To contact the reporter on this story: Ronald Grover in Los Angeles at Rgrover58@bloomberg.net.
To contact the editor responsible for this story: Anthony Palazzo at apalazzo@bloomberg.net.