Canada Tightens Mortgage Rules to Curb Household Debt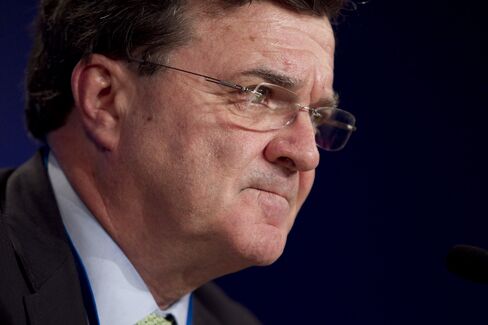 Canadian Finance Minister Jim Flaherty tightened rules to restrain record household borrowing, giving the Bank of Canada more scope to extend a pause in interest rate increases.
Flaherty said today Canada will shorten the maximum amortization period for government-insured mortgages to 30 years from 35 years, lower the maximum amount homeowners can borrow against the value of their homes, and withdraw its insurance on home-equity lines of credit.
"This government understands the importance of not taking on more than you can afford and the dangers of ongoing debt," Flaherty, 61, told reporters today in Ottawa. "A stable and sustainable housing market keeps our economy strong."
Canada has relied on tighter mortgage regulations to rein in mortgage and consumer borrowing, aiming to stop rising debt levels from threatening the economic recovery. Bank of Canada Governor Mark Carney has kept borrowing costs near historical lows, even as he has warned about the risks of rising debt levels, in order to support an economy battered by weak demand for the country's exports.
Today's announcement "gives the bank a little bit more flexibility," said Mark Chandler, head of Canadian currency and rates strategy at Royal Bank of Canada's RBC Capital unit in Toronto.
Rising Rates
The three-month overnight index swap rate, a security based on what investors expect the central bank's rate will average during that period, was 1.0525 percent, up from 1.0515 percent on Friday. According to median estimates of 16 economists surveyed by Bloomberg News this month, the Bank of Canada will raise interest rates to 1.25 percent in May, 1.5 percent in July, 1.75 percent in October and 2 percent in December from the current 1 percent level.
"This move in and of itself doesn't negate interest rate increases," Chandler said. "Very much at the margin, it can affect the timing."
The Canadian dollar appreciated 0.4 percent to 98.66 cents per U.S. dollar at 1:42 p.m. New York time, compared with 99.09 cents on Jan. 14. The Standard & Poor's/TSX Banks Index was little changed at 2012.76 points at 1:40 p.m. in Toronto. National Bank of Canada was down 0.5 percent to C$70.59. Bank of Montreal was up 0.1 percent to C$59.57.
The changes could put "a bit of pressure" on Canadian banks because they would slow mortgage-lending growth, "but I kind of think that's been priced into the stocks," said Greg Taylor, who helps oversee C$5 billion as a money manager at Aurion Capital Management in Toronto. "The market has been looking for a slowdown in housing and loan growth."
No Material Impact
Home Capital Group Inc., which targets borrowers who can't get mortgages from commercial banks, rose 0.6 percent to C$53.64. Martin Reid, president of the Toronto-based lender, said he doesn't see the changes having a "material impact" on the business, adding his company supports the new rules.
"The actions announced today by Minister Flaherty are prudent, measured, responsible and timely," Frank Techar, president of personal and commercial banking at Bank of Montreal, said today in a statement.
The moves to shorten the maximum amortization period and lower the refinancing maximum will take effect March 18. The government will also withdraw its insurance on home-equity lines of credit starting on April 18, Flaherty said in a statement.
'Modest' Impact
Flaherty said the changes are primarily preventative and will have a "modest" impact on the housing market.
"It's obvious we could have gone farther," Flaherty said, adding he could have made changes to down payment requirements.
Policy makers, including Flaherty and Bank of Canada Governor Mark Carney, have been urging households in recent months to be wary of taking on too much debt after data showed the indebtedness of Canadians surpassed U.S. levels for the first time in 12 years.
Carney has kept his key interest rate at 1 percent since September, after three consecutive increases last year, and said in a Dec. 13 speech that further moves would be "carefully considered" as he gauges the strength of the global recovery. The Bank of Canada's next rate announcement is tomorrow at 9 a.m. New York time.
In the last decade, lending based on housing collateral has risen as a share of total Canadian household credit. The volume of home-equity lines of credit and loans has risen by as much as 170 percent -- almost twice as fast as mortgage debt -- and now accounts for 12 percent of the overall stock of household debt, Deputy Governor Agathe Cote said in a Jan. 10 speech, where she said Canadian household finances have become "increasingly stretched."
Household Debt
Household debt was a record 148 percent of disposable income in the third quarter last year according to Statistics Canada data, exceeding the U.S. level of 147 percent.
"There had been some talk of the Bank of Canada raising rates earlier in order to slow the growth rate of household debt, but we think that today's announcement will help to quash that idea," David Tulk, senior rates and foreign exchange strategist at TD Securities in Toronto, said in a note to investors.
Flaherty today said the timing of his announcement today isn't related to Bank of Canada interest rate announcements.
"Of course, we make an effort to make sure government policy complements Bank of Canada monetary policy," he said.
Extra Volatility
The changes may prompt some households to bring forward purchases of homes before the measures come into effect, which could add an "an extra amount" of volatility to a slowing housing market, according to Tulk, while the move to withdraw backing for home equity credit lines could contribute to slowing growth in consumer credit.
Today's move was the third time Canada has relied on regulatory steps to rein in mortgage borrowing, primarily through changes for government-backed mortgages. In February, Flaherty tightened rules that forced buyers to meet standards for five-year, fixed-rate mortgages even if they opt for variable rates.
It's the second time Flaherty has shortened amortization rules, reducing the limit in 2008 to 35 years, from 40 years. Canadians are required to insure their mortgages if they make a down payment of less than 20 percent of the value of the home.
Statistics Canada reported Jan. 10 that the value of building permits fell by 11.2 percent in November, dropping by more than any of the 13 economists in a Bloomberg Survey had predicted. Sales of existing homes fell 0.6 percent in December, the Canadian Real Estate Association said Jan. 14.
Before it's here, it's on the Bloomberg Terminal.
LEARN MORE