Euro Falls as Bailout Debated; U.S. Futures Drop on Apple CEO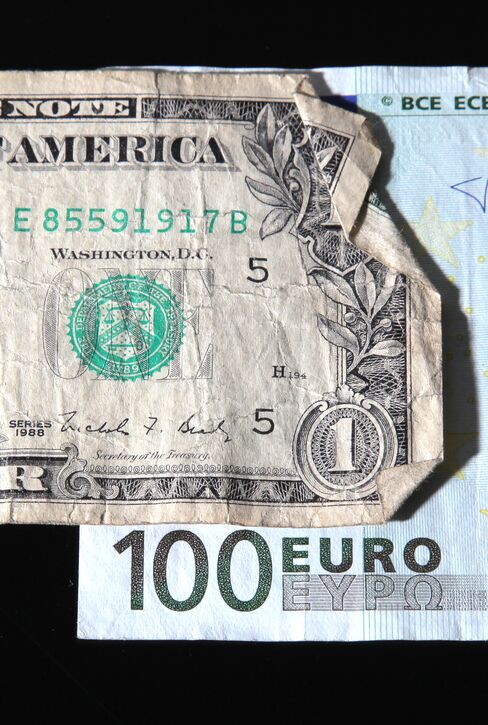 Jan. 17 (Bloomberg) --- The euro fell, snapping a five-day rally against the dollar, and Spanish bonds dropped as the region's ministers debated a bailout plan. U.S. stock futures declined as Apple Inc. said Chief Executive Officer Steve Jobs is taking a medical leave of absence.
The euro depreciated 0.7 percent to $1.3289 at 4:27 p.m. in New York and the Stoxx Europe 600 Index closed little changed. Futures on the Standard & Poor's 500 Index, of which Apple is the second-biggest member, lost 0.3 percent. The Shanghai Composite Index tumbled 3 percent, leading Asian shares lower, on concern China's anti-inflation measures will curb growth. The MSCI Emerging Markets Index fell 0.4 percent and Brazil's Bovespa lost 0.5 percent. U.S. markets were shut for a holiday.
Finance chiefs are due to meet in Brussels today to discuss a revamped debt-crisis strategy with Germany easing its opposition to an expanded approach. European Central Bank council member Athanasios Orphanides said the bank may be able to stop buying government bonds if Europe's rescue fund is allowed to purchase debt. Chinese President Hu Jintao, who is set to meet President Barack Obama in Washington tomorrow, rejected U.S. arguments that it needs a stronger yuan.
"There's plenty of reasons to be circumspect on the euro after the rally last week," said Jeremy Stretch, executive director of foreign-exchange strategy at Canadian Imperial Bank of Commerce in London.
All Eyes on Apple
Exchanges were closed in New York for the Martin Luther King Jr. Day holiday. Nasdaq-100 Index futures expiring in March sank 1.3 percent in electronic trading. Apple accounts for about 21 percent of the Nasdaq-100, a gauge of the largest companies that trade on the Nasdaq Stock Market. The index closed last week at its highest level since February 2001, while the S&P 500 ended at the highest level since August 2008. Apple shares tumbled 6.2 percent in Germany after the U.S. shares closed at a record $348.48 last week in New York.
Apple Chief Operating Officer Tim Cook will be responsible for the Cupertino, California-based company's day-to-day operations, with Jobs continuing as CEO, Apple said, citing an e-mail to employees from Jobs. The Apple co-founder took a nearly six-month break to have a liver transplant in 2009.
"Apple shares will obviously be getting hit, as shareholders rightfully command a premium for a CEO like Steve Jobs," said Dave Lutz, head of ETF trading and strategy at Stifel Nicolaus & Co. in Baltimore. "Any selloff will be used as a buying opportunity, as Steve Jobs has high confidence in Tim Cook, and the two have worked closely defining Apple's strategy and vision. Last time Jobs had to take time, that proved a huge buying opportunity for the stock." Lutz said. "I bought then, and will be buying in weakness tomorrow."
Earnings Season
The trading in futures signaled the S&P 500 may trim last week's 1.7 percent advance when exchanges reopen tomorrow. The gauge for U.S. equities capped a seventh weekly advance on Jan. 14, the longest rally since May 2007.
Apple, as well as companies including Citigroup Inc. and Goldman Sachs Group Inc., are scheduled to release earnings this week. Analysts estimate that earnings grew 22 percent in the final three months of 2010 and will increase 14 percent in 2011, according to data compiled by Bloomberg News. Out of seven companies in the S&P 500 that have posted results since Jan. 10, six have beaten per-share profit estimates, according to data compiled by Bloomberg.
Most Canadian stocks fell, led by energy producers, as an Alaska pipeline prepared to restart and Chinese stocks dropped the most in two months. The S&P/TSX Composite Index slipped 0.2 percent.
The euro weakened versus all but two of its most-traded counterparts, sliding 0.9 percent against the yen. The Dollar Index, which tracks the U.S. currency against those of six trading partners, advanced 0.3 percent, rising for the first time in six days. New Zealand's dollar climbed 0.8 percent versus the U.S. currency before a government report this week that economists said will show inflation accelerated.
Spanish Bonds
Spain's 10-year bonds decreased as the government halted auctions on Jan. 20 in favor of selling debt through banks. Spanish 10-year bond yields rose nine basis points to 5.46 percent. The government canceled auctions of 2020 and 2024 bonds for Jan. 20 and will instead sell debt due April 2021 through banks, according to two people with knowledge of the sale.
The cost of insuring debt sold by Europe's so-called peripheral nations rose, snapping four days of declines. Credit-default swaps tied to Spain's bonds climbed 7.4 basis points to 301.9 in afternoon trading in London, compared with a record-high 364 reached on Nov. 30, while contracts on Portugal rose 13.1 basis points to 482.5, according to CMA. Greece increased three basis points to 913.6 and Italy climbed 5.9 basis points to 209.6. Swaps protecting Ireland's bonds were 6.8 basis points higher at 627.8, CMA prices show.
European Markets
Three stocks declined for every two that rose in Europe's Stoxx 600 as BHP Billiton Ltd. and Rio Tinto led mining companies lower. BP Plc climbed 0.2 percent in London and OAO Rosneft rallied 5.2 percent in Russia after the oil companies agreed to swap equity stakes as part of a drive to extract billions of barrels of Arctic petroleum.
Smiths Group Plc, the world's biggest maker of airport-security scanners, jumped 7.7 percent after spurning a $3.89 billion approach for its medical-equipment operation from private-equity firm Apax Partners LLP. Smith & Nephew Plc rose 3.5 percent after the Sunday Times said that Johnson & Johnson, the largest maker of health-care products, is considering a new bid for the maker of knee and hip replacements.
Goldman Sachs, Apple
The Shanghai Composite Index tumbled the most in two months after China ordered banks to set aside more reserves last week and rising property prices signaled policy tightening measures may be expanded. The MSCI Emerging Markets Index declined for a third day. Rosneft led Russia's Micex Index up 1.5 percent to the highest level on a closing basis since June 2008.
Oil fell as much as 0.8 percent to $90.83 a barrel as the operators of a pipeline from Alaska prepared to restore flows to the U.S., the largest crude consumer.
To contact the reporter on this story: Stephen Kirkland in London at skirkland@bloomberg.net.
To contact the editor responsible for this story: Nick Baker at nbaker7@bloomberg.net.