Egypt Stocks Drop Most Since November as Tunisia Leader Toppled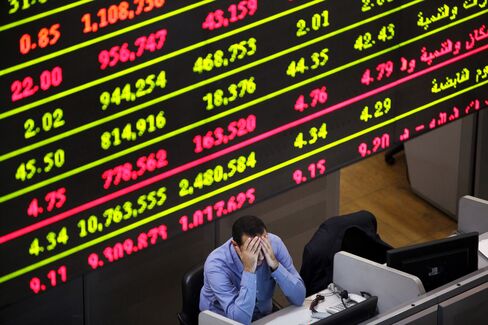 Egyptian stocks fell the most since November after a popular uprising in Tunisia forced the ouster of President Zine El Abidine Ben Ali, raising concern Egypt's regime may face similar pressure.
Commercial International Bank Egypt SAE, the country's biggest publicly traded lender, closed at the lowest level in more than a month. EFG-Hermes Holding SAE, Egypt's biggest publicly traded investment bank, declined 2.4 percent. The EGX30 Index lost 1 percent, the biggest drop since Nov. 30, to 7,082.09 at the 2:30 p.m. close in Cairo. Tunisia's benchmark Tunindex tumbled 13 percent last week as increasing violence lead to the toppling of the country's leader on Jan. 14.
The Tunisian protests may embolden demonstrators who have recently taken to the streets in other North African and Middle Eastern countries, including Egypt, Morocco and Jordan, all of which have experienced demonstrations about economic conditions, said Marina Ottaway, director of the Middle East program at the Carnegie Endowment for International Peace in Washington.
"People are selling because they think the same might happen here" given unemployment and inflationary pressure, Alia Khalil, senior equity trader at Cairo-based Pharos Holding for Financial Investments, said by telephone.
Egypt's Unemployment
Former European Commission President Romano Prodi said Egypt may be vulnerable to an uprising similar to Tunisia as "the fragility of the political situation makes it extremely vulnerable to youth unemployment and the increase in the price of bread," according to an editorial in il Messaggero.
Unemployment in Egypt stands at 8.9 percent according to the Cairo-based Central Agency for Mobilization and Public Statistics. The government says it needs to maintain a growth rate of about 7 percent to create enough jobs for the 750,000 people who enter the workforce every year. Egypt's central bank said last week core inflation, the benchmark it uses to make interest rate decisions, increased to 9.65 percent in December from 8.93 in the previous month.
Ben Ali was the first Arab leader to be forced out by popular unrest since at least 1985, when demonstrations in Sudan led to a coup that ousted President Gaafar al-Nimeiri. At least 23 people died in demonstrations over unemployment in Tunisia, according to the government. Al Arabiya on Jan. 13 cited unidentified human rights groups as saying 66 died.
Cairo-based Commercial International retreated 1.7 percent to 43.35 Egyptian pounds and EFG-Hermes fell to 33.97 pounds.
Telecom Egypt, the country's monopoly fixed-line operator, gained for the first time in five days, advancing 1.1 percent to 18.85 Egyptian pounds. The company is closer to acquiring a license to provide mobile-phone services using an existing operator's network, Naeem Brokerage wrote in a report after meeting with company management last week. Tunisia's market was closed today.
Before it's here, it's on the Bloomberg Terminal.
LEARN MORE