Consumer Sentiment in U.S. Unexpectedly Declines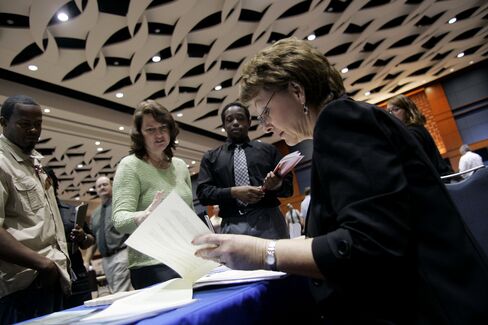 Confidence among U.S. consumers unexpectedly declined in January as more Americans worried about the effects of higher gasoline prices on their finances.
The Thomson Reuters/University of Michigan preliminary index of consumer sentiment for the month dropped to 72.7, the lowest since November, from 74.5 in the previous month. Economists surveyed by Bloomberg News projected a gain to 75.5, according to the median forecast.
Consumers anticipated stagnant incomes this year along with rising inflation, a product of the highest gasoline prices at the pump since October 2008. Buying plans declined, indicating faster job growth may be required to keep consumer spending accelerating in coming months.
"Rising gasoline prices are definitely hurting people's wallets," said Jennifer Lee, a senior economist at BMO Capital Markets in Toronto. "The more important thing is to focus on the expectations index, which shows consumers are feeling a little better about their finances in coming months and that will guide spending patterns up."
The estimates in the Bloomberg survey of 72 economists ranged from 73 to 78. The index averaged 89 in the five years leading up to the recession that began in December 2007.
Stocks fluctuated after the report, with the Standard & Poor's 500 Index rising less than 0.1 percent to 1,284.5 at 10:25 a.m. in New York.
The confidence survey's gauge of current conditions, which reflects Americans' perceptions of their financial situation and whether it is a good time to buy big-ticket items like cars, decreased to a three-month low of 79.8 from 85.3 in the prior month.
Consumer Expectations
The index of consumer expectations for six months from now, which more closely projects the direction of consumer spending, increased to 68.2, the highest since June 2010, from 67.5.
Separate data from the Commerce Department showed sales at U.S. retailers rose in December for a sixth consecutive month, capping the biggest one-year gain in more than a decade. Purchases increased 0.6 percent after rising 0.8 percent in November. Sales climbed 6.7 percent in 2010, the most since an 8.2 percent jump in 1999.
Industrial production rose more than forecast in December, boosted by gains in business equipment and home electronics, Federal Reserve figures showed.
Industrial Production
Output at factories, mines and utilities climbed 0.8 percent, the most in five months, after a revised 0.3 percent increase in November. Economists surveyed by Bloomberg forecast a 0.5 percent gain, according to the median estimate.
The Labor Department said today that consumer prices rose 0.5 percent in December, led by higher fuel costs. The core rate of consumer prices, which excludes food and energy, increased 0.1 percent.
Consumers in the Michigan survey said they expect an inflation rate of 3.3 percent over the next 12 months, the highest since October 2008, compared with 3 percent in December.
The average price of a gallon of gasoline rose to $3.10 yesterday, the highest since October 2008, according to AAA. Prices on regular-grade gasoline have exceeded $3 a gallon since Dec. 21.
Five Years
Over the next five years, the figures tracked by Federal Reserve policy makers, Americans expected a 2.8 percent rate of inflation, unchanged for a fourth month.
Improving economic news helped boost stocks last year. The S&P rose 13 percent in 2010 and has extended those gains this year.
The U.S. is still not creating employment fast enough to quickly replace the 8.4 million jobs lost during the recession and the unemployment rate may stay above 9 percent for a third straight year in 2011, according to economists surveyed by Bloomberg this month. The high jobless rate has been among the reasons cited by Fed policy makers for maintaining its program to buy up to $600 billion in Treasury securities through June.
Fed Chairman Ben S. Bernanke, in Senate testimony Jan. 7, said it may take five years for the labor market to "normalize fully." The U.S. added 103,000 jobs in December and the unemployment rate fell to 9.4 percent, Labor Department data show. For all of 2010, about 1.1 million jobs were created, with 1.35 million private payrolls added.
Holiday Sales
Holiday purchases rose 5.5 percent, the best performance since 2005, said MasterCard Advisors' SpendingPulses, which measures retail sales by all payment forms. That compared with a 4.1 percent gain a year earlier. The numbers include Internet sales and exclude automobile purchases.
Tiffany & Co. this week said sales over the combined November-December 2010 period rose 11 percent from a year earlier and raised its fiscal year profit forecast. It was the fourth time the jewelry retailer boosted its profit projection for the year ending this month.
Some retailers' sales fell short of analysts' projections last month as a blizzard the day after Christmas kept shoppers from stores, overshadowing earlier holiday buying.
A Dec. 26 storm that dumped more than 12 inches (30 centimeters) of snow on parts of the Northeast "disrupted" post-holiday shopping, Macy's Inc. Chief Executive Officer Terry Lundgren said in a statement. The day after Christmas is typically one of the busiest shopping days of the year.
Before it's here, it's on the Bloomberg Terminal.
LEARN MORE