Jeb Bush Leads Republicans in Courting Latino Voters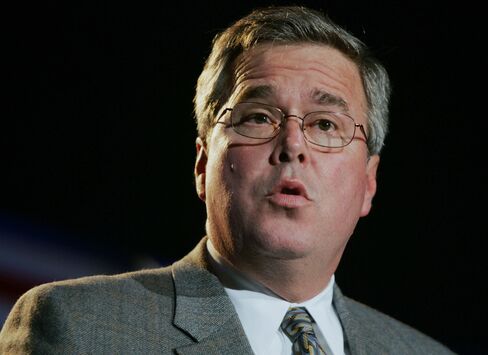 Former Florida Governor Jeb Bush has a new title: Republican ambassador to Latino voters.
Fluent in Spanish and married to a Mexican-born woman, Bush has spent much of his career wooing and winning Latino support for the Republican Party -- for his own two successful gubernatorial campaigns and twice for his older brother's winning presidential bids.
Now, after four years of divisive immigration battles sparking protests among Latino communities, Bush is trying to do for his party what he did for himself and his family.
The 57-year-old Bush, now a senior adviser at Barclays Plc, is leading what he calls a "center-right" campaign to rebuild a fractured relationship between his party and Latino voters, the fastest growing U.S. minority according to the Census Bureau.
The newly formed Hispanic Leadership Network -- supported by former President George W. Bush and a team of allies -- aims to shift the Republican Party toward a so-called big-tent philosophy after a midterm campaign cycle featuring anti-illegal immigration rhetoric from Tea Party-backed candidates.
"There are many Latino Republicans who have been committed to this party that have stopped voting," said Leslie Sanchez, a former Bush aide involved with the network. "This shifts the conversation."
Inaugural Event
The group -- an offshoot of the American Action Network, one of the wealthiest Republican organizations channeling money into political campaigns -- is holding its inaugural event in Coral Gables, Florida.
Republican lawmakers, including newly elected Florida Governor Rick Scott, veteran party leaders and Latino strategists, mingled last night in the open-air courtyard of the historic Biltmore Hotel, as Jeb Bush gave interviews in Spanish.
"Without an active participation of the most dynamic, growing part of what will be the governing coalition in our country, without the active involvement of Hispanics, we will not be the governing philosophy of our country," Bush told the crowd.
Today, participants at the gathering included National Republican Senatorial Committee Chairman John Cornyn of Texas and former Minnesota Governor Tim Pawlenty, potential Republican candidate for president in 2012. The conference is sponsored by companies including Google Inc., AT&T Inc., Altria Group Inc. and Oracle Corp.
Former President Bush
Jeb Bush's brother, former President Bush, spoke to the group in a video address today.
"There's a lot of common ground to be achieved between Republicans and people who are of Hispanic origin," the former president said.
The group aims to build support for the party in the run-up to the 2012 presidential elections. A number of states with large Latino populations -- including Florida, Nevada and Colorado -- may prove critical battlegrounds in the race.
Although Hispanic Republicans in Florida, Nevada and New Mexico won high-profile races in November's elections, Democrats largely won the Latino vote in other states by big margins, polling shows.
Sixty percent of Latino voters supported Democratic candidates in 2010 House races, according to the Pew Hispanic Center, while 38 percent supported Republicans.
40 Percent of Vote
"I don't think 40 percent of the Hispanic vote can be our ceiling if we plan to impact our nation in the coming decades," Bush wrote in an opinion page article published Jan. 9 by the Miami Herald.
President Barack Obama won 67 percent of the Hispanic vote in the 2008 election while his Republican opponent, Senator John McCain of Arizona, won 31 percent, according to exit polls. In the 2004 race, Democratic Senator John Kerry of Massachusetts won 53 percent of the Hispanic vote, while George W. Bush got 44 percent -- a record for a Republican presidential candidate, the polls found.
The question for Jeb Bush and his co-chairman, former U.S. Commerce Secretary Carlos Gutierrez, is whether they can persuade many in their own party to join the effort.
"The only Republicans that I think get it when it comes to Hispanics are the Bush brothers," said Fernand Amandi, managing partner of Miami-based Bendixen and Associates Inc., a Democratic-leaning political consulting firm that specializes in Hispanic outreach. "That's about where it starts and ends in my judgment."
Out of Step
Jeb Bush has found himself out of step with much of his party on immigration-related issues. He has urged Congress to take up a comprehensive revision of immigration laws, a proposal opposed by Republican congressional leaders, and said he opposed an Arizona law requiring police to check the citizenship of suspected illegal immigrants.
Hispanic Republican leaders, including former Florida Representative Lincoln Diaz-Balart, said Congress should overhaul immigration laws and pass the "Dream Act," a proposal to let some children of illegal immigrants gain legal status if they attend college or serve in the military.
Cornyn and other Senate Republicans blocked consideration of the Dream Act in December. Cornyn said he voted not to take up the bill because he feared Democrats would use a vote on the measure to "bludgeon" Republicans politically.
Pawlenty, the only potential Republican 2012 presidential candidate who attended the conference, also said he didn't support the legislation. Republicans can appeal to Hispanic voters with a broader economic message, he said.
'Incomplete and Presumptuous'
"It's incomplete and presumptuous for people to say the only issue the Latino community cares about is the immigration issue," Pawlenty said. "Not every conversation has to be focused just on that. It has to be part of a broader message."
Former House Speaker Newt Gingrich of Georgia, who aides said was delivering a video address to the meeting, founded a bilingual website in 2009 aimed at promoting conservative values and Latino heritage. That site, named the Americano, recently held its own conference in Washington.
Since Republicans rejected President George W. Bush's comprehensive immigration plan in 2007, the party has taken a harder line against illegal immigration.
"The debate about immigration has been radicalized and made into this anti-Latino, anti-Hispanic campaign," said Manuel Pastor, a professor of geography and American studies and ethnicity at the University of Southern California in Los Angeles. "Those kinds of statements really strike a chord that's much deeper in the Latino community than some Republicans have realized."
Reid's Re-Election
Latino voters turned out in Nevada for Senate Majority Leader Harry Reid last year after his Republican opponent, Sharron Angle, ran a campaign ad the Latino community criticized as racially biased. Reid won more than 90 percent of the Latino vote in his re-election victory, according to polls by Seattle-based research center Latino Decisions.
In California, Latinos gave 64 percent of their vote to Democrat Jerry Brown as he won the governor's race over Republican Meg Whitman, the former CEO of EBay Inc., who got 31 percent of the Latino vote, according to exit polls. In late September, it was revealed Whitman had employed a housekeeper who was in the country illegally and who Whitman subsequently fired. Whitman later said she believed the housekeeper should be deported.
"Republicans think that they have an image problem but they really actually have a policy problem," Pastor said. "It's hard to convince someone to vote for you when you are threatening to deport their grandmother."