U.S. Industrial Production Climbed 0.8% in December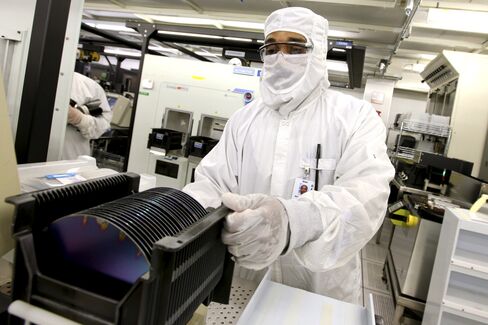 Industrial production in the U.S. rose in December more than forecast, boosted by gains in business equipment and home electronics that indicate factories remain at the forefront of the recovery as the new year begins.
Output at factories, mines and utilities climbed 0.8 percent, the most in five months, after a revised 0.3 percent increase in November, figures from the Federal Reserve showed today in Washington. Economists forecast a 0.5 percent gain, according to the median of 82 projections in a Bloomberg News survey. Manufacturing climbed 0.4 percent, and utility output increased 4.3 percent as snowstorms swept parts of the nation.
Manufacturers such as Joy Global Inc. are ramping up production as business and consumer spending accelerate and exports grow. The Fed this week said holiday spending and manufacturing were driving the recovery late last year, and Chairman Ben S. Bernanke yesterday predicted growth would strengthen in 2011.
"Manufacturing continues to be a relative source of strength in the economy," said Julia Coronado, chief economist for North America at BNP Paribas in New York. "Consumers have shown a greater willingness to spend."
Economists' estimates ranged from gains of 0.1 percent to 1 percent. From a year earlier, industrial output rose 5.9 percent in December, and manufacturing gained 5.8 percent.
Retail Sales
Sales at U.S. retailers rose in December for a sixth consecutive month, capping the biggest one-year gain in more than a decade, a separate report from the Commerce Department showed. Purchases increased 0.6 percent after climbing 0.8 percent in November. The median forecast of economists surveyed by Bloomberg News called for a 0.8 percent rise.
The consumer-price index increased 0.5 percent, more than the 0.4 percent median estimate of economists surveyed by Bloomberg News, figures from the Labor Department showed today. The so-called core rate, which excludes volatile food and fuel costs, rose 0.1 percent, in line with the median projection.
Stocks fell after China raised reserve requirements for banks, stoking concern measures to fight inflation will curb growth. The Standard & Poor's 500 Index slipped 0.2 percent to 1,281.76 at 9:33 a.m. in New York. The yield on the 10-year Treasury note fell to 3.27 percent from 3.30 percent late yesterday.
Plant Use
Capacity utilization, which measures the amount of a plant that is in use, increased to 76 percent last month, the highest since August 2008, the Fed's production report showed. The gauge averaged 80 percent over the past 20 years, signaling there's enough spare plant equipment and space to prevent bottlenecks that would push prices higher.
The increase in factory output was led by a 0.6 percent gain in business equipment, including computers, communications equipment and semiconductors. Consumer goods rose 1 percent, and materials also climbed 1 percent.
Utility production rose to the highest in a year. Last month was the seventh snowiest December for the contiguous U.S. states. Many Southeastern states, including Virginia and the Carolinas, experienced temperatures among the 10 coldest on record, according to the National Oceanic and Atmospheric Administration.
Mining, which includes oil drilling, increased 0.4 percent.
Carmakers decreased output by 0.2 percent last month as companies sought to keep inventories down.
Auto Sales
Auto sales in December rose to a 12.53 million annual pace, the highest since August 2009, according to researcher Autodata Corp. The rate over the last three months is the highest since July through September 2008.
General Motors Co. posted a 16 percent gain in sales last month over the same period the prior year, and a 21 percent gain to 2.2 million vehicles for all of 2010.
"It ended up being our best total sales month of the year," Don Johnson, General Motors Co.'s vice president of U.S. sales, said Jan. 4 on a conference call. "We are doing this while continuing to manage our inventories prudently and maintaining discipline in our pricing."
Factory output excluding motor vehicles rose 0.5 percent in December, today's report showed.
Rising international demand and the need to replace aging equipment is a boon to manufacturers. Exports rose in November to the highest level since August 2008, Commerce Department figures showed yesterday. Business spending on equipment and software advanced at a 15 percent annual rate in the third quarter, down from 25 percent in the prior quarter.
'Stable and Steady'
"The manufacturing sector continued to recover across all districts," Federal Reserve policy makers said in their latest survey of regional economies released on Jan. 12. "Overall, demand was generally characterized as stable and steady."
Previous reports showed manufacturing accelerated in December. The Institute for Supply Management's manufacturing index rose to 57, the highest in seven months. Still, the factory-led recovery is not generating enough job growth to bring down unemployment as fast as the Fed would like.
"We see the economy strengthening," Bernanke said yesterday during a panel discussion on lending to small businesses, predicting growth of 3 percent to 4 percent this year. "Now you're not going to reduce unemployment at the pace that we'd like it to," he said. "But certainly it would be good to see the economy growing."
Asset Purchases
Fed policy makers in November began buying Treasury securities as part of a plan to pump as much as $600 billion into the financial system through June to boost growth. That came after $1.7 trillion in purchases of Treasuries and housing debt through March 2010.
Some manufacturers are projecting higher profits as orders increase. Joy Global Inc., the maker of P&H and Joy mining equipment, last month announced a fiscal 2011 profit forecast that topped analysts' estimates in a Bloomberg survey.
"The improving bookings rate supports our view that our mining customers will continue to increase their capital expenditure plans," Mike Sutherlin, chief executive officer of the Milwaukee-based company, said in a Dec. 15 statement. "We continue to ramp up our production to meet this expected growth in demand."
Before it's here, it's on the Bloomberg Terminal.
LEARN MORE