Hariri Movement Won't Consider Alternative Leader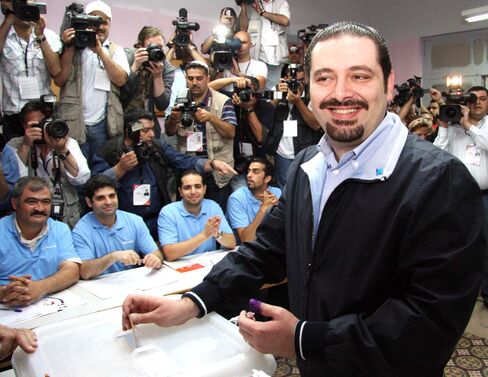 Lebanese Prime Minister Saad Hariri will be re-nominated for the post by his Future movement, which won't consider any alternative candidates after the collapse of Hariri's coalition government, ex-premier Fouad Siniora said.
Siniora, who like Hariri is from Lebanon's pro-Western political bloc, spoke in a phone interview today after Hariri's national unity government was toppled on Jan. 12 when the Shiite Muslim Hezbollah movement walked out. Hariri, who returned to Lebanon today after a trip to the U.S., has been asked to stay on as caretaker and President Michel Suleiman will begin talks with lawmakers next week to appoint a new premier.
Asked whether forming a government in Lebanon might take as long as in Iraq, Siniora said, "I don't think so, but it's not an easy situation." Iraq's leaders took nine months to form a coalition government after March elections. Hariri took about six months to form his original government.
Hezbollah led a walkout of 11 ministers from the 30-member Cabinet in protest against a United Nations inquiry into the killing of former premier Rafiq Hariri, Saad Hariri's father. The Shiite group says the probe, backed by Hariri, is biased and should be abolished.
The move against the prime minister is "a bargaining strategy in the hope that Hariri will concede on the tribunal," said Amal Saad-Ghorayeb, a research adviser at the Doha Institute in Qatar. If he doesn't, Hezbollah would nominate an alternative candidate and seek to form a government that would "disavow the tribunal and ensure no attempts to arrest Hezbollah members are made," she said.
Power-Sharing
In Lebanon's power-sharing system, the president has to be a Maronite Christian, the prime minister a Sunni Muslim and the parliament speaker a Shiite.
Lebanon's benchmark BLOM Stock Index rose 0.6 percent to 1494.29 at the close in Beirut, after a two-day drop of 3.5 percent. The A-type shares of Solidere SAL, a real estate developer that is the largest publicly traded company on the exchange, added 2.4 percent to $18.95.
Hariri met Turkish Prime Minister Recep Tayyip Erdogan and Foreign Minister Ahmet Davutoglu in Ankara today and French President Nicolas Sarkozy yesterday on his way back from Washington, where he held talks with President Barack Obama.
'No Alternative'
"No one can be larger than their country," Hariri said in a televised speech from the presidential palace in Baabda today after arriving from Turkey. He vowed to work with Suleiman to help form a new government, saying there "is no alternative for us other than dialogue."
He said the resignation of Hezbollah and its allies was unprecedented since the end of the country's 15-year civil war in 1990.
The U.S. urged all Lebanese parties to ''commit to constructive dialogue and avoid escalating tensions,'' according to an e-mailed statement today from Maura Connelly, the U.S. ambassador in the country.
Hariri and his supporters won 71 of 128 seats in the 2009 parliamentary elections, with the rest going to Hezbollah and allies including former general Michel Aoun, who heads the assembly's biggest Christian group.
Beirut Clashes
The last time Hezbollah walked out of a government, quitting the Cabinet of then Prime Minister Fouad Siniora in 2006, it marked the start of an 18-month political paralysis. That culminated in an outbreak of civil strife in May 2008, when at least 80 people were killed after Hezbollah and its allies seized control of west Beirut.
Rafiq Hariri and 22 others were killed by a roadside bomb in Beirut in February 2005, sparking protests by millions of Lebanese that led to the ouster of Syrian troops from the country after 29 years.
An initial UN inquiry charged four pro-Syrian officials in Lebanon's security services. They were held in jail for four years before being released in 2009 by the tribunal due to a lack of evidence, after some witnesses changed or retracted statements. Hezbollah has called for the prosecution of the so-called ''false witnesses."