U.S. Stocks Halt Global Slump as JPMorgan Gains; Corn Rallies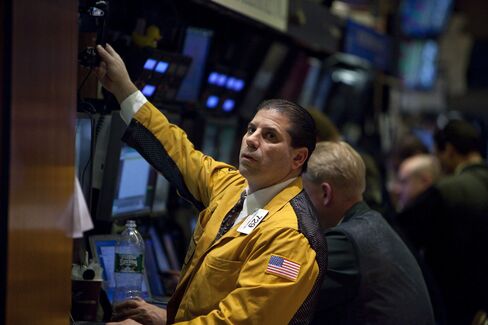 Jan. 14 (Bloomberg) -- U.S. stocks halted a global drop to extend a seventh weekly gain for the Standard & Poor's 500 Index as JPMorgan Chase & Co. led banks higher after posting a record profit. Treasuries fell and corn jumped to a 29-month high.
The S&P 500 advanced 0.7 percent to 1,293.24 at 4 p.m. in New York, capping its longest weekly rally since 2007. The S&P 400 Midcap Index rose 0.7 percent to a record high. Ten-year Treasury yields rose three basis points to 3.33 percent, erasing an earlier five-point drop, and the Dollar Index slipped 0.1 percent. Corn capped a 9 percent five-day rally, its biggest weekly advance since October, on concern U.S. inventories are decreasing.
Financial shares had the biggest gain among 10 groups in the S&P 500, rising 1.7 percent collectively, as JPMorgan reported a 47 percent increase in fourth-quarter earnings after reducing reserves set aside to cover bad loans. The rally in banks overshadowed reports showing lower-than-estimated retail sales and consumer confidence.
"It's the real world versus the rear-view mirror," said Michael Holland, who oversees more than $4 billion as chairman of Holland & Co. in New York. "We have a great earnings picture, which is not a good case for the bears. That tells me that, even though we see some softness in today's economic data, the real world of earnings shows the consumer is alive. There's always going to be concern about Chinese demand. However, there's no evidence they will make a mistake."
JPMorgan Earnings
The S&P 500 extended its weekly advance to 1.7 percent. JPMorgan rallied 1 percent after cutting provisions for future credit-card and real-estate losses, helping the bank post a $4.83 billion fourth-quarter profit. American Express Co. and Bank of America Corp. rallied more than 2.6 percent for the top gains in the Dow Jones Industrial Average.
The S&P 500 is heading for a decline, according to strategists at Royal Bank of Canada and JPMorgan Chase & Co., who disagreed on the timing in reports today. Higher-than-forecast jobless claims this week and China's efforts to cool its economy may spur a "correction" this quarter, according to Myles Zyblock, chief institutional strategist at RBC Capital Markets. Thomas Lee at JPMorgan said the S&P 500 will continue to gain before peaking at about 1,333 in March or April.
Money managers Barton Biggs and David Winters predicted further gains. Winters, manager of two of the best-performing mutual funds over the past decade, said benchmark indexes may reach record highs as the government helps stimulate economic growth. Winters, who favors stocks in emerging economies in Asia such as Indonesia, Malaysia and South Korea, said many U.S. companies still look attractive. American equities will do "OK" this year, he said.
'Next Move' Up
"The next move in the U.S. stock market is going to be up," said Biggs, 78, who runs New York-based hedge fund Traxis Partners LP, in an interview on Bloomberg Radio' "The Hays Advantage," with Kathleen Hays. "How much up? I don't know. 10 percent if things are OK, 20 percent if the global economy really comes on strong."
U.S. retail sales climbed in December by 0.6 percent, less than the 0.8 percent gain predicted in a Bloomberg survey, while the preliminary January reading of 72.7 in the Thomson Reuters/University of Michigan consumer-sentiment index trailed the median estimate of economists in a Bloomberg survey.
The U.S. consumer-price index increased 0.5 percent, more than the 0.4 percent median fore cast of economists in a survey. The so-called core rate, which excludes volatile food and fuel costs, rose 0.1 percent, in line with the median projection.
European Markets
The Stoxx Europe 600 Index trimmed losses late in the session, paring its drop to 0.1 percent after an earlier 1 percent decline. Xstrata Plc, the world's biggest exporter of thermal coal, and Anglo American Plc, a base-metals producer, fell at least 1.2 percent. ThyssenKrupp AG slid 3.2 percent after Chief Financial Officer Alan Hippe quit.
The MSCI Emerging Markets Index fell 0.3 percent, paring this week's gain to 1.1 percent. India's benchmark equity index retreated 1.7 percent to the lowest level in four months, bringing its decline from a Nov. 5 peak to 10 percent, the threshold for a so-called correction. The Shanghai Composite Index sank 1.3 percent before the central bank's announcement. South Korea and Thailand raised interest rates this week to fight inflation.
Corn rose to a 29-month high and soybeans gained, capping the biggest weekly gains in at least six weeks as declining inventories in the U.S. increased concern that global supplies will lag behind demand. Corn erased earlier losses to climb as high as $6.52 a bushel. Soybean futures rose 0.5 percent to close at $14.225 a bushel in Chicago.
Commodity options traders have increased bearish bets to a record against an exchange-traded fund tracking energy and metals prices after a rally to a two-year high.
The open interest for puts to sell the iShares S&P GSCI Commodity-Indexed Trust doubled this week to a record 18,797 outstanding contracts, lifting the ratio of puts per call to a three-year high of 3.28-to-1. Traders betting on a 5.4 percent drop in five weeks lifted put volume to a record 7,915 contracts yesterday, 720 times the number of calls to buy.
To contact the reporter on this story: Rita Nazareth in New York at rnazareth@bloomberg.net.
To contact the editor responsible for this story: Nick Baker at nbaker7@bloomberg.net.