Rex Ryan Leads Jets to Playoffs, Team Brand to NFL's Top Tier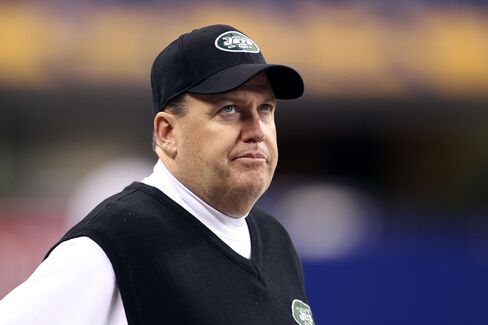 Scott May says Rex Ryan's self-assurance is good for business.
May, president of the Park Avenue-based printing company National Communications Group, says the New York Jets coach is making NCG's sponsorship of the team pay off. As Ryan prepares the Jets for a Jan. 16 National Football League playoff game against the division-rival New England Patriots, May said the coach's personality has given the club an identity that helps sell both the Jets and his products.
"The Jets are really gaining some recognition, becoming the lead story rather than the follow-up," May, who also leases a suite at the team's New Meadowlands Stadium for entertaining clients, said in a telephone interview. "When he's able to speak with that confidence, without being arrogant or cocky, I think he's a great team spokesman."
Under the 48-year-old coach's leadership, the Jets reached the conference title game last year, where they were eliminated by the Indianapolis Colts one win shy of the Super Bowl. They finished 11-5 this season and made the playoff's second round for the second straight year. They opened a $1.6 billion stadium, shared equally with the New York Giants, and showcased their training camp on the HBO series "Hard Knocks."
Ryan introduced himself to New York fans in 2009 saying he wasn't going to kiss the three Super Bowl rings belonging to Patriots coach Bill Belichick. He introduced a "ground-and-pound" style of play centered on defense and running, describing it on "Hard Knocks" as playing "like the (expletive) New York Jets" and earning Internet celebrity by concluding the same lecture with the phrase, "Let's go eat a (expletive) snack." He had lap band surgery to lose weight. He got reprimanded by former Colts coach Tony Dungy, now an NBC analyst, for cursing too much.
Mission Accomplished
Matt Higgins, the Jets' executive vice president for business operations, said Ryan accomplishes something owner Woody Johnson sought when he hired the coach two years ago: removing barriers between team and fans.
Since Ryan's arrival, the Jets have risen from the bottom quarter in Internet traffic to among the league's top teams, Higgins said. A daily ESPN "Web buzz ranking" yesterday placed the Jets in the top quarter of the 32-team league.
The team's postseason rematch with the Colts on Jan. 8 attracted 33.4 million viewers, a record for a Saturday wild-card round game and the largest audience for a Saturday night broadcast since CBS's coverage of the 1994 Winter Olympics in Lillehammer, Norway, NBC said in a news release.
Connect With Fans
"We all came to the realization that in order to take the brand to the next level, we really needed to engage," Higgins said. "Sometimes we step in it, so to speak, and that generates headlines. But at the end of the day, a lot of that is noise. He's connecting with our fans and articulating our identity."
Ryan's tenure has generated copy for New York's tabloids. In January 2010, he appeared in a photograph extending what the Daily News called a "Rex-rated" gesture to hecklers at a mixed martial arts fight in Florida. Ryan apologized.
The Jets agreed to pay for leaguewide workplace conduct training in September after Ryan and other coaches and players were accused of unprofessional conduct toward a female Mexican television reporter. Four days later, receiver Braylon Edwards was charged with driving while intoxicated. At the time, Ryan said the embarrassments must end.
Last month, the NFL fined the Jets $100,000 after a now-suspended assistant coach tripped a Miami Dolphins player during a game. The Jets have appealed the fine.
`Belichick versus Ryan'
As the Jets prepared to play the Patriots this week, Ryan told reporters that the match-up "is about Bill Belichick versus Rex Ryan."
Belichick joked that it was probably best for both teams if neither coach actually played.
After the Daily News quoted cornerback Antonio Cromartie calling Patriots quarterback Tom Brady, a two-time Super Bowl most valuable player, a vulgar name, Ryan was asked if the team talked too much. He said no. Asked if he's ever worked for an organization that asked him to tone down his personality, Ryan said that while everyone he's worked for has probably wanted that, no one has asked.
"When I was a defensive coordinator, I would say the same things, but instead of having this many reporters, there may have been one or two," he told reporters. "Now it's just a bigger stage, but I was still the same person then as I am now."
Comments Help Jets
Matt Delzell, group account director for The Marketing Arm, a Dallas-based promotional company, said all the comments and incidents ultimately help the Jets more than they hurt.
"Some people consider it refreshing, some people consider it offensive -- whatever," Delzell said. "At the end of the day, people are paying attention."
Steve Rosner, co-founder of Rutherford, New Jersey-based 16W Marketing LLC, said Ryan has helped improve the team's public profile with both corporate sponsors and fans outside the New York area. His personality helps differentiate the Jets from more conservative teams in the area, such as the baseball Yankees or football Giants, he said.
"When they hired Rex Ryan, the public view of the organization changed," Rosner said. "They also did something they hadn't done in a little while and that's win. So with the new coach, his blunt style and the winning, they became an attractive team for corporate America, as well as for people like HBO."
Cold-Call Success
That's how May sees it. The 54-year-old landed the Jets as a client about two decades ago through a cold-call, weeks into his first job as a printer. He says he even printed the personalized memo pad on which Belichick in 2000 scrawled a handwritten note quitting as Jets coach after one day: "I resign as HC of NYJ."
For May, entertaining at the stadium also allows him to showcase his products, such as signs in the concourse and graphics in the locker room. He attended every home game this season.
"I leveraged new business and cultivated existing relationships," May said. "The type of clients I was able to attract weren't just football fans, they were also people that just wanted to come and be part of the experience of being in this new stadium for the inaugural season."
One thing could have gone better, he said: "Obviously, I'm disappointed they didn't have a home playoff game."
Before it's here, it's on the Bloomberg Terminal.
LEARN MORE