Tunisia President Turns Over Power to Prime Minister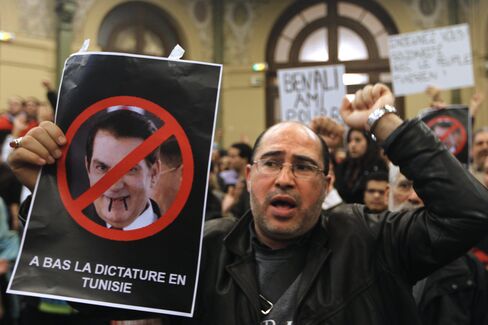 Tunisian Prime Minister Mohamed Ghannouchi assumed the duties of President Zine El Abidine Ben Ali after a declaration of a state of emergency prompted by demonstrations aimed at forcing Ben Ali's resignation.
Almost a month of protests culminated today in clashes in the capital, Tunis, where thousands of people gathered and some tried to storm the Interior Ministry. The demonstrations over unemployment, forecast at 13.1 percent this year, began in central Tunisia and escalated into a nationwide condemnation of government repression and corruption.
The crisis sparked a 12.74 percent slump in the Tunindex this week. The benchmark rose 0.4 percent today after declining to a two-year low yesterday. Today, Fitch Ratings put its BBB foreign debt rating on Tunisia to rating watch negative.
"Renewed disorder, with negative consequences for the economy, would lead to a downgrade," Fitch said. "By contrast, if the political climate stabilizes quickly, with limited downside for the economy, an affirmation of the ratings is likely."
The government faces external bond repayments equivalent to $750 million in April and September 2011, and a planned Eurobond issue is "unlikely for now," Fitch Ratings said today. The country's sovereign foreign currency deposits at the central bank are $1.5 billing, providing "short-term financing flexibility," Fitch said.
Destination Unknown
Ben Ali, 74, departed by plane, crossing over Malta, Al Arabiya television reported after initially saying the Mediterranean island nation was his destination. The ousted leader is not in Malta, the Maltese government said in an e-mailed statement.
The French foreign ministry issued a statement that it has received no request from Ben Ali to go to France. Some members of his family have arrived in the country, the newspaper Le Monde reported. France controlled Tunisia as a protectorate until 1956.
"The constitution stipulates that in case the president is incapable of assuming his duties temporarily he should hand them over to the prime minister," Ghannouchi said late today in a brief address on national television. "I from now on take over the authority of the president of the republic."
He will meet with party representatives tomorrow to form a government, Al Arabiya reported without saying how it obtained the information.
The Tunisian army is taking control of security nationwide from the police, state television said. Public gatherings of more than three people are banned and security forces are authorized to shoot anyone who violates the order, according to the broadcaster.
The official death toll is 23, though Al Arabiya yesterday cited unidentified human rights groups as saying 66 had died in the weeks of unrest. Hospital employees told the Associated Press that 13 people died late yesterday in the latest clashes.
White House Statement
In a statement today, U.S. President Barack Obama said that "I condemn and deplore the use of violence against citizens peacefully voicing their opinions" and urged the government of Tunisia "to respect human rights, and to hold free and fair elections in the near future."
Ben Ali, who seized power from President Habib Bourguiba in a bloodless coup in 1987, becomes the first Arab leader to be forced out by popular unrest since at least 1985, when demonstrations in Sudan led to a coup d'état that ousted President Gaafar Nimeiry. In 2005, massive demonstrations in Lebanon following the assassination of Prime Minister Rafiq Hariri forced the withdrawal of Syrian troops from the country.
Ben Ali went on television late yesterday with a vow there would be "no presidency for life" and that he would oversee food-price cuts and grant wider individual freedoms before leaving office.
Importance of Tourism
Tourism is Tunisia's principal source of foreign-currency income and contributes between 12 percent and 13 percent of gross domestic product, the government said last year. The country is seeking to attract 10 million tourists by 2014, compared with 6.6 million in 2009.
The U.S., the U.K., France and Germany were among nations that advised against non-essential travel to North African country as a result of the crisis.
During today's rally, security forces fired tear gas to disperse government opponents outside the Interior Ministry. Protesters regrouped and vowed to hold a sit-in outside the ministry unless Ben Ali resigned immediately, rejecting his pledge to step down in 2014, a teachers union official, Zouhaier Maghzawi, said by phone. They also tried to storm the central bank, Al Arabiya TV said.
'Ben Ali, No!'
"Get out, Ben Ali!" and "Bread, water, yes! Ben Ali, no!" protesters shouted outside the ministry during the demonstration organized by the Regional Labor Union of Tunis, which put the number attending the rally at 40,000.
Today's protest marked the start of a general strike throughout Tunis, where soldiers and armored vehicles were positioned for a third day. Ben Ali addressed the North African nation yesterday as the capital was under a second overnight curfew following clashes between protesters and security forces.
"The arena is open from today for freedom of political expression including peaceful demonstration," Ben Ali said, promising lower prices for bread, milk and sugar and an end to media and Internet restrictions.
Tunisia's ambassador to United Nations Educational, Scientific and Cultural Organization, Mezri Haddad, resigned today during a live interview with France's BFM TV, saying that whatever the outcome of the protests, he couldn't support a government that is "the antithesis" of his convictions.
Ben Ali said he had ordered security forces to refrain from using live ammunition against protesters except in self-defense. On Jan. 10, he had blamed the demonstrations on "outside powers and masked gangs."
'Disproportionate Force'
The police had used "disproportionate" force during the unrest, French Prime Minister Francois Fillon said in London yesterday.
The public dissent, rare in Tunisia, followed the death last month of a 26-year-old man in the central province of Sidi Bouzid who set himself on fire to protest unemployment. The plight of jobless graduates was the focus of the initial demonstrations.
Unemployment in Tunisia is forecast be 13.1 percent in 2011 even as the economy grows 4.8 percent, according to the International Monetary Fund.
Ben Ali on Jan. 10 pledged that by the end of 2012 the government will have provided jobs to all graduates who have been unemployed for two years, boosting the number of jobs created by then to 300,000.
Before it's here, it's on the Bloomberg Terminal.
LEARN MORE