SNB's Jordan Says Franc Posing Threat to Swiss Growth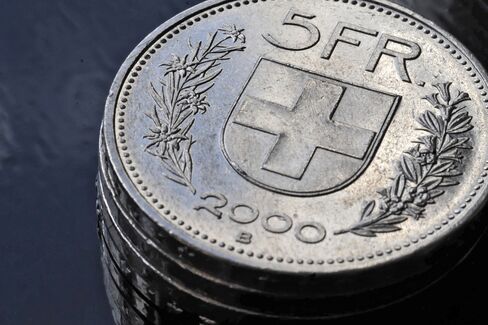 Swiss central bank Vice President Thomas Jordan said the franc's renewed ascent against the euro is posing a threat to economic growth this year, signaling fresh concern about the currency. The franc dropped.
"The franc appreciation has worsened over the past months," Jordan said at an event in Reichenau, Switzerland, late yesterday. "Volatility has strongly increased" because of the European debt crisis and the currency's gains are posing an "extraordinary challenge" for some exporters.
The Swiss franc has appreciated 5.8 percent against the euro over the past two months, reaching a record on Dec. 30, as European leaders struggled to contain the region's fiscal crisis. When asked by an audience member, Jordan refused to say whether the Swiss National Bank is considering a renewed round of foreign-currency purchases to weaken the franc.
"I don't expect them to intervene in currency markets again," said David Kohl, deputy chief economist at Julius Baer Group in Frankfurt. "The most efficient way would be for them to signal that borrowing costs will remain on hold longer."
The Swiss currency, a haven in times of financial crisis, reached a record of 1.2402 against the euro last month. It weakened for a fourth day, trading at 1.2781 at 9:35 a.m. in Zurich, down from 1.2694 yesterday.
'Strong' Franc
Jordan said that Switzerland "has an enormous interest for Europe to solve its debt problems" as a worsening crisis would likely push the franc higher and make the SNB's job harder.
The Swiss central bank spent more than a year intervening in currency markets to weaken the franc and head off deflation risks before abandoning that policy in June 2010.
"Historically seen, the franc is very strong at the moment but experience shows that it corrected itself," Jordan said. "A lot depends on how the situation in Europe evolves. The sooner we'll see a normalization, the better for Switzerland."
The Zurich-based SNB, led by Philipp Hildebrand, last month left its three-month Libor target rate at 0.25 percent. The central bank also forecast growth to weaken to 1.5 percent this year from around 2.5 percent in 2010 and said inflation will breach its 2 percent ceiling in the third quarter of 2013.
Jordan said that while the economy faces neither an inflation nor a deflation threat, the SNB will have to raise borrowing costs "over the medium term" to maintain price stability.
"For the domestic sector of the Swiss economy, interest rates are extraordinarily low," he said. "For the part of the Swiss economy which is influenced by the exchange rate, monetary conditions are extraordinarily restrictive. Still, on average the interest rate level is probably appropriate."