Obama Charm Offensive Aims to Convince Small Businesses to Hire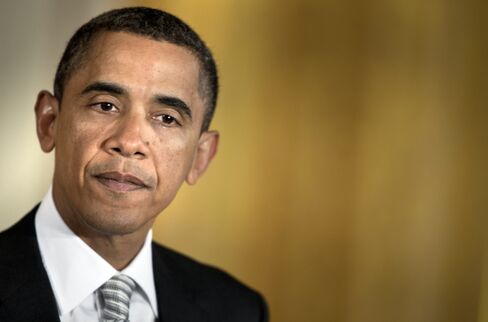 President Barack Obama's 2011 charm offensive aimed at American business leaders is ready to roll.
The president plans to travel outside the Washington cocoon to talk up the recovering economy and exhort U.S. companies, now sitting on a pile of cash, to hire and hire some more. Obama is also extending an olive branch to business leaders with White House staff changes, a Feb. 7 address to the U.S. Chamber of Commerce, and talk of overhauling corporate taxes -- all in hopes of bringing down the unemployment rate.
None of this matters unless chief executive officers such as Cheryl Merchant are convinced the economy is poised to take off, Bloomberg Businessweek reports in its Jan. 17 issue.
Merchant runs Hope Global, a Cumberland, Rhode Island, company founded in 1883 as a textile mill that now manufactures niche items like shoestrings for Timberland boots, auto parts for Detroit, and weather stripping for home renovators. Situated on the banks of the Blackstone River, closely held Hope Global was slammed by the recession in 2008 and 2009, laying off 25 percent of its 590 employees and shutting operations in Detroit, France, Ireland, and Brazil.
Today, business is rebounding: Revenue in 2010 rose 10 percent, to about $50 million, after falling from about $55 million in 2008. Still, Merchant isn't ready to hire again.
"I'm not going to bet on the economy," says Merchant, 47, Hope Global's CEO since 1999. "I'm not putting in people believing it's going to happen. It's got to happen first." For now, she's "taking care of the people who are here" by reversing a 5 percent pay cut and restoring benefits such as paid holidays.
Consumer Demand
Merchant's attitude helps fill in the details of the U.S. economy. CEOS want to make sure the economy is growing robustly before they commit to new hiring. Yet the economy won't achieve liftoff unless consumer demand picks up, and that won't happen until unemployment falls.
Labor Dept. figures released on Jan. 7 showed the U.S. added 103,000 jobs in December, and the unemployment rate fell to 9.4 percent from 9.8 percent. While that is the lowest unemployment rate since May 2009, the number of new jobs came in well below the 150,000 that economists forecast in a Bloomberg survey, and the rate declined only because a record number of people abandoned the job hunt, government figures show.
'No Reliable Signs'
Payrolls need to grow at twice December's rate to drive down joblessness and keep pace with new entrants in the workforce. "The economy is adding workers, but there are no reliable signs the pace of hiring is improving," says Julia Coronado, chief economist for North America at BNP Paribas in New York.
That's why small manufacturers and exporters like Hope Global are crucial to Obama's goal of lowering unemployment, in part by doubling U.S. exports over the next five years. Besides concluding a recent trade accord with South Korea, the administration was set to announce Jan. 13 that it would increase financing for small business exporters to $9 billion annually by the end of fiscal 2014 from $4.5 billion in 2009, in partnership with HSBC, Wells Fargo, Bank of America, and PNC Bank.
Financing is helpful, but the real issue for Hope Global is a rise in consumer demand for products such as Timberland boots.
On a brisk late autumn day, plant manager Joe Silva removed his yellow foam earplugs to shout over the drone of 800 braiding machines and explain how workers makes shoestrings for Chinese makers of the high-end boots. Silva says the braiders, spinning at 300 revolutions per minute, heat the shoelace tips so they don't fray -- as opposed to attaching plastic ends that are less durable. Timberland demands that the strings be sturdy and waterproof. They also must come in hundreds of color combinations.
Trusted Source
Timberland uses Hope's laces in China and for a factory in the Dominican Republic because "their quality, cost, and delivery meet our standards, and having one trusted source ensures consistency," says Tom Conneen, director of non-leather materials for Timberland, based in Stratham, New Hampshire.
One ray of hope for Hope Global may be the auto industry. More than two-thirds of its revenue comes from the sale of auto parts such as components for the insides of car seats and the netting for cargo holds of sport-utility vehicles. Auto sales are climbing again but remain well below pre-recession levels.
Years of Experience
Merchant, a native of Ithaca, Michigan, draws from years of experience on assembly-line floors at General Motors Co., Mazda, Ford Motor Co., and parts maker Lear Corp. After graduating Alma College in Alma, Michigan, she got a job as a supervisor in the paint shop for the Cadillac Fleetwood Brougham, a GM vehicle produced until 1996 that was cast as among the best of big American cars. Merchant said she was often the only woman on her shift.
She ran a Ford seat-making plant in Mexico and moved to Lear when the parts manufacturer bought the operation in 1993. After supervising Lear factories in Canada and Eastern Europe, Merchant was recruited by David Casty, Hope's owner. Casty died in 2003, and his son, Ronald, heads Hope's board of directors.
Hope's advantage is its ability to shift production to low-cost countries when price is a big issue. It does that now with sports utility vehicles' cargo nets. Workers at the Rhode Island plant, who earn more than $11 per hour, produce the basic material and send that to a plant in Leon, Mexico, where workers earn about $3 an hour hand-weaving the finishing touches. The nets are then sold to auto parts suppliers.
Plants Abroad
If Merchant hires this year, it will be largely at Hope Global's plants abroad. She added 20 workers in Mexico in December. If the economy picks up, she hopes to open a plant in Shanghai to make knitted steel that's used to reinforce the rubber seals of car doors and trunks. "People ask me how I maintain an American company," she says. "We're not doing it with a wall around ourselves. We're doing it by being global."
For now, that means hiring new U.S. workers isn't a sure thing. "We're very solid. The banks love us," Merchant says. "You start adding a bunch of headcount without the sales, and all you're doing is taking from your bottom line."
Before it's here, it's on the Bloomberg Terminal.
LEARN MORE