New Jersey Cuts Bond Sale After Christie's Comments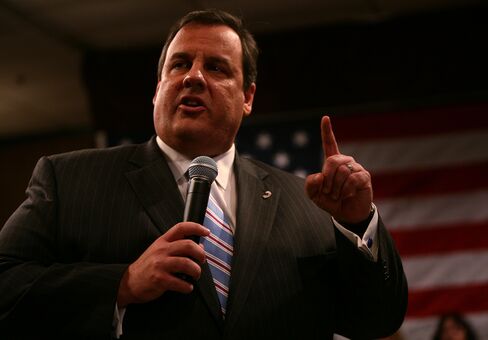 New Jersey Governor Chris Christie has learned that talking about state insolvency may have a cost.
About 20 minutes after Christie, 48, told a town-hall meeting in Paramus today that health-care costs "will bankrupt" the state, the New Jersey Economic Development Authority cut its tax-exempt school-related bond offering by more than half to $712.3 million.
"It doesn't help to try and sell a $1 billion deal on the same day the governor is talking about the state going bankrupt due to health-care costs," said Mike Pietronico, who oversees $360 million as chief executive officer of Miller Tabak Asset Management in New York.
Michael Drewniak, a spokesman for Christie, said the bond-sale cut wasn't connected to the governor's comments.
Health-care spending "will bankrupt" the state unless it requires workers to pay more for medical coverage, Christie said. New Jersey will spend $4.3 billion on health insurance this year, and that cost will rise 40 percent within four years, Christie, a first-term Republican, said at the town-hall meeting.
"Mr. Christie made a rookie mistake," Pietronico said. "The market is very sensitive to the word 'bankrupt.'"
Warnings for Months
Linking the governor's remarks with the decision to reduce the debt sale is a "completely bogus interpretation and an irresponsible connecting of unconnected events," Drewniak said in an e-mail to Bloomberg News.
"The governor has been making these comments and warnings for months, all while instituting and pursuing reforms to fix the well-documented policy failings of prior administrations -- which by my recollection analysts have recognized and applauded," Drewniak said.
Andrew Pratt, a spokesman for Treasurer Andrew Sidamon-Eristoff, said in a telephone interview that "I don't think anybody who is a serious student of the bond market thinks the governor's comments had anything to do with this bond sale."
The authority also cut its taxable offering 51 percent to $119.9 million, with four-year bonds priced to yield 125 basis points, or 1.25 percentage points, above a U.S. Treasury due in December 2015, the person said. The issue included $211.3 million in floating-rate notes.
'Unwise and Imprudent'
"Given market conditions, it would have been unwise and imprudent to put the substantial benefits achieved with this sale at risk by trying to sell more bonds at higher rates," Pratt said in an earlier e-mail message.
The state priced securities maturing in September 2020 to yield 4.64 percent, according to a person with direct knowledge of the sale. That's 148 basis points above top-rated nine-year debt, according to a Bloomberg Valuation index.
When New Jersey priced its last series of school construction bonds, a $716.3 million deal in April, the so-called spread of tax-exempt bonds maturing in nine years was 91 basis points more than top-rated tax-exempts of the same maturity, the BVAL index shows.
"The state will return to the market to obtain further savings and risk reduction if and when market conditions turn favorable to taxpayers," Pratt said.
The Wall Street Journal reported earlier today that the offering was slashed because of low demand.