Morgan Stanley's Fleming to Head Brokerage in Shakeup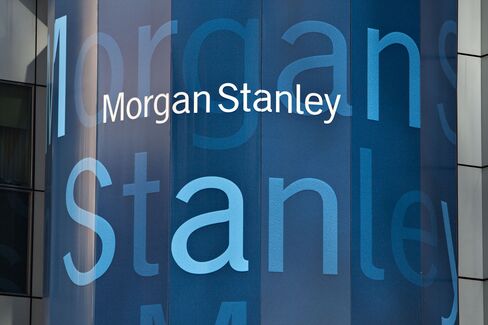 Morgan Stanley shook up its top management ranks, naming Greg Fleming to replace Charles Johnston as president of the retail brokerage and picking Ken deRegt to take over for Jack DiMaio in attempting to turn around its fixed-income trading unit.
Fleming, who joined the firm last year, will continue to lead the asset-management business in addition to his new role, the New York-based bank said yesterday in a regulatory filing. Johnston will be vice chairman of Morgan Stanley Smith Barney until he retires at the end of 2011.
Chief Executive Officer James Gorman, 52, is seeking to boost trading results and increase the brokerage's profitability after the firm's stock underperformed rivals last year. The company's post-crisis strategy of relying more on its 18,000 brokers and less on risk-taking has yet to lure investors to the stock, which slid 8 percent in 2010.
"Fleming probably becomes even more important with the significance of the Smith Barney integration," said Douglas Ciocca, managing director at Renaissance Financial Corp. in Leawood, Kansas, which manages $2 billion in assets including Morgan Stanley shares. "If you're derisking and deleveraging, you've got to make sure you're maximizing the contribution from that unit, and that starts with the head of the department."
DiMaio, head of interest rate, credit and currency trading, will leave the firm, according to the memo. DeRegt, chief risk officer, will become global head of fixed-income sales and trading, excluding commodities. Keishi Hotsuki, now head of market risk, will be interim chief risk officer, the firm said.
Gorman Colleague
Morgan Stanley last week named Jim Rosenthal as its chief operating officer to succeed Thomas Nides, who left to take a position in the U.S. State Department. The firm also named Colm Kelleher to lead operations in Europe, the Middle East and Asia outside Japan, and Paul J. Taubman to take on responsibility for Latin America and Japan. Both Kelleher, 53, and Taubman, 50, are remaining co-presidents of the firm's investment bank.
Gorman hired Fleming, 47, his former Merrill Lynch & Co. colleague, in December 2009 to revive an asset-management unit that posted pretax losses in every quarter of 2008 and 2009. The division reported pretax profit of $279 million in the third quarter as it reaped gains from real estate funds.
Morgan Stanley's brokerage, the largest by number of advisers and client assets, backed off its profit-margin goals in July, blaming the May 6 market crash that briefly wiped out $862 billion in equity-market value for scaring away retail investors. Morgan Stanley bought a controlling stake in the brokerage joint venture with Citigroup Inc.'s Smith Barney in June 2009.
'Right Time'
Johnston, 57, who began his career as a financial adviser at Merrill Lynch, had led Smith Barney before the joint venture. He oversaw the closure of overlap branches and stemmed the flow of client and broker defections.
"With the integration on track and the return of the retail investor to the markets, driving increased client activity -- Charlie believes it is the right time to make this change," Gorman wrote in a memo included in the filing.
DeRegt will be the third person to try to turn around Morgan Stanley's fixed-income trading since the credit crisis. DiMaio was hired by Morgan Stanley to replace Roberto Hoornweg in July 2009, two days before it reported a bigger loss than analysts expected as its fixed-income unit's revenue trailed rivals. The bank reports fourth-quarter earnings next week.
"As we have said many times, a big driver of our future success will be the continued build-out of our sales and trading platform and in particular, our strategy and footprint in fixed income," Gorman wrote in the memo. "While we have started to see some progress, there is more we can do to ensure the best execution of the strategy."
New Hires
Morgan Stanley has added about 400 new employees to its sales and trading unit since DiMaio's hire and has increased its value-at-risk, the amount the firm estimates it could lose from trading on any given day.
Fixed-income trading revenue for the first nine months of last year was 30 percent less than at any of the bank's largest U.S. competitors. The firm had $846 million of third-quarter revenue from debt trading, compared with $3.53 billion at Bank of America Corp. and $3.5 billion at Citigroup Inc. JPMorgan Chase & Co. reported today fourth-quarter fixed-income trading revenue of $2.88 billion, down 8 percent from the third quarter.
"While MS still has plenty of work to do in FICC, we don't think a major strategy shift is afoot," Nomura Holdings Inc. analyst Glenn Schorr wrote in a note to investors today, saying fixed-income trading results were "likely disappointing" in the fourth quarter. "Unfortunately, the spate of new hires has yet to translate into meaningful revenue improvement, and the market backdrop has not helped much."
Sales, Trading
DeRegt, 55, was global head of fixed-income, currencies and commodities at Morgan Stanley before leaving in 2000, in the midst of Philip Purcell's tenure as the firm's CEO. Chairman and then-CEO John Mack recruited deRegt to rejoin Morgan Stanley in 2008 to oversee risk.
"Putting the head of risk in that position underlines the strategy," Ciocca said. "If the emphasis is creating more dependability in the earnings stream, one of the ways to do it is rule one, don't lose money."
DiMaio, 43, previously head of fixed income at Credit Suisse Group AG, will return to the buy side, according to the filing. Morgan Stanley took a minority stake in DiMaio Ahmad Capital LLC, the hedge fund DiMaio started and split from Credit Suisse in 2005, as part of his hiring.