J. Crew Board Ties to TPG, Drexler May Pose Buyout Conflicts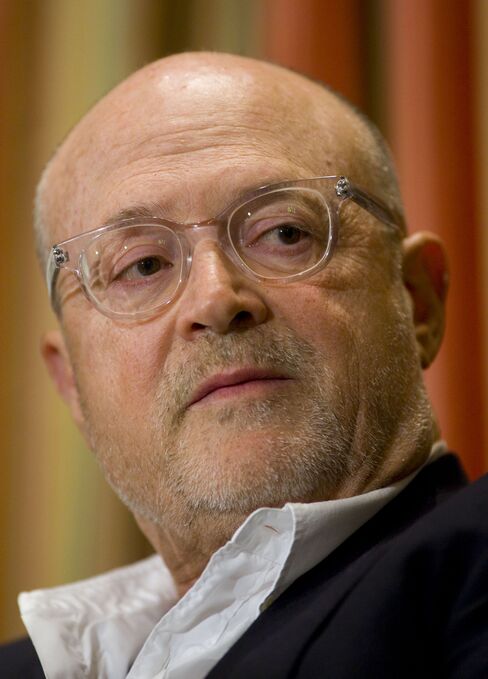 In 1997, Josh Weston persuaded the founder of J. Crew Group Inc. to sell the company to TPG Capital. Now, he's heading the special board committee that approved TPG's offer to again buy the apparel retailer.
Weston is one of five outside J. Crew directors originally appointed by Chairman Millard Drexler or TPG, which earned a more than fivefold return after taking the company public in 2006. Drexler, who was recruited by TPG in 2003, is teaming up with the firm and Leonard Green & Partners LP to acquire New York-based J. Crew a second time in a $3 billion deal.
Regulatory filings show other ties among the board, TPG and Drexler. One director is a TPG fund investor and another was paid in J. Crew stock for providing financial advice to Drexler. At issue is whether Weston's four-person panel and the board can objectively evaluate potential offers from Sears Holdings Corp. and Urban Outfitters Inc., both of which are said to be weighing challenges to the buyout, said John Orrico, a portfolio manager at New York-based Water Island Capital LLC.
"There are as many conflicts in this thing as there are ways to look at it," said Orrico, who helps oversee the $2.2 billion Arbitrage Fund. "The question is whether those conflicts interfere with a full and fair auction process."
Since the deal was announced Nov. 23, 16 lawsuits have been filed alleging that the J. Crew board breached its fiduciary duty to public shareholders by authorizing the sale for "inadequate consideration and pursuant to an inadequate process," the company said in a Dec. 29 proxy statement filed with the U.S. Securities and Exchange Commission. The suits claim that TPG and Leonard Green "aided and abetted" the breaches of fiduciary duty.
'Dangerous Transactions'
"These are dangerous transactions to do, rife with potential lawsuits if you are one of the poor directors who are in the middle of it," said James Hill, who runs the private-equity practice of law firm Benesch LLP in Cleveland. "You have to be very careful you don't have some kind of taint within the special committee" that reviews the deal.
Officials for Fort Worth, Texas-based TPG, Leonard Green in Los Angeles and J. Crew declined to comment.
Orrico, whose fund owns J. Crew stock, said the board has taken steps to protect investors. These include negotiating the right to seek other offers and a lower-than-average break-up fee that would make ending the deal less expensive. He views the $43.50-a-share bid by the TPG group as fairly priced.
The offer values J. Crew at about 8.1 times earnings before interest, depreciation and amortization, compared with the median multiple of 7.8 times for apparel makers in the past five years, according to data compiled by Bloomberg.
Lost in Shuffle
TPG's first investment in J. Crew, in 1997, was profitable. Over the course of three years following the retailer's initial public offering in June 2006, TPG sold its 21.2 million shares for $749.2 million, or an average price of $35.35 a share, according to regulatory filings. That's more than five times the average $6.50 a share it paid prior to the IPO.
J. Crew's stock rose 88 percent from the IPO through Nov. 22, the day before the latest buyout was announced. That compares with the gain of 15 percent by the Standard & Poor's Midcap Consumer Discretionary Index.
TPG's gain raises the question of whether the buyout group sees another bargain and shareholders would be better off with J. Crew remaining public, said Charles Elson, chairman of the John L. Weinberg Center for Corporate Governance at the University of Delaware in Newark.
Forecast Cut
"It's problematic where you have repeated management buyouts of the same business," Elson said in an interview. "Public investors get lost in the shuffle."
The buyout isn't without risk. J. Crew disclosed the deal the same day it lowered its 2010 earnings forecast for the second time that year. The TPG group had cut its offer from $45.50 after initially seeking to pull out when it learned through its due diligence review about weakening earnings, according to the proxy statement.
Drexler, a former CEO of retailer Gap Inc., and James Coulter, a TPG co-founder who is also on the J. Crew board, both recused themselves from deliberations regarding TPG's bid, the company said in its proxy. The filing shows that Drexler waited until Oct. 7 to begin telling other directors about the buyout negotiations, even though he broached a possible deal during an August meeting with Leonard Green.
With the exception of Drexler, everyone else on J. Crew's nine-member board is considered an outside director. Coulter and the four other people initially named by TPG or Drexler have since been re-elected by public shareholders.
TPG Investor
One of those directors, Stuart Sloan, has about $11.5 million invested in or committed to TPG funds, including the one now seeking to acquire the retailer, according to the proxy statement. Sloan, the founder of a Seattle investment firm and the former chairman of Quality Food Centers Inc., a Bellevue, Washington, supermarket chain that is now owned by Kroger Co., didn't return a telephone call seeking comment.
Steven Grand-Jean, appointed to the board in 2003 by Drexler, received J. Crew shares with a current market value of $3.7 million when the retailer went public in 2006 in return for providing financial and investment advice to the CEO and his family, filings show. Grand-Jean, whose San Francisco-based firm advises TPG executives as well as Drexler, declined to comment.
Special Committee
J. Crew addressed these types of conflicts through what is now the standard approach: forming a special committee comprised of independent directors to oversee the auction process and make recommendations that would likely be followed by the full board. Weston, head of the panel, is an 82-year-old executive who formerly served as the chairman of outsourcing-services provider Automatic Data Processing Inc. in Roseland, New Jersey.
Weston spent almost two decades as an executive at Popular Club Plan Inc., a catalog merchandiser of consumer goods and predecessor to J. Crew. In an interview, he said he also served on J. Crew's board when it was family owned and persuaded founder Arthur Cinader to sell the apparel retailer to TPG.
"I convinced the owner of the privately held company, since he was older than I was, that he ought be looking to sell the company, and Texas Pacific came along," Weston said. "They bought the company from Arthur Cinader and they asked me to stay on the board."
Weston said his ties to the first deal between J. Crew and Texas Pacific, now called TPG, hadn't compromised his impartiality in overseeing the latest buyout.
'Thoroughly Independent'
"The people who make these judgments thoroughly concluded way before this transaction that I was a thoroughly independent board member," Weston said. "Although we authorized signing an agreement with TPG, we are still in a go-shop period," Weston said, referring to a provision that allows the company to consider any competing proposals.
Rival bidders have until Jan. 15 to submit an offer, according to J. Crew's proxy statement. Should J. Crew accept a rival bid negotiated during the go-shop period, the retailer would pay the TPG group a termination fee of about 1 percent of its offer. That's less than the average of 2 percent to 3 percent paid to break up a deal.
On the special committee with Weston is Mary Ann Casati, who spent 20 years working at Goldman Sachs Group Inc., the New York-based bank that advised TPG on its current bid for J. Crew and is helping to finance the deal, according to the proxy statement. Casati, who developed and ran Goldman's global retailing investment-banking business, declined to comment.
Litigation Surge
Under the terms of the buyout, TPG and Leonard Green will contribute $1.2 billion in equity and Drexler and other members of management will exchange about $100 million of J. Crew shares for stock in the privately held company. The remainder of the $3 billion price tag will be financed through $1.6 billion of debt and $312 million of cash on J. Crew's balance sheet, according to the proxy statement.
The law firms that have filed suit over the TPG buyout are part of a surge in takeover-related litigation. Shareholders sued over 40 mergers and buyouts last year, compared with seven in 2009, according to an annual litigation report that will be released later this month by the Stanford Law School Securities Class Action Clearinghouse and Cornerstone Research.
"The number of suits are increasing faster than the number of mergers and acquisitions," added David Bradford, executive vice president at New York-based Advisen Ltd., an information and analytical-service provider for the insurance industry. "It's almost a cost of doing business now."
Change of Focus
Unlike past class-action lawsuits that sought to recoup losses investors suffered when a company's financial woes were disclosed, the new wave of complaints seek higher buyout prices, claiming that directors breached their duty to shareholders in negotiating deals, according to Kevin LaCroix, executive vice president at OakBridge Insurance Services LLC, a Beachwood, Ohio, firm that provides liability coverage to corporate executives and directors.
The trend may help ensure that buyouts such as the one proposed by TPG and Leonard Green are fair to stockholders, said Patrick McGurn, an executive director at Institutional Shareholder Services Inc., a Rockville, Maryland, unit of MSCI Inc. That's because directors can be held personally liable for damages arising from alleged breaches of fiduciary duty, he said.
"Most directors, because of fear of liability, will bend over backwards to ensure that there are zero conflicts that could come back to haunt them," said McGurn, whose firm advises institutional investors on corporate-governance issues. "These loyalty issues can come back to bite a director in the wallet."
Before it's here, it's on the Bloomberg Terminal.
LEARN MORE