Kitazawa, Gates Pledge Ties Amid North Korea Threat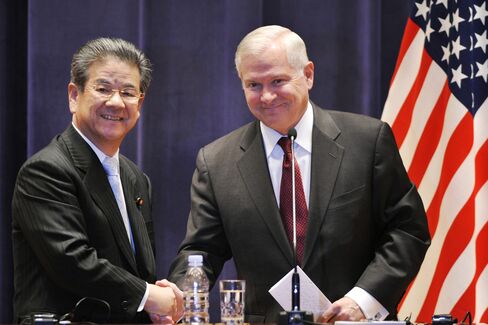 U.S. Defense Secretary Robert Gates and Japanese counterpart Toshimi Kitazawa agreed to strengthen regional security ties in the face of threats from North Korea and China's rising influence.
Gates, in Tokyo after visiting Beijing, said today at a joint press conference that North Korea must alter its behavior following two deadly attacks on South Korea last year that killed 50 people. Japan, the U.S. and South Korea must strengthen relations "for the stability of the Korean Peninsula," Kitazawa said.
"The key on the Korean Peninsula, as I discussed in China and discussed here in Japan, is to prevent another provocation from happening," Gates said after meeting Kitazawa, Prime Minister Naoto Kan and Foreign Minister Seiji Maehara.
China has advocated resuming six-nation talks over North Korea's nuclear program. The U.S., Japan and South Korea are demanding concrete steps by Kim Jong Il's regime to demonstrate it's serious about denuclearization and reducing regional tension. Gates reiterated that position today.
Implementing Base Accord
Gates and Kitazawa also pledged to implement a 2010 agreement to relocate an American Marine base on the southern island of Okinawa. Local residents oppose the deal, which was struck after an eight-month dispute that frayed bilateral ties, and want the Futenma Air Base moved off Okinawa entirely.
"We hope to move forward with the relocation of U.S forces in Okinawa in ways that are more appropriate to our strategic posture while reducing the impact on the communities nearby," Gates said. He emphasized benefits to the people of Okinawa in the U.S. plan, including removing thousands of Marines and their families and returning land back to the island's authority.
While the Futenma Base issue dominated public debate, "the U.S.-Japan defense alliance is broader, deeper and indeed richer than any single issue," Gates said. Japan and the U.S. this year will update their joint strategic military objectives, last revised in 2005 to reflect changing conditions in the region.
North Korea's actions have driven Japan and South Korea closer. Kitazawa and his South Korea counterpart earlier this week met for the first time in almost two years and agreed to deepen military ties. Maehara plans a visit to South Korea this week to meet with President Lee Myung Bak and Foreign Minister Kim Sung Hwan.
Regional Security
President Barack Obama's administration is urging Japan and South Korea to work more closely on regional security issues while trying to reassure them that the U.S. is committed to the Asia-Pacific as China's power and influence rises.
The need for peace and stability on the Korean Peninsula has been "a common theme in my visits" this week, Gates said.
"This requires that the North cease its belligerent behavior and its provocations," he said today. "We are supportive of negotiations and engagement between the North and South, but there must be concrete evidence on the part of the North that they are finally serious about these negotiations."
Evidence that Kim's government is changing its behavior could include a moratorium on nuclear and missile testing, Gates said two days ago.
Gates has said during his Asian tour that he's concerned South Korea may not be as restrained in case of another North Korean attack.
'Sea Change'
"There's been a sea change in attitude on the part of the South Koreans in terms of their willingness to tolerate these" attacks, Gates said two days ago during an interview with Bloomberg Television in Beijing. "It has added some urgency."
North Korea is becoming a "direct threat" to the U.S. with its development of an intercontinental ballistic missile and its nuclear program, Gates said this week.
The combination is potentially daunting, said U.S. Navy Admiral Mike Mullen, who as chairman of the Joint Chiefs of Staff is Obama's top military adviser.
"This capability that he is developing is becoming more and more dangerous," Mullen told reporters in Washington yesterday, according to a transcript. "So the potential provocations could become more and more catastrophic."