European Stocks Retreat From 28-Month High; Nestle, Dixons Drop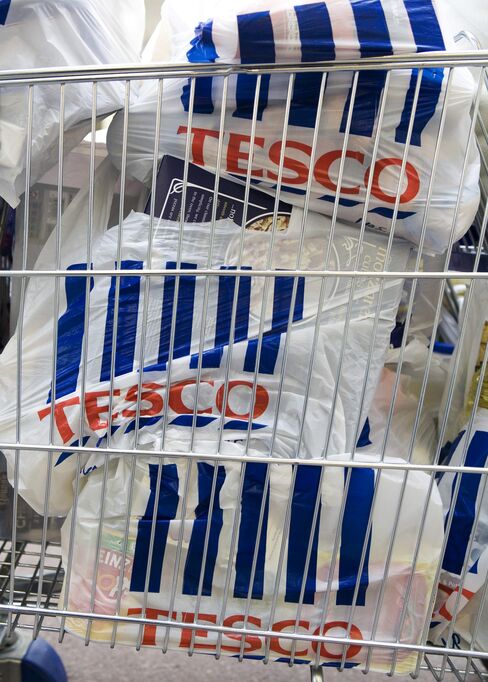 European stocks declined from a 28-month high as a larger-than-forecast increase in U.S. initial jobless-benefit claims overshadowed gains by banks after Spain and Italy sold bonds.
Nestle SA, the world's biggest food company, fell 3 percent on analyst downgrades. Dixons Retail Plc slumped 10 percent after saying earnings will probably be "around the bottom end" of estimates. Commerzbank AG lost 1.2 percent after announcing a capital increase. Banco Santander SA and Banco Bilbao Vizcaya Argentaria SA, Spain's largest banks, climbed as demand increased at an auction of the nation's debt.
The benchmark Stoxx Europe 600 Index fell 0.6 percent to 284.04 at the 4:30 p.m. close of trading in London. The measure climbed to the highest level since September 2008 yesterday amid speculation the European Union will increase its efforts to contain the region's debt crisis.
"The market is taking a breather," said Philipp Musil, who helps oversee about $10 billion at Semper Constantia Privatbank AG in Vienna. "We had a good performance in the last two days, but I don't know if we can hold that. We expect a healthy downturn of 3 percent to 5 percent in the coming days."
A report from the U.S. Labor Department showed initial jobless claims in the first week of 2011 jumped to the highest level since October as more Americans lined up to file following the holidays. First-time applications rose by 35,000 to 445,000.
ECB Rates
The European Central Bank kept interest rates at a record low today as ECB President Jean-Claude Trichet said inflation pressures in the euro region have picked up. The Governing Council set the benchmark rate at 1 percent for the 21st month, as predicted by all 53 economists in a Bloomberg News survey.
"We see evidence of short-term upward pressure on overall inflation, mainly owing to energy prices, but this has not so far affected our assessment that price developments will remain in line" with the ECB's definition of price stability, Trichet said at a press conference in Frankfurt.
The Bank of England also kept its key rate unchanged at 0.5 percent.
Nestle sank 3 percent to 52.05 Swiss francs, dragging a measure of food and beverage shares to the biggest drop in five months. The company was downgraded to "reduce" from "buy" at Nomura Holdings Inc. and to "underperform" from "buy" at BofA Merrill Lynch Global Research.
Travel Stocks
Travel and leisure stocks had the largest decline among 19 industry groups in the Stoxx 600 as airlines fell. Air France-KLM Group, Europe's biggest carrier, lost 1.5 percent to 14.76 euros and Iberia Lineas Aereas de Espana SA, Spain's largest airline, slid 2.2 percent to 3.62 euros after being downgraded to "underperform" from "outperform" at Davy Stockbrokers.
"The risk profile has increased because of the rising cost of fuel in euro/sterling terms, the rebound of capacity on long haul and the increase in other uncontrollable costs," analysts Stephen Furlong and Joshua Goldman wrote in a report.
Dixons sank 10 percent to 21.35 pence, the lowest price since July 2009. Pretax profit before items in fiscal 2011 is likely to be 100 million pounds ($157.6 million) to 110 million pounds, the U.K's largest consumer-electronics retailer said.
Tesco Plc fell 4.3 percent to 405.55 pence, the largest drop since April 2009, after Britain's biggest retailer reported holiday sales growth that missed estimates, saying that snow kept Britons from visiting out-of-town supermarkets.
Commerzbank Drops
Commerzbank retreated 1.2 percent to 5.57 euros. Germany's second-biggest bank plans to boost capital by buying back debt as it prepares for new European banking rules. It is funding the purchase by selling as much as 632 million euros ($843 million) of new shares to investors.
Aurubis AG slid 8 percent to 42.10 euros as Europe's biggest copper smelter said it will use parts of its authorized capital to issue 4.08 million new shares, excluding shareholders' subscription rights.
Tenaris SA plunged 6.3 percent to 17.35 euros amid speculation the world's biggest maker of seamless steel tubes for oil and gas extraction is warning fourth-quarter results may be weaker than estimated.
"The shares are suffering from speculation the company is guiding lower with regard to its fourth-quarter," said Thomas Laschetti, a trader at Tullett Prebon Ltd. in London. Calls seeking comment to spokeswoman Stefania Argento and Giovanni Sardagna in investor relations were not answered.
Santander, BBVA
Santander climbed 4.8 percent to 8.64 euros and BBVA advanced 6.3 percent to 8.26 euros. Demand and borrowing costs increased at a 3 billion-euro sale of five-year Spanish notes today. Investors bid for 2.1 times the securities on offer, up from 1.6 last time the debt was sold on Nov. 4. The average yield climbed to 4.542 percent from 3.576 percent.
Italy sold 3 billion euros of five-year bonds at a yield of 3.67 percent. Demand for the securities remained little changed from the previous sale at 1.4 times the amount offered.
"The bond sales are positive, but the debt issue isn't solved," said Semper's Musil. "The European debt crisis will pop out from time to time and bring concern to the market."
SAP AG rallied 3.5 percent to 40.40 euros after the world's largest maker of business-management software said software and software-related service sales beat its own forecast.
Provident Financial Plc jumped 11 percent to 999.5 pence, the biggest increase since at least 1989, as the U.K.'s biggest listed subprime lender said 2010 earnings may exceed analysts' projections.
Home Retail Group Plc surged 10 percent to 227.1 pence, the biggest gain in more than two years. The owner of the U.K.'s Homebase do-it-yourself chain and Argos catalog stores also said profit may beat estimates.
Before it's here, it's on the Bloomberg Terminal.
LEARN MORE