Ethan Hawke Dodges Leaking Roof, Rubin-Vega in 'Stone': Review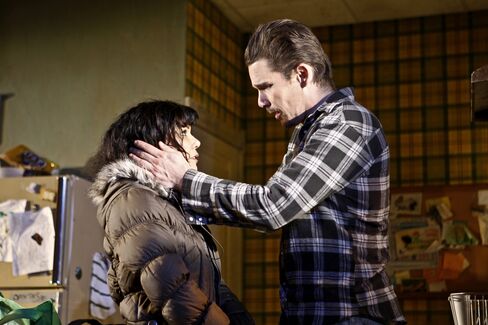 Rain pours through the kitchen ceiling, windows crack like burnt sugar and Dad just ran his truck through the front porch. I came out of Ethan Hawke's latest showcase, "Blood From a Stone," feeling sorry for the scenery.
Hawke plays Travis, the son, ex-serviceman, pill popper and wanderer who has briefly returned from New York City to his ratty family homestead outside Hartford, Connecticut. Ratty describes the family, too: Mom (Ann Dowd) is a frustrated nonstop screamer. Dad ("NYPD Blue's" Gordon Clapp) is an unlovely psycho hulk swinging between violent outbursts and catatonia.
Sister Sarah (Natasha Lyonne) is pregnant with her fourth child and struggling with her own demons. And then there's kid brother Matt (Thomas Guiry), a gambling addict and fantasist barely one step ahead of being knee-capped for his debts.
Our almost three-hour visit with these folks in Tommy Nohilly's first play is one long slog into darkness. As each family member tries to find a way out of despair -- the play's central action is Travis's attempt to head west and start over - - "Blood From a Stone" makes O'Neill look like an episode of "The Cosby Show."
Getting Naked
There is some comic, if poignant, relief in a touching interlude where Travis gets naked with Yvette (Daphne Rubin-Vega), the vivacious girl he left behind, who married badly and now lives next door.
Brutal but aimless, "Blood From a Stone" gives every character a chance to pull at our heartstrings or make us wince in Scott Elliott's hyper-real staging.
Hawke earns our sympathy, underplaying Travis with quiet grace. Guiry plays the pathological liar Matt from the inside out, a young man whose deepest lies are told to himself. Rubin-Vega similarly brings a keen realism to Yvette, grabbing some joy before returning to a life she hates.
The design team -- Derek McLane, sets; lighting, Jason Lyons; costumes, Theresa Squire; special effects, Jeremy Chernick and sound, Bart Fasbender -- has also given Nohilly a brilliant showcase for his dreary melodrama.
Through Feb. 19 at 410 W. 42nd St. Information: +1-212-239-6200; http://www.thenewgroup.org Rating: *
'Jump'
You only have a few more chances to see the extraordinary "Jump" at the Public Theater's Under the Radar festival, ending this weekend. It stars the wonderful Joan MacIntosh as the actress Sarah Bernhardt in the final years of her career when she played Tosca in the drama that Puccini would turn into a much more famous opera.
This is clearly a show in the early stages of development, which makes it all the more interesting (even though the Public asked critics not to review it) to see now. Sculptress Kiki Smith did the set, a signature mix of metal and wood panels with a golden-draped divan for the actress to declaim from as she is wont to do.
The book, by David Greenspan, and contemporary songs written and sung by Nora York, include some of Puccini's "Tosca" hits, notably "Vissi d'arte," with a cast powerfully augmented by tenor David Guzman and bass-baritone Andrew Nolan. And Bill Camp is irresistible as the demonic villain Scarpia. The show is a classic example of JoAnne Akalaitis's staging, presenting the well-known tale with just enough of a wink of the eye to draw us in.
Through Saturday at 425 Lafayette St. Information: +1-212-967-7555; http://www.publictheater.org (Not rated)
What the Stars Mean:
****        Do Not Miss
***         Excellent
**          Average
*           Below Par
(No stars)  Avoid
(Jeremy Gerard is an editor and critic for Muse, the arts and leisure section of Bloomberg News. The opinions expressed are his own.)
Before it's here, it's on the Bloomberg Terminal.
LEARN MORE