Portugal Bond Sales 'Good News,' No Forced Rescue, Germany Says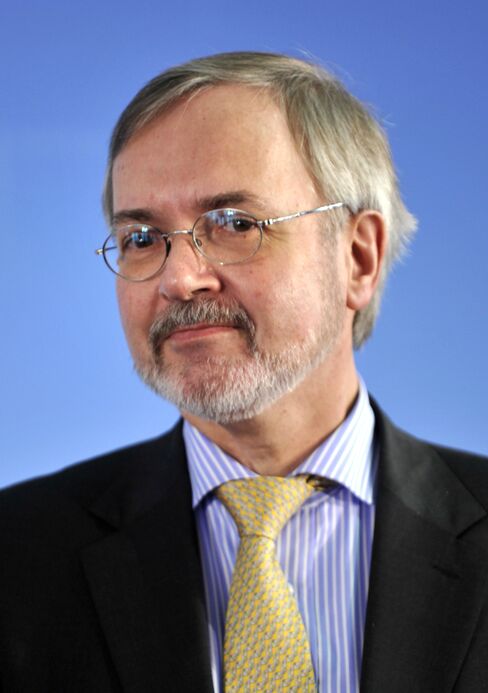 Jan. 13 (Bloomberg) -- German Deputy Foreign Minister Werner Hoyer called the Portugal bond auction "good news" and proof that a European-led financial rescue should not be forced upon the government.
"The Portuguese do not believe that a bailout is necessary, or an action like the Irish did - that is, fleeing under the umbrella - and we should take that seriously," Hoyer said in an interview with Bloomberg Television in Washington.
Hoyer praised Portugal's falling borrowing costs and rising demand at the nation's sale of 10-year bonds yesterday, saying the sale will give Lisbon breathing space to improve its public finances.
"They predicted that and they were proven right," he said. "So we should not talk down economies and currency all the time, and should give credit to those who seriously make efforts to go to the roots of the problems."
It does not make sense to force the Portuguese "into some protection scheme which they do not want and which they do not consider necessary," he said.
Hoyer criticized those who have suggested the demise of a single European currency and the threat of a sovereign debt crisis spreading throughout the euro zone. He dismissed worries over the euro, saying the common currency has "served us very, very well."
'Unfounded Opinions'
"Gossip" and "irresponsible uttering of unfounded opinions" have "really rocked" the markets in recent months, Hoyer said. "We should produce more confidence and trust in the economies that we are talking about."
Portugal is raising taxes and lowering wages to show investors it can narrow its budget gap, after a debt crisis in Greeece led to a surge in borrowing costs for the most-indebted euro nations. Yesterday's auction prompted a surge in European stocks and a decline in the safest assets.
Portugal sold 599 million euros ($786.8 million) of bonds due in 2020 at a yield of 6.716 percent, the nation's debt management agency said. That compares with 6.806 percent at the previous auction on Nov. 10.
"The sale was supported by a number of factors that happened earlier in the week," said Mohit Kumar, a fixed-income strategist at Deutsche Bank AG in London. "The European Central Bank reportedly bought aggressively. Japan and China expressed their support. But Portugal's funding challenges are still there."
'Not Successful'
"Portugal did sell a 10-year at slightly under 7 percent, but that to me is not a successful yield," Bill Gross, manager of the world's biggest bond fund at Pacific Investment Management Co. in Newport Beach, California, said in an interview yesterday on Bloomberg Television's "InBusiness."
Hoyer's comments come as European governments are considering a package to quell the debt crisis. According to four people with direct knowledge of talks, they are discussing aid to Portugal, debt buybacks, lower interest rates on rescue loans and guarantees against excessive debt.
"We should not take decisions in a spirit of preventive resignation by deciding about new firewalls before we have an idea where a fire might break out," Hoyer said when asked about the need for a comprehensive plan to stem contagion in the region.
While the euro should be made "storm-proof," Germany is not going to be dragged into "unwise, premature decisions," the deputy foreign minister said.
Hoyer said it's essential for Europe to "change the attitude vis-à-vis public debt" and attack the root causes of the euro zone's problems.
Role of Europe
"The United States is in the position to afford private sector deficits, plus public sector deficits, plus balance of payments deficit. This is not an option for Europe," he said. "What is stake is the role of Europe in world politics and the world economy in the next decades when the emerging markets are going to take over more and more."
Insuring European sovereign debt has risen to a record cost after the crisis last year led to a 178-billion euro aid package to Greece and Ireland from the EU and International Monetary Fund and threatened Portugal.
Hoyer emphasized that the European aid mechanism is not an effort "to socialize national debt" and warned against pressure from private investors who want to get "rid of their own bad paper" or debts.
To contact the reporters on this story: Sandrine Rastello in Washington at srastello@bloomberg.net; Indira Lakshmanan in Washington at ilakshmanan@bloomberg.net
To contact the editors responsible for this story: Christopher Wellisz at cwellisz@bloomberg.net Mark Silva at msilva34@bloomberg.net