Palin Claims 'Blood Libel' by Critics After Arizona Shootings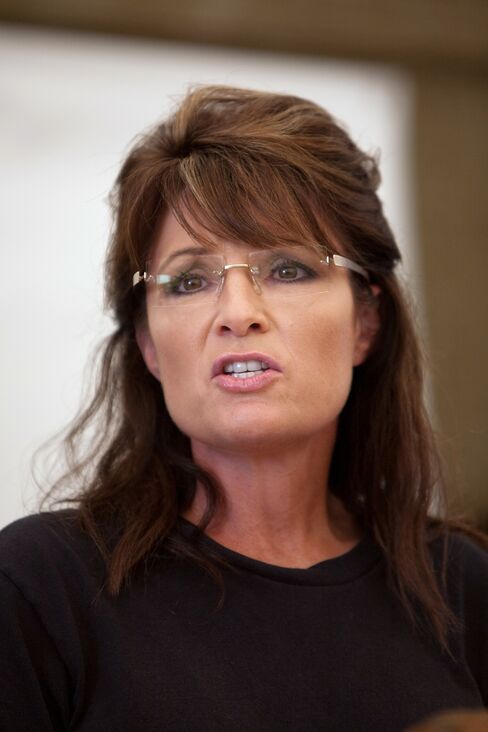 Calling their comments a "blood libel," Sarah Palin condemned people who have criticized her for heated political rhetoric and the role it may have played in the shootings in Tucson, Arizona.
Palin, 46, the former Republican governor of Alaska, her party's 2008 nominee for vice president and a potential 2012 presidential candidate, made her statement in an Internet video posted yesterday.
"Acts of monstrous criminality stand on their own," she said. "They begin and end with the criminals who commit them, not collectively with all the citizens of a state, not with those who listen to talk radio, not with maps of swing districts used by both sides of the aisle, not with law-abiding citizens who respectfully exercise their First Amendment rights at campaign rallies."
U.S. Representative Gabrielle Giffords, a Democrat, was wounded in the Jan. 8 shooting spree that killed six people and injured 14. She remains in critical condition with a gunshot wound to her head.
Before attending a memorial service at the University of Arizona, President Barack Obama and first lady Michelle Obama spent about 45 minutes at University Medical Center, where they saw Giffords and her husband, astronaut Mark Kelly, along with four other patients who were wounded and members of their families.
Last year, Giffords was among 20 Democrats who supported Obama's health-care overhaul and were targeted for defeat in November's elections by Palin's political action committee. SarahPAC produced a map with crosshairs superimposed on the lawmakers' districts.
'Consequences' to Actions
Giffords, 40, questioned such imagery in an interview with MSNBC last March. "When people do that, they've got to realize there's consequences to that action," she said.
Palin said in the almost eight-minute video that political observers have been too quick to criticize her for her rhetoric.
"Especially within hours of a tragedy unfolding, journalists and pundits should not manufacture a blood libel that serves only to incite the very hatred and violence that they purport to condemn," she said. "That is reprehensible."
Palin's statement included a phrase used for centuries to incite anti-Semitism and justify violent persecution against Jews. The so-called "blood libel" myth against the Jewish people originated in Norwich, England, in about 1140 when a priest and monk falsely accused a local Jewish man of killing a Christian child to procure Christian blood for a Jewish holiday, according to the Southern Institute for Education and Research at Tulane University in New Orleans.
The phrase also appeared in the headline of an essay published Jan. 10 in the Wall Street Journal about reaction to the shootings. Giffords is Jewish.
Anti-Defamation League
The Anti-Defamation League, a New York-based organization created to fight anti-Semitism, issued a statement yesterday that both defended and criticized Palin.
"It was inappropriate at the outset to blame Sarah Palin and others for causing this tragedy or for being an accessory to murder," Abraham Foxman, the organization's national director, said in a statement. "Palin has every right to defend herself against these kinds of attacks."
The statement went on to question Palin's use of the words "blood libel." "While the term 'blood-libel' has become part of the English parlance to refer to someone being falsely accused, we wish that Palin had used another phrase, instead of one so fraught with pain in Jewish history," Foxman said.
'Despicable Act'
Palin disputed the notion that political rhetoric is overly charged.
"There are those who claim political rhetoric is to blame for the despicable act of this deranged, apparently apolitical, criminal," she said. "And they claim political debate has somehow gotten more heated just recently. But when was it less heated? Back in those 'calm days' when political figures literally settled their differences with dueling pistols?"
Palin said she has routinely condemned violence.
"As I said while campaigning for others last March in Arizona during a very heated primary race, I said, 'We know violence isn't the answer," she said. "When we 'take up our arms,' we're talking about our vote. Yes, our debates are full of passion, but we settle our political differences respectfully at the ballot box."
The shooting rampage in Arizona followed the Jan. 5 opening of a new Congress in which Republicans took control of the U.S. House, which postponed legislative business this week as both parties condemned the attack.
Setting Civil Example
Lawmakers have said that 22-year-old Jared Loughner, who was arrested in connection with the shootings, has a troubled past and may be mentally unstable. Regardless of whether it is determined that political motives helped provoke the incident, members of both parties have said that politicians and the press need to play a greater role in setting an example of civility.
Former Minnesota Governor Tim Pawlenty, another potential 2012 Republican presidential candidate, defended Palin's map of targeted congressional districts, while saying it was not his "style" to use imagery that might repel some.
"There's no connection, and I don't blame Sarah Palin or anyone else," he said yesterday on MSNBC. "This guy was mentally deranged."
Pawlenty said Palin was acting within her First Amendment rights.
"She has a right to portray an image, a message, as she sees fit," he said. "And as we sit here, there is no evidence it hurt anybody."
'Way That Heals'
Obama also addressed the issue in his remarks at last night's memorial service in Tucson.
"At a time when our discourse has become so sharply polarized -- at a time when we are far too eager to lay the blame for all that ails the world at the feet of those who happen to think differently than we do -- it's important for us to pause for a moment and make sure that we are talking with each other in a way that -- that heals, not in a way that wounds," he said.
"What we cannot do is use this tragedy as one more occasion to turn on each other," he said, urging Americans to "use this occasion to expand our moral imagination, to listen to each other more carefully, to sharpen our instincts for empathy, and remind ourselves of all the ways that our hopes and dreams are bound together."