Hana Bank to Cut Bad-Loan Ratio, Boost Clients to Raise Profit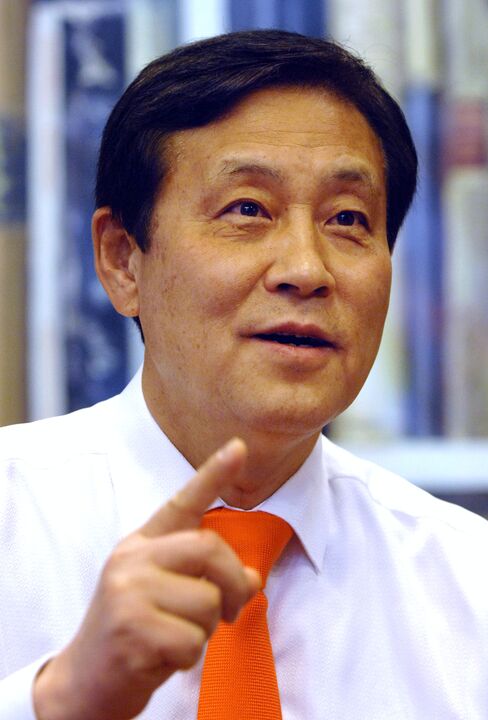 Hana Bank, the lending unit of South Korea's fourth-largest financial company, said it will cut bad loans and increase the number of clients to spur profit by about 20 percent this year.
Hana plans to trim the non-performing loan ratio to 1.3 percent this year from an estimated 1.5 percent for 2010, Chief Executive Officer Kim Jung Tai said yesterday in an interview in Seoul. The lender aims to increase the number of active domestic customers by 30 percent to 4.2 million, he said.
"We expect the economy to be stable, even though it's not showing rapid growth, and that will help us reduce the delinquency rate and bad-loan ratio this year to boost profit," Kim, 58, said. "We also developed lots of creative products such as smart-phone banking and Internet-based mortgage lending to lure more retail customers."
South Korean banks are starting to curb soured loans to property companies and builders, which contributed to a 6.9 percent drop in third-quarter profit, according to the Financial Supervisory Service. KB Financial Group Inc. and Woori Finance Holdings Co., owners of the nation's largest lenders, predict better profit this year as provisions against bad debt fall.
Seoul-based Hana Bank, an unlisted unit of Hana Financial Group Inc., forecast profit of 1.2 trillion won ($1.1 billion) for this year, compared with an estimate of more than 1 trillion won for 2010, Hana Financial said on Dec. 29.
Hana Bank is also examining ways to increase cooperation with Korea Exchange Bank, which will be acquired by Hana Financial, Kim said.
Complementary Strengths
"KEB is strong in corporate banking and has expertise in foreign-exchange business, while we're good in retail banking," the CEO said. "Our parent group wants to create synergies, and we hope to enhance our overseas businesses as well," Kim said.
Hana Financial agreed to purchase a 51 percent stake in Korea Exchange Bank from Lone Star Funds for 4.7 trillion won on Nov. 25. Hana Bank will pay a dividend of 1.9 trillion won to its parent company to help fund the purchase.
The bank expects to keep its Tier 1 capital-adequacy ratio, a key measure of financial strength, above 10 percent even after paying out the dividend, Kim said yesterday.
"We were a bit overcapitalized after receiving a capital injection from our parent company during the financial crisis in 2008," he said. "The dividend payout would resolve that and help improve our return on equity and efficiency of capital."
Hana Bank's Tier 1 ratio, a measure of its financial strength, stood at 12.54 percent at the end of September.
Expanding Abroad
Hana Financial rose 1.9 percent at 10:58 a.m. in Seoul, extending its gains over the past two months to 38 percent. The benchmark Kospi index climbed 0.04 percent.
The banking unit will continue seeking opportunities to expand overseas operations through strategic alliances including purchases of stakes in local lenders, Kim said, without providing further details. Hana purchased an 18 percent stake in China's Bank of Jilin for $316 million in September.
"All South Korean banks will inevitably look overseas for further growth," he said. "We're keen on penetrating markets such as China, Indonesia and Southeast Asia."