Fed Says Economy Expanded on Manufacturing, Spending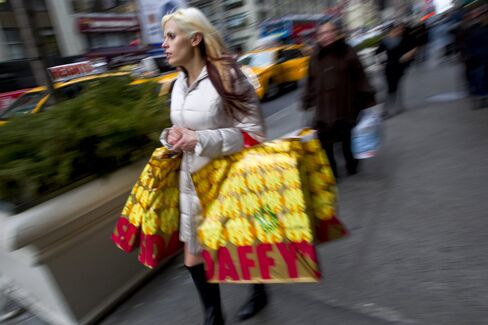 The Federal Reserve said holiday-season spending and increased manufacturing drove an economic expansion across the U.S. in November and December, with businesses cautiously optimistic about their 2011 outlooks.
Six Fed regions including Atlanta and Chicago showed economies growing "modestly to moderately," and four areas including New York and Boston had "improving" conditions, the Fed said today in its anecdotal Beige Book report. The Minneapolis region "continued its moderate recovery," and San Francisco "firmed further," the central bank said.
The report gives more evidence of an improving economy after Fed Chairman Ben S. Bernanke expanded record monetary stimulus in November to reduce unemployment persisting near 10 percent. The Fed is likely to complete its $600 billion in bond purchases as planned and begin to shrink its portfolio in September, said Drew Matus, a former Fed staff member.
"Things are moving in the right direction," said Matus, senior economist at UBS Securities LLC in Stamford, Connecticut. "There is a high threshold for ending QE2 early," he said, referring to the term for the second round of quantitative easing, and there may also be a "high threshold" for expanding stimulus again.
The Beige Book, based on information collected on or before Jan. 3 with a summary written by the Boston Fed, is released two weeks before each meeting of Fed policy makers. The Federal Open Market Committee next gathers Jan. 25-26 in Washington.
'Expand Moderately'
"Economic activity continued to expand moderately from November through December," the Fed report said. "Most Districts indicated that business contacts were positive about the outlook, although still generally cautious."
U.S. stocks maintained gains after the report, while Treasuries remained lower and the dollar was weaker against the euro. The Standard & Poor's 500 Index rose 0.8 percent to 1,284.96 at 2:56 p.m. in New York.
Bernanke and his colleagues have signaled no change from plans to complete the $600 billion in purchases of Treasury securities and have given little indication of whether they intend to expand the program.
Analysts this month raised their average forecast for U.S. growth in 2011 to 3.1 percent from 2.6 percent in December, according to the Blue Chip Economic Indicators survey.
The Labor Department said last week that the economy added 103,000 jobs in December, fewer than forecast by economists. The unemployment rate, which only includes those looking for work, fell to 9.4 percent from 9.8 percent as many workers gave up on the labor force altogether.
'Firming Somewhat'
"Labor markets appeared to be firming somewhat in most Districts, as some modest hiring beyond replacement was said to have occurred" or "was planned in a variety of sectors," the Fed said.
The jobless rate has been 9.4 percent or higher since May 2009, and Fed policy makers project it will be about 9 percent at the end of this year. The FOMC said in its Dec. 14 statement that the "economic recovery is continuing, though at a rate that has been insufficient to bring down unemployment."
The central bank is building on the first round of $1.7 trillion in debt purchases that "appeared to be successful in influencing longer-term interest rates, raising the prices of equities and other assets, and improving credit conditions more broadly, thereby helping stabilize the economy and support the recovery," Bernanke said in congressional testimony Jan. 7.
Criticized Stimulus
Republican leaders have criticized the stimulus. Since its Nov. 3 approval by Bernanke and his colleagues, stocks have risen, the dollar has strengthened and Treasury yields have increased.
Manufacturing in the U.S. expanded in December at the fastest pace in seven months, while service industries grew at the quickest rate in more than four years, according to gauges from the Institute for Supply Management.
The Fed said manufacturing "continued to recover across all Districts" and that Richmond, Chicago and St. Louis respondents "identified a strong flow of new orders." The strength wasn't uniform, as the Philadelphia region said orders were "erratic" and three regional Fed banks said construction-related manufactures still were showing "considerable weakness."
Housing Markets Weak
Also, housing markets were "weak and sluggish" across a majority of regions, and commercial real estate markets had "mixed results," the Fed said.
Inflation excluding food and energy costs rose 0.8 percent in November from a year earlier, based on the Fed's preferred index. That's below the 1.6 percent to 2 percent range that central bank officials say is consistent with achieving their legislative mandate for stable prices in the long run.
Companies still had trouble passing along higher production costs, such as petroleum-related prices, because of "competitive pressures," and the improving labor markets have resulted in "virtually no upward pressure on wages," the Fed said. The price of crude oil has increased 29 percent since its six-month low in August.
Bernanke said Jan. 7 that "very low inflation increases the risk that new adverse shocks could push the economy into deflation."
Before it's here, it's on the Bloomberg Terminal.
LEARN MORE