Demand Media Sets Price for First Venture IPO of 2011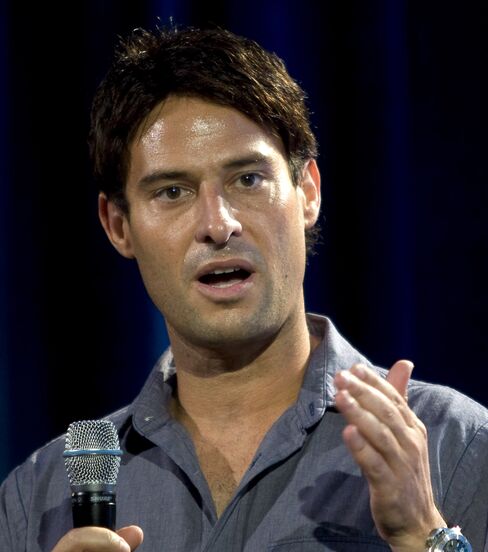 Jan. 12 (Bloomberg) -- Demand Media Inc., which employs freelance workers who contribute low-cost stories and videos to websites, set the asking price for its initial public offering in what would be 2011's first U.S. venture capital-backed IPO.
The Santa Monica, California-based company, run by former MySpace Inc. Chairman Richard Rosenblatt, plans to raise $120 million selling shares for $14 to $16 each on Jan. 25, its filing with the Securities and Exchange Commission and data compiled by Bloomberg show. Owners will get 40 percent of the proceeds, while Demand Media intends to use the rest to invest in product development and international expansion.
Venture capital firms may take advantage of a rebound in equity values to sell some investments they made before the credit crisis started four years ago. With the Standard & Poor's 500 Index recouping all its losses since the collapse of Lehman Brothers Holdings Inc., Demand Media is seeking buyers for a company that has lost money since its inception in 2006.
Goldman Sachs Group Inc. and Morgan Stanley of New York are leading Demand Media's 7.5 million-share offering. The stock will trade on the New York Stock Exchange under the ticker DMD.
Demand Media is offering 4.5 million shares, while Spectrum Equity Investors in Menlo Park, California, New York-based W Capital Partners, and Rosenblatt will also sell stakes, the prospectus said. The underwriters have an option to buy 1.125 million additional shares in the sale.
Selling Stockholders
Demand Media, whose 13,000 freelance workers produced 2 million articles and videos for websites including EHow.com and Gannett Co.'s USA Today newspaper, is also backed by Palo Alto, California-based Oak Investment Partners and Goldman Sachs.
The IPO's midpoint price would give Demand Media a market capitalization of $1.24 billion, or 5.19 times annualized sales of $179.4 million in the first nine months of 2010. That's more than triple the average 1.45 times sales for 20 U.S.-traded multimedia companies, data compiled by Bloomberg show.
Revenue increased 25 percent in the nine-month period from a year earlier, the prospectus said.
The company's filing comes after Mountain View, California-based LinkedIn Corp., the largest networking website for professionals, hired banks to advise on a potential IPO this year, two people familiar with the plans said last week.
Companies backed by venture capital firms filed to raise $2.86 billion in IPOs as of Dec. 31, a decrease from the amount raised in 2010, according to data compiled by Bloomberg.
Facebook Inc. and other venture-backed companies have shown they can raise equity capital without seeking an IPO.
The Palo Alto-based company received $500 million from Goldman Sachs and Russia's Digital Sky Technologies that values the owner of the world's largest social-networking site at $50 billion, people familiar with the matter have said.
Groupon Inc., the daily-deal coupon site based in Chicago, said this week that it completed a round of financing that raised $950 million.
To contact the reporter on this story: Lee Spears in New York at lspears3@bloomberg.net.
To contact the editor responsible for this story: Daniel Hauck at dhauck1@bloomberg.net.