Chrysler Readies for IPO With Lower Sales Hurdle to Break Even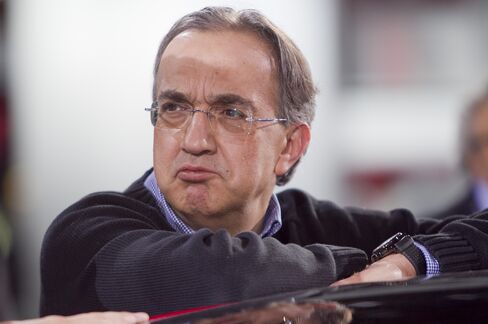 Chrysler Group LLC, the U.S. automaker operated by Fiat SpA, said it can be profitable with fewer sales than it had in 2010 as the closely held company prepares for an initial public offering this year.
Chrysler needs to sell about 1.5 million vehicles annually to break even on an operating basis, down from 1.65 million, Chief Executive Officer Sergio Marchionne said yesterday in the prepared text of a speech in Detroit. Global sales in 2010 rose about 21 percent to 1.6 million cars and trucks, he said.
"From an operating margin standpoint, they are very well positioned as the market moves ahead and continues to gain traction not only in 2011 but 2012 and 2013," Dennis Virag, president of Automotive Consulting Group in Ann Arbor, Michigan, said in a telephone interview.
The lower breakeven point is a "very, very positive indicator" and will allow any increase in automobile demand to translate into higher profit, he said. Industrywide U.S. auto sales were forecast to increase 11 percent to 12.9 million in a Bloomberg survey of 17 analysts published last week.
Marchionne is more than a year into a five-year plan to revive Auburn Hills, Michigan-based Chrysler that includes turning a profit this year. He wants to use new models and Fiat's distribution network to more than double Chrysler's global sales to 2.8 million and produce $5 billion in operating income by 2014. Chrysler sold 1.32 million vehicles in 2009.
Chrysler still is planning to sell shares to the public in the second half and is talking to banks, including Goldman Sachs Group Inc., about working on the deal, Marchionne told reporters after his speech.
Following GM
The sale would come about a year after General Motors Co. raised more than $20 billion in a public offering of stock in November. GM shares have risen 17 percent from their $33 sale price to close at $38.62 in New York Stock Exchange composite trading yesterday.
The timing of Chrysler's IPO will depend on market conditions, the company's financial results and its ability to refinance loans the U.S. and Canadian government provided during the automaker's bankruptcy in 2009, Marchionne told reporters.
Chrysler would have reported a net profit for 2010 if its government assistance had come as equity instead of loans, Marchionne said, reiterating earlier statements.
"Our goal is to refinance this debt at more favorable rates, as the level of interest we are currently paying has kept us from posting better net results," he said in the speech text.
Performance Incentives
Chrysler is willing to talk to the United Auto Workers union about tying compensation to the company's performance when the two sides negotiate new labor agreements this year, Marchionne said, adding that he brought up the issue in 2009.
A good system would allow the company to protect itself if the industry experiences lower demand, he said.
"The discussion that needs to be had with the UAW is one that recognizes that we need to avoid all of the pitfalls that made this industry unviable in the past," Marchionne told reporters.
UAW President Bob King, speaking to reporters at a Detroit event before Marchionne's speech, praised the CEO for expanding Chrysler's transmission factory in Kokomo, Indiana, and reviving an assembly plant in Sterling Heights, Michigan. King said Marchionne has "a real desire to work together on common goals."
"What's important is both through the profit-sharing checks and through 2011 bargaining, the members feel they are being respected and that they're getting their fair share of the upside and have a system to do that long term," King said. "It's a huge challenge. And being very blunt about it, I don't know the exact best way to do it now."