Brisbane Reels From Flood Damage as Deaths Mount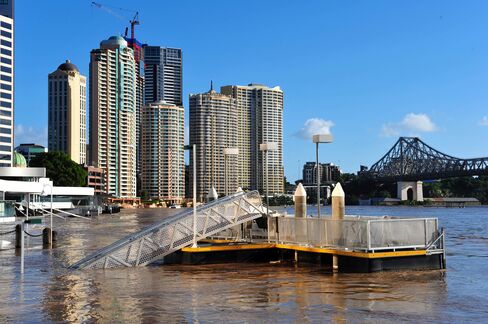 Brisbane is reeling from its worst flooding since 1974 after muddy water inundated about 15,000 properties, smashed roads and shuttered the city center.
The Brisbane River, which runs through the city, remained a fast-moving torrent of brown water filled with debris as the sun shone over Australia's third-largest city today. Residents in tin boats made their way through riverside suburbs such as Yeronga and Milton in floodwaters which peaked today about a meter lower than had been forecast by authorities yesterday.
An area bigger than Texas and California making up more than 75 percent of Queensland state has been declared a disaster zone. Fifteen people are dead and 61 missing after a flash flood smashed through Toowoomba on Jan. 10, taking the total killed to 26 since the deluge started in late November. The town of Grantham west of Brisbane was almost completely washed away.
"What I'm seeing looks more like a war zone," Queensland State Premier Anna Bligh said on Sky News today. "This is a reconstruction effort of post-war proportions. We need to have a steely determination to match the effort that's needed."
The cost to the nation may total as much as A$13 billion ($12.9 billion), or 1 percent of gross domestic product, said Stephen Walters, chief economist for Australia at JPMorgan Chase & Co. in Sydney.
'Ripple Effect'
''The ripple effect cannot be underestimated,'' Bligh said at a news conference, adding that about 70 towns and cities have been affected and almost every Queenslander disrupted. The state is Australia's largest coal exporter and accounts for about 20 percent of the nation's A$1.3 trillion economy.
Economists pushed back forecasts for interest rate increases from the central bank. Prime Minister Julia Gillard, who today again pledged that the federal budget will be brought back into surplus in 2012-13, says tough choices lie ahead.
Rural areas are still isolated and are relying on military supply drops, Bligh said, asking Brisbane residents to conserve water. Doctors have warned that swamped areas pose a health risk for the city of about 2 million.
The rebuilding task from months of heavy rains has more than doubled after this week's floods, she said. Some towns will need to be rebuilt and thousands of people will need temporary accommodation for months, she said.
"In the past 24 hours the game has changed for Australia," Roland Randall, an economist at TD Securities Inc. in Singapore, said in a note to clients. "Now the floods are urban, much greater damage to infrastructure is likely."
Food Shortages
A La Nina weather event has brought record rainfall to the state and is expected to last into Australia's autumn, the Bureau of Meteorology's Head of Climate Monitoring and Prediction David Jones said yesterday by phone from Melbourne.
Woolworths Ltd., Australia's biggest retailer, said it's running "very low" on fresh food including milk, bread, eggs and meat in Queensland as suppliers are closed off by flood waters and staff can't reach stores. About 119,000 homes and businesses in the southeast of the state are without power because of the floods sweeping through the area, Bligh said. Some will be without electricity for days, she said.
Mischa Imhof, 29, in an interview today, said he was about to return to his ground floor apartment in the riverside suburb of West End. When he left yesterday, flood waters were just centimeters from his back door when police barred him reentering.
"We saw the water rising so we packed emergency bags and left," Imhof, a financial planner for the Commonwealth Bank of Australia, said.
Car Deaths
Stories of survival and tragedy are emerging as the water recedes from towns battered to the west of Brisbane.
A 13-year-old boy trapped in a car with his family when the water struck died after insisting his younger brother be rescued first, the Brisbane Times reported. News channels have aired images of a family of three sitting on a car roof drifting in a sea of brown water west of Brisbane. Only the mother and child were rescued, Bligh told reporters yesterday.
Brisbane residents are taking stock of the damage, with some taking to canoes, tin boats and other craft to paddle around submerged houses, barely fitting under power lines. Television footage showed water inundated the warehouses of the iconic XXXX-brand beer factory, owned by Kirin Holdings Co.'s Australian unit Lion Nathan, as kegs and cans of beer floated past.
Nearby, the pitch of Brisbane's Suncorp Stadium -- home to the state's rugby league team -- was submerged. Residents placed floaties and a snorkeling mask on a bronze statue of Queensland league hero Wally Lewis, known as the "King."
Falling Waters
At 4 a.m., the Brisbane City gauge peaked at 4.46 meters, the Bureau of Meteorology said on its website today. At 8 a.m., the level was 4.2 meters and falling, and is forecast to return to that level with the high tide at 4 p.m., the bureau said.
The flood peaked below the 1974 high of 5.45 meters, and about a meter lower than authorities had warned yesterday.
About 12,000 homes and 2,500 businesses in Brisbane have been flooded, Lord Mayor Campbell Newman said in an interview broadcast on Sky News. The lower-than-expected water levels saved about 8,000 homes, he said.
The Jan. 10 flash flood through Toowoomba, about 127 kilometers (79 miles) west of Brisbane and home to 90,000 people, has been described by police as an "inland instant tsunami."
In nearby Grantham, more than 40 people of its 300 community are missing, with rescue workers searching for bodies under an old railway bridge, newspapers reported.
La Nina
La Ninas, characterized by a cooling of temperatures in the central and eastern tropical Pacific Ocean, are associated with above-normal winter, spring and summer rain in eastern and northern Australia. The current La Nina is one of the strongest in recorded history and is the biggest since 1917.
Residents in the north-New South Wales town of Grafton and surrounding areas are today bracing for flooding, the Sydney Morning Herald reported. Severe storms are scheduled for Victoria state's west, the Age newspaper said.
A tropical low off Queensland's north coast which may form a cyclone is building, according to the weather bureau. At this stage, it's unlikely to affect the flood-hit state, it said.
Tropical Cyclone Vince, on the other side of the country, is unlikely to have any impact on the coast and the mineral-rich Pilbara region, the bureau said.
Across the Pacific Ocean, rains and mudslides outside Rio de Janeiro in Brazil have killed at least 257 people, the Associated Press reported.
Before it's here, it's on the Bloomberg Terminal.
LEARN MORE